Floor Trends Online Product Bonus

Floor Trends Online Product Bonus
Welcome to the Floor Trends Online Product Bonus, a paid online section showcasing some of the newest products available for the installation of flooring including adhesives, underlayments, and moisture mitigation and testing products.
---
ARDEX K 60
ARDEX K 60 is a two-component leveling compound that can be used on permanently wet areas prior to installing ARDEX MCMoisture Control Systems. Can be installed over interior concrete, terrazzo, ceramic and quarry tile, steel, select epoxy coating systems and non-water-soluble adhesive residue on concrete.

Key features:No mechanical profiling required; no priming required in most applications; no water required; Portland cement and other hydraulic cements; self-smoothing, trowelable; latex leveling compound; interior use; can be used on, above or below grade.

General priming recommendations: When required. Packaging: 35 lb. (15.9 kg) w, 1 Gallon (3.8 L) bottle. Coverage: 21 sq. ft. per bag at 1/4'' (1.95 m2 at 6 mm). Thickness: Can smooth floors at 1/8" (3 mm) or less; maximum thickness 1/2" (12 mm) over large areas; featheredge to match existing elevations. Flow time: 10 minutes. Walkable: 2 to 3 hours. Install floor coverings: Moisture insensitive tiles: 6 hours; porous-backed carpet: 12 hours; other flooring: 16 to 24 hours.

Performance – ASTM C191 Initial Set: Approx. 30 minutes. ASTM C191 Final Set: Approx. 60 minutes. ASTM E10 modified Brinell Hardness: Approx. 3,000 psi (210 kg/cm2) at 24 hours. VOC: 0 g/L

(888) 512-7339; (724) 203-5000; www.ardexamericas.com
---
Bona Adhesives

Bona's moisture controlling, silane based adhesives are unique with a carefully weighted combination of elasticity and strength. Bona adhesives are an integral part of the Bona system for bringing out the best in hardwood floors.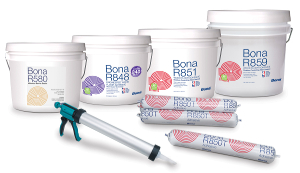 ---
The Golden Bullet: DriTac 4141
Premium "Green" Sound & Moisture Control Urethane Wood Flooring Adhesive
Faster, Stronger, Better- The Golden Bullet provides Unlimited Subfloor Moisture Control with no testing required and a Lifetime Warranty in writing, the company said. DriTac 4141 is "the lowest perm rated product in its category, making it the most robust product formulation in DriTac history." The Golden Bullet is a single-component, premium "green" sound and moisture control urethane wood flooring adhesive that offers the most enhanced moisture warranty in the industry, DriTac added.

Manufactured in the USA, The Golden Bullet 4-In-1 wood flooring adhesive also offers superior sound control properties while acting as a crack suppressant. This multiple solution product meets and/or exceeds all IIC and STC building code requirements for sound reduction. DriTac 4141 contains zero VOCs, zero solvents and has been independently tested and certified by the Carpet and Rug Institute's Green Label Plus Program for Indoor Air Quality. Installation uses include: multi-ply engineered plank, solid wood planks and bamboo (vertical and horizontal only) flooring with unlimited thickness, width and length.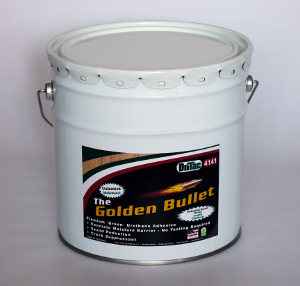 ---
The Next Generation of Ready-to-Use Grout Is Here
MAPEI Flexcolor CQ– a professional-class, ready-to-use grout – is formulated for use in commercial as well as residential interior/exterior floors and walls. There is no need to add water or to mix, and no sealer is required. Stain resistance and chemical resistance are superior attributes of MAPEI Flexcolor CQ.

MAPEI Flexcolor CQ represents a "next-generation" grout that has been designed to provide uncompromised cleanability while maintaining color consistency. It cures to a hard finish that allows light foot traffic in just 24 hours, with heavy foot traffic acceptable in 2 to 3 days. The abrasion resistance of MAPEI Flexcolor CQ is rated as the highest performer on the market in this category of grouts, the company noted. Available in packaging sizes of 1 and 2 U.S. gals. (3,79 and 7,57 L), MAPEI Flexcolor CQ comes in 26 designer colors.

For more information on MAPEI Flexcolor CQ grout, visit www.mapei.com.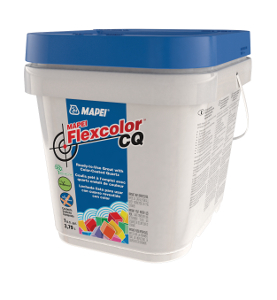 ---
Introducing Perfectly Warm Radiant Heat Film for Floating Floors
MP Global Products' new Perfectly Warm Radiant Heat Film for under wood or tile floating floors installs easily over a subfloor or acoustic underlayment. Designed to provide gentle supplemental heat, the lightweight line voltage system disperses gradual evenly consistent supplemental warmth from low wattage resistance heating of ultra-thin, flexible radiant heat film. It uses just 12 watts per square foot and conforms to warranty requirements of many floating floors.
Featuring an ultra-thin wireless filament configuration (.016" thick), Perfectly Warm Radiant Heat Film installs easily without any mortar or glue. Simply roll out each panel and cut it to length. Each panel has wires pre-attached at one end for ease of installation. Direct all lead wires toward one central electrical box, with final connection by a licensed electrician to the electronic programmable thermostat. Perfectly Warm is available in four rollout pad sizes (3' x5', 3' x 10', 1.5' x 5' and 1.5' x 10') that will accommodate most any layout.
www.quietwalk.com; 888-WARM PAD
---
The Rapid RH 4.0EX from Wagner Meters combines their patented Smart Sensor and innovative Easy Reader with Touch-n-Sense technology for fast, easy-to-use, and fully ASTM-compliant RH testing

With Touch-n-Sense technology, the Easy Reader "comes to life" on contact with the Smart Sensor – turning on, taking a reading, and holding the data display for 5 minutes before powering off. And as always, subsequent readings can be taken at any time with IMMEDIATE results, the company said.

The Rapid RH 4.0EX Smart Sensor, with CMOS Sens technology, equilibrates faster - and it stays equilibrated because the sensor never leaves the concrete. Plus, each Smart Sensor comes with a NIST-traceable certificate of calibration, making data records and ASTM calibration compliance faster and easier, Wagner Meters added.

The Rapid RH 4.0EX provides IMMEDIATE savings. At pennies per square foot, no re-calibration or re-certification issues, and the most rapid readings available, the Wagner Rapid RH™ 4.0EX saves you time and money, the company stated.