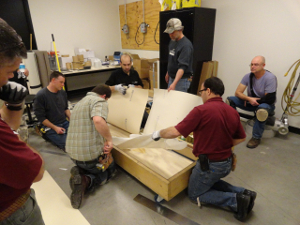 Technical Academy instructor Marc Ilgenfritz, center facing, invites installers to remove the backing from nora dryfix adhesive tape.
Six years after the program began, the nora Technical Academy graduated 19 flooring professionals from its most recent classes during the month of February, bringing the total to more than 1,400  individuals certified through the flooring installation program.
nora systems conducts the three-day training program at its Salem, N.H., headquarters, where attendees range from new flooring installers to flooring company owners, and flooring contractors.  
According to Technical Academy Instructor Marc Ilgenfritz, the training program's most valuable benefit is offering one-on-one instruction with participants. "They get a feel for our flooring and can experience how it installs in a setting where they can experiment with the material without consequence. It has also effectively reduced the amount of installation mistakes on jobsites."
The objective of the nora Technical Academy is to provide professional installers with the tricks and techniques unique to working with nora floor, allowing them increased confidence and expertise with nora in the field, in turn helping eliminate possible installation failures and the need for costly repairs. Participants learn about the latest industry standards, including new moisture testing methods and equipment, sub-floor preparation, heat vs. cold weld, how to handle installation problems, what makes rubber flooring different to install, and the resources nora makes available to installers.
Ryan Martinez and Justin Jones, installers at Gary Leimer, Denver, Colo., enjoyed the experience of attending one of the February training sessions, and acknowledged its value to them. "It was a really well-run class, and the practice we got is what impressed me most," noted Martinez. "[Marc] really broke the information down, and we were able to work with the material hands-on, which is much better than reading out of a book or reading installation guides."
Jones agreed, adding, "The academy positively helped me by providing me with more knowledge about the material, so I, in turn, can apply that knowledge to the field. I will have an easier time at work, when installing nora, knowing what I am able to do and not able to do with the flooring."
New classes at nora Technical Academy are forming in April and will continue to be offered throughout the year. For more information about the program or to receive scheduling and registration details for upcoming classes, call 1-800-332-NORA or visit www.nora.com/us.