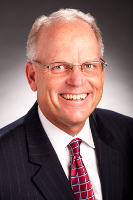 Ed Duncan, Mannington Mills' new president of residential business.
Ed Duncan has been promoted to president of Mannington Mills' residential business. He will be replacing Kim Holm, who is retiring.
"As we look to the future, we're excited about the opportunities in front of us. Ed's experience and understanding of the residential market offer opportunities for growth as the segment continues to strengthen," said Russell Grizzle, Mannington's president and CEO.
Duncan has been with Mannington for 27 years. During his tenure, he has held a variety of positions across both the commercial and residential businesses, most recently as senior vice president of residential marketing and residential business development. 
For more information, visit mannington.com.