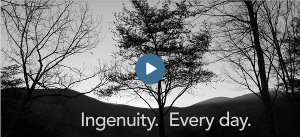 J+J Flooring Group's "Ingenuity. Every day." video has been named an AVA Digital Awards Gold Winner.
J+J Flooring Group's "Ingenuity. Every day." video has been named a Gold Winner in the corporate image category of the AVA Digital Awards.
The international awards recognize outstanding achievement by creative professionals involved in the concept, direction, design and production of media that is part of the evolution of digital communication.
The four-minute video provides a look at the company's history of innovation and how that innovative spirit is part of the organization's ethos today.
Integrating shots of Dalton's and J+J's manufacturing facility, professionals from across the company talk about the collaborative and holistic approach they take to their work today and what it means for future generations. According to the company, the video allows viewers to gain a more personal connection to the company and the employees of J+J.
"It's validating to see our message of innovation and environmental responsibility recognized by marketing, communications and creative professionals," said Russ Delozier, J+J Flooring's director of sustainability. "We hope those that see the video are just as inspired in viewing it as we were in making it."
J+J Flooring Group partnered with Moto Films of New York to produce the video.