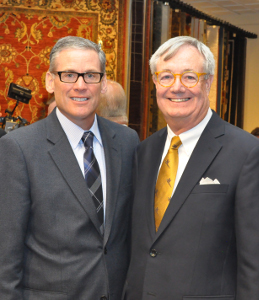 Bill Storey, left, Karastan's senior vice president and John Skvarla, North Carolina commerce secretary announced the expansion of Mohawk's Eden, N.C. facility.
Mohawk Industries has announced an $8M investment in its Eden, N.C., weaving plant where its Karastan brand rugs are produced.
Almost 90 years after the first Karastan rug was produced at the facility, Mohawk is reinvigorating the location with investments in technology, equipment, infrastructure and new jobs that, according to the company, will make Eden a center of excellence in weaving across all of the Karastan brand's business segments—including the residential, rug and commercial divisions—as well as producing woven collections for select specialized channels.
"The first Karastan rug at the Eden facility was produced in 1928, and this project represents a revitalization of this important site," said Brian Carson, president of Mohawk's North American Flooring division. "More than 100 people in the region will become part of our talented and dedicated team at Eden. These fine craftspeople create some of the most beautiful and enduring products in our industry. We look forward to investing in equipment as well as making significant process and infrastructure improvements to ensure a brighter future for this historic facility and the great people who work here."
According to Carson, Mohawk is committed to creating products that offer fashion, performance, quality, sustainability and value for all spaces. The investment in new technology and equipment will allow the company to introduce many new and exciting carpet collections. 
While rugs have always been the location's signature product, Eden also produces Karastan's coveted residential woven broadloom carpet. With this expansion, the company will now be able to create a wide variety of innovative commercial products, as well.
"Mohawk has been a great corporate citizen to Rockingham County and to North Carolina," said North Carolina Governor, Pat McCrory. "By adding these new manufacturing jobs, the company is demonstrating its confidence in North Carolina's business climate and workforce." 
For more information, visit MohawkGroup.com and Karastan.com.