It takes creativity to approach the design and manufacturing processes with the mindset to create better products for a better world. To that end, Mohawk Group recently introduced Owls, a commercial carpet plank collection inspired by the plumage of Owls. 
"We have to reach a point where sustainable solutions for the built environment are not something we think about and talk about—but something we just do," said George Bandy, Jr., Mohawk Flooring North America chief sustainability officer. "They have to become so ingrained in our thinking that innovation and transparency are the golden standards that create a baseline from which everything else is measured."
Designed by architect Jason F. McLennan in collaboration with Mohawk Group, Owls meets the stringent requirements of Living Product Petal Certification and is produced in Glasgow, Va., at Mohawk Group's Living Site facility. As a Living Product collection, Owls has a net positive impact for people and the environment through innovations in materials, manufacturing and community involvement initiatives.
The design captures the essence of the North American birds of prey through color and patterning. The planks come in two 12» x 36» patterns, Feather and Flight, inspired by the mottled shades of black, brown, tan and gray in the plumage of owls as they lift into the air. 
The biophilia-inspired collection is manufactured using Mohawk Group's Red List-free Duracolor Tricor solution-dyed nylon fiber and EcoFlex NXT tile backing. Duracolor Tricor utilizes a modified triangular-shaped core to deliver unsurpassed stain resistance, colorfastness, durability, color clarity and enhanced soil performance.
 
Quiet, Restorative Spaces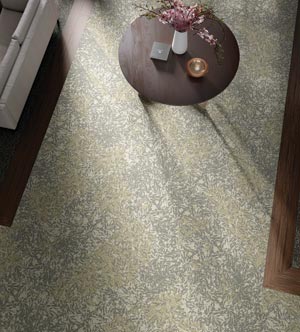 Answering a need for escape from the busy digital world, more commercial interiors are moving toward flooring solutions that offer respite and relaxation. In response, Tarkett has expanded its popular Garden Walk carpet collection with two new styles: Solana in Broadloom and Allium. While the collection was originally designed with senior living spaces in mind, its soft colors and patterns have proven successful in corporate, retail, and other healthcare environments as well. 
Both new patterns feature soft geometric foundations, balanced by organic overlays—a combination of elements that introduces a more contemporary aesthetic, along with rich depth, texture and plenty of softness. Solana, available in broadloom, features a brick-like inlay beneath wandering ivy vines. This style offers luxurious plushness with minimal pattern lines, creating expansive areas without obvious pattern repeats. Allium layers the impression of a garden trellis and scattered leaves beneath tip sheared accents of a large damask. The random cut of each modular tile creates a meandering, handmade feel in every step.
Artistic Influences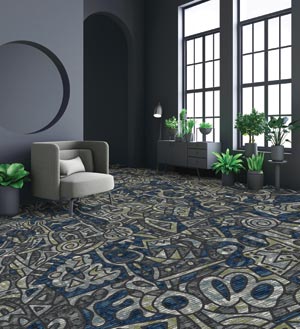 Cadavre exquis (or "exquisite corpse") is a collaborative drawing approach first used by surrealist artists to create bizarre and intuitive drawings. This approach to art, in which several artists collaborated on the same piece without knowing what had been added by the artist before them, was intended to unlock the imagination and experiment with styles or modes of design that pushed the artists beyond their routine practices. In the 1920s, artists used the technique as a collaborative parlor game because it stimulated them and opened them up to new ways of looking at their own work, according to Elizabeth Bonner, creative design director for Durkan.
Today, the technique also proves to be a great source for inspiration for hospitality flooring design. Durkan used cadavre exquis to create the Free Play collection of carpet, a portfolio of coordinating patterns that pair together in unexpected ways. 
"As the experimental collaboration unfolded with Free Play, our design team was thrilled by the unexpected patterns that came from these exercises, knowing their creation originated from opening a door to unknown possibilities," Bonner said. 
The collection functions as a full system across Definity, Precision Dye Injection (PDI) and Pattern Perfect platforms, as well as tufted broadloom, so that every application within a property has the option of coordinating well-designed, quality solutions across a variety of different flooring categories.