As we continue to adapt in the wake of coronavirus and the economic slowdown, multifamily flooring manufacturers have had to adjust quickly to the changes in their sector. Ripple effects continue to be felt throughout the flooring industry, so we checked in with leading companies and designers to find out what's ahead for multifamily projects and how residential spaces will evolve.
The normal workflow has shifted as projects are halted or put on hold, which is both a challenge and an opportunity. "In a typical year, we'd see multifamily business start in May, and then work its way through September, and then trail off because the kids go back to school. That timeline has been pushed back now. We expect to see that business really pick up a little bit more in the latter part of June, and then carry all the way into October, said Michael Mulligan, vice president west region and strategic accounts-residential, Tarkett.
Indeed, as the calendars change, manufacturers are using any extra time to create new flooring and ensure that existing products are readily available. "Everybody's had a bit of a slowdown, so we've actually kind of kicked it into high gear on the product development side," said Ginger Gilbert, vice president of product design and development at Bentley. "We're really playing with design on the machines, and we've got a good stockpile of well-rounded products for all the different segments."
The demand for wood flooring continues as people desire a sophisticated look and a product that can withstand wear and tear. And now, sustainability is more than a buzzword. "For condos and apartments, a lot of the wood floors we're specifying are Forest Stewardship Council-certified," said Diane Burgio, founder of Diane Burgio Design, a studio based in Brooklyn, New York. It's becoming less of a trend, and something we're implementing without even thinking about it. Sustainability has become second nature at this point."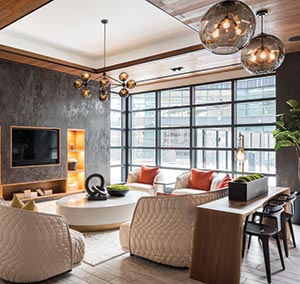 Wood is easy to clean, an important feature, as we deal not only with coronavirus, but also strive to keep our homes free of allergens and germs on a daily basis. "A lot of people suffer from allergies, and they want to keep surfaces dust free," said Jessica Klaus, partner at Diane Burgio Design."I think that wood is faster to clean, but it's also much warmer and it feels more natural. Carpet doesn't quite provide that connection with nature the way wood flooring does. People want to see the imperfections, the knottiness in the wood. They're definitely drawn to a wider plank right now, like an 8-to 10-inch versus the smaller ones we were seeing before."
The wider plank is popular from an aesthetic standpoint, but it has even more appeal for developers and building owners. "The speed of installation is key. The wider you go, the more that you're putting down per hour," said Jason Brubaker, vice president of sales and marketing for Nydree Flooring. "With the labor shortage that we have right now, that's become a big issue to the developers trying to keep their labor costs down and also maximize what can be installed with the people that they have. So, the wider plank has a two-pronged benefit."
Carpet still has a place in multifamily dwellings. "Carpet is going to have a lower pile," Gilbert added. "You'll still have the fiber on the front, but it won't be as plush. We're going to see tighter construction. There's the acoustic value for multifamily, which is still important, and carpet tile is going to be accepted more."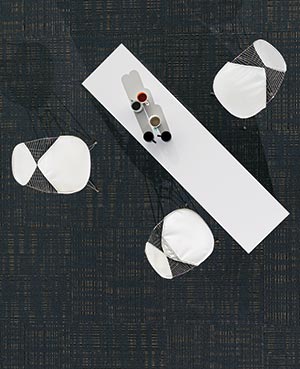 The coronavirus pandemic has prompted an evaluation of how we'll live—and now work—in our homes, which will determine where hard or soft surfaces are used. Coworking spaces, whether separate rooms or as a designated area within the unit itself, will influence the flooring that designers choose. "A lot of coworking spaces are getting layered into all of the amenity spaces," said Angie Lee, partner and design director of interiors at FXCollaborative, an architecture, planning, and interior design firm based in New York City. "We're using rugs in areas meant to be designated as quiet zones, because they can be pulled out and cleaned if necessary."
Hard surface flooring will be used for coworking areas as a tool to help enforce social distancing guidelines and give residents a sense of security and comfort. "A lot of our projects have coworking spaces, and that's been a very big driver," said Christie zumBrunnen, vice president, creative at Denver-based TRIO, a firm that specializes in design for builders and developers. "Now, though, we're starting to talk about new approaches like not having so many enclosed areas. We're going to have more open space within these coworking interiors. We'll definitely want to incorporate interesting flooring to help designate specific points where we wouldn't be able to use walls or glass partitions. For the most part, we've been using wood or LVT, because we want to bring in as much color and interest to that floor as we can."
"A lot of our projects have coworking spaces, and that's been a very big driver ... we want to bring in as much color and interest to that floor as we can."
– Christie zumBrunnen
Because of its affordability and wide range of visuals, we're expecting to see a resurgence of vinyl in coworking spots and other amenity spaces that need pops of color. "With the budget constraints, coupled with the need for more realistic, fashion-forward designs, we're seeing increased demand for sheet vinyl again in the multifamily industry," said Mulligan.
All types of flooring will aid us as we reconfigure our residential spaces. "We have to provide products for the A&D community that are going to support them as they take on this new world of specifying," Gilbert said.