Porscha Coney seems to have the golden touch. Whether she's styling herself or her family (right down to turtlenecks for the dogs) or perfectly arranging a combination of textiles, fabrics and patterns that lend to the complete transformation of a space, Coney's keen eye for style and design have unearthed a dream realized. 
What began as a hobby that allowed Coney to occasionally flex her design muscle has since catapulted into a full-blown entrepreneurial venture: P.L. Coney Designs, a Kentucky-based, full-service firm offering design solutions for both residential and commercial interiors. 
"On trash day, my husband and I would drive through the neighborhood and we would look for old furniture pieces that people were throwing away," says Coney. "We would grab them, take them home, refurbish them and then resell them. We absolutely loved it, but I found myself loving the process of staging the furniture a little bit more." 
Through the power of social media, which at the time consisted of just Facebook for Coney, the furniture staging she did in her home in hopes of photographing and selling the revamped pieces attracted her very first interior design client, and the rest, as they say, is history. 
"I got a Facebook message asking if I could design a condo in Cincinnati, and I was like, 'Who? Me?'," she recalls. "I'd never done design or anything like that, but this person had seen what I was doing just in my own home and they loved it. From there, after I designed that condo, I absolutely fell in love with interior design. I knew that this is what I'm supposed to be doing; this is what brings me joy."
Entering the world of interior design full-time was certainly a risky move for Coney, who'd earned a degree in family studies and who at the time had no professional experience in the field. And the risks didn't stop there. Interior design is a profession that Black women are underrepresented in—as indicated by the American Society of Interior Designers, which reports that less than 2% of its membership identify as Black, and by the International Interior Design Association, which reports that less than one percent of its members are women of color. But rather than being dismayed by a lack of experience or representation in the field, Coney tapped into a level of confidence and ambition that she says is innate.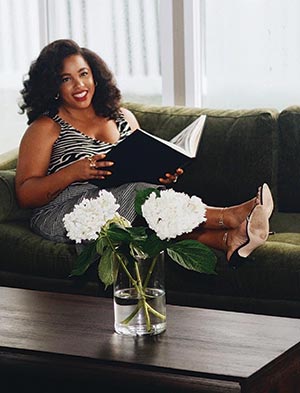 "Minority women bring so much creativity to interior design. I believe that our eye is just unmatched. I love the diversity that we bring and the different ideas that we contribute. We've gone through some unique experiences, both positive and negative, and we've been able to embody them and bring them into the work that we do and our clients' spaces. And that's just what minority women do—we take our negative experiences, our lemons, and we turn them into lemonade. We do that every single time. We will never fail." 
It is that mindset, growing social media exposure and old-faithful word of mouth that have propelled Coney, taking her from a small town designer by hobby, to a professional design influencer whose work has gained her an international clientele and partnerships with big box brands.  
"Word of mouth will always be king of marketing, but social media is definitely the queen," Coney said. "Social media is a tool that has really increased my business." 
So much so that her Instagram account caught the eye of Big Lots, who enlisted the design expertise of Coney and a handful of interior designers to showcase its 2019 Christmas lines. 
"I'd never thought about going to Big Lots for Christmas decorations," Coney said. "But they brought us into their warehouse, showed us the showroom and their beautiful setups and then we were given free reign to take those items and decorate our own homes with them." 
Taking a walk on the creative wild side, Coney took home with her Christmas décor from a Big Lots line that featured colors that she wouldn't normally decorate with, and the result was just what the retail giant hoped it would be. "The colors were pink, teal, purple and yellow. It was my first time doing that. But I put the ornaments on my tree, [shared on social media] and so many people were like, 'Oh my goodness, I'm going to Big Lots for my Christmas decorations!'" 
Like Big Lots, several flooring manufactures have turned to design influencers like Coney to drive awareness of their products and trends on social media and design platforms. In addition to brand awareness, these partnerships have also made flooring seemingly more appealing and accessible to end users. 
"Flooring has evolved," said Coney. "Flooring used be super expensive and when I would bring it up to a client, they would get nervous because all they'd think about was the cost. But now there are some really good options that won't completely break the budget." 
As Coney continues to grow as an interior designer, she plans to keep doing what's worked well for her thus far—using her home as a canvas to create eye-catching designs and her social media platforms to capture the attention of potential clients and brand partnerships. 
"A lot of my furniture pieces in my home are from Value City. So I have taken a few pictures, like me reading a book on a sofa that's from Value City, or my children sleeping in our bed, and I've tagged [the company] and they've posted it on their social media accounts. So I would love to collaborate with them."   
Coney's social media has also caught the attention of aspiring interior designers, which has allowed her to not only expand her team, but to also provide opportunities for other women of color to comfortably learn and grow in the interior design field under her wing. 
Porscha's Designers to Watch
@plconeydesigns
@forbesmasters
@kellyhopterinteriors
"I recently had a University of Kentucky student join my team as a design assistant. Being able to mentor her and to help nurture her budding skills has been a great experience for both of us. It's exciting knowing that we are adding much needed diversity and representation to the field."
Trends to Watch in 2021