Sheet vinyl has always been the first choice for healthcare applications because of its performance attributes, crucial in areas where cleanliness is needed. Now, as we begin to think about life beyond the pandemic, specifiers are considering sheet vinyl flooring for a range of commercial applications, from retail stores to office spaces. 
The same features that make sheet vinyl flooring vital in the healthcare sector have gained much attention, especially during the pandemic. Flooring manufacturers agree that we will continue to see this option chosen for a variety of commercial projects. 
"Sheet vinyl has always held a prioritized place in healthcare settings because of its infection control capabilities," said Amanda O'Neil, director, commercial product management at Armstrong Flooring. "As it stands today, infection control has become a priority in more than just healthcare. We're seeing it across all segments in commercial, whether it's retail or education." 
AHF Products launched its Hartco Contract line last year, which includes sheet vinyl with the proprietary HartGuard UltraShield coating system. The integrated technology provides superior resistance to stains and scratches, as well as offering easy cleanability. 
"Our sheet vinyl is going to withstand heavy foot traffic and heavy rolling loads," said Brian Parker, director of product management, AHF Products. "Once it's installed, it is low maintenance. There's no waxing or buffing required. There's no need for sealers or finishes, so it's very easy. It's a durable product." 
Because sheet vinyl is easier to put in, time and money are saved—key selling points as COVID-19 continues to impact financial estimates and project timelines. "With experienced installers, vinyl sheet can be an extremely fast way to put down a quality floor, offering price points to meet budget requirements," O'Neil added. 
Parker also noted that the width of the Hartco rolls is appealing because it aids in quick and simple placement of the product. "Our rolls are 78.7 inches wide, and the standard rolls out there are 72. So, we're nearly seven inches wider with our sheet rolls, and that's significant. It is going to cover more area when you roll it out, and that means a faster install. The installation professionals love that there are fewer seams that need to be heat welded. And it's not only a bonus for the installers, it also gives the space a look that is cleaner overall." 
Sheet flooring is ideal for spaces where moisture is a problem, from bathrooms to gyms and basements. "Sheet provides a comfortable cushion underfoot, and it's a great option for high-moisture areas," O'Neil said. Indeed, because it is waterproof, it can also ensure that costly repairs due to leakage or other damage are avoided. "Sheet vinyl provides a continuous, flowing floor. You don't have the end or side joints like you do with a plank product, where moisture can leak down to the subfloor," Parker said. 
Commercial sheet vinyl styles and colors reflect the desire for calm settings and bringing the outside world indoors. "Trends in commercial design continue to be inspired by nature and biophilic design," said Di Anna Borders, vice president of design at Armstrong Flooring. "Materials and finishes that share a connection to nature help reduce anxiety and stress for the inhabitants of the space. Specifically, visuals like textiles with minimal texture have been the most requested— for cleanability and an organic vibe." 
At AHF Products, they have kept looks and palettes toned down, not only because the Hartco Contract line is still new, but because the team believes those options will continue to be popular. "It also relates to the trend we are seeing around minimalism," explained Sara Babinski, senior design manager, AHF Products. 
Babinski also noted that wood and stone styles in particular are set to remain strong sellers because of their nods to nature, and due to their ability to transform any type of interior. "Wood looks are still by far the most popular. We do have a very subtle stone look in the heterogeneous category that fits perfectly into what I call the neutral trend. Just a very minimalistic, soft palette with a couple of wood tones that are a little bit more classic, which work well in existing structures that need an update." 
As we return to our workplaces post-COVID, flooring design will assist people in keeping an appropriate distance from one another. "There is heightened awareness around COVID-19 measures, and the floor can play a big part in creating wayfinding for navigation, and delineation of space for social distancing. Sheet vinyl makes that very easy to accomplish in installation," Borders noted. 
Manufacturers expect to see an increase in the use of sheet vinyl flooring in an array of commercial spaces, most notably, retail stores. "I think we are going to see a boom in the retail sector, especially around local businesses and the smaller stores," Babinski said.
Project Spotlight: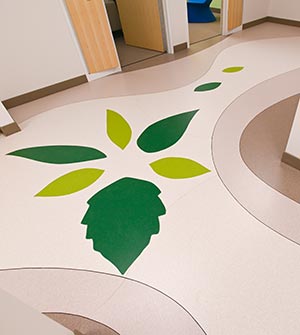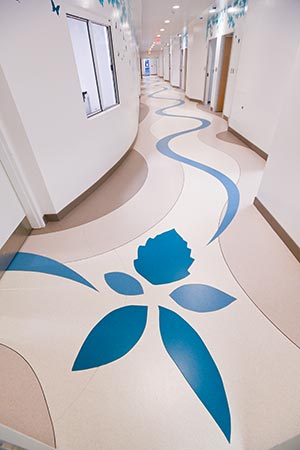 Project: Nationwide Children's Hospital, Big Lots Behavioral Health Services Pavilion
Location: Columbus, Ohio
Architect: NBBJ
Contractor: Floor Systems & Design
Product: Medintone with Diamond 10 Technology Homogeneous Sheet, Medintech® with Diamond 10 Technology Homogeneous Sheet
Description: Armstrong Flooring Medintone and Medintech homogeneous sheet was chosen as a product made specifically for healthcare facilities. Its homogeneous structure made it an ideal product to use throughout the pavilion, in patient rooms as well as corridors and common areas.