Regardless of living in a climate that is prone to colder or warmer temperatures, there's something to be said about how walking around your house on chilly floors makes you want to immediately hop back into bed. While floor heating practices have been around for centuries, thanks to evolving modern technology, radiant heating systems have gone from an uncommon nicety exclusively seen in wealthy estates, to an eco-friendly and affordable concept that more homeowners are utilizing than ever before. 
Not to mention, more than three-quarters of all U.S. homeowners said they had done some type of home improvement project during the pandemic, according to a recent survey by Porch.com. Both of these factors have made homeowners turn a renewed focus on finding new ways to make their homes more cozy and comfortable to live in, which includes incorporating radiant heating systems under the finished floor. 

Saves Money and Improves Your Livelihood  
While floor warming may seem like an added expense on the front end of a building or renovation project, the addition of an in-floor radiant heating system provides the user a cost saving advantage over the life of the building. Further, the Radiant Panel Association disclosed that most homeowners can accrue energy savings of 10% to 30%; for commercial installations, savings of up to 60% or more are possible. With cooler temperatures just around the corner for much of North America, heating a home efficiently is all the more crucial. According to the U.S. Department of Energy, heating a residential home uses more energy and costs more money than any other system of a home — typically making up about 42% of your utility bill. To combat higher than normal prices on a utility bill, homeowners should consider installing a radiant heating system for more energy-efficiency and evenly distributed heat in comparison to forced heating systems.  
From its energy-efficient warmth and cost savings, electric radiant floor heating systems are easy-to-install, produce no noise, require no maintenance and heat up quickly to provide uniform floor heating. Made up of a series of flexible wires, the system allows the installer to integrate electric radiant floor heating into the mat in various ways, maximizing output and coverage as it heats the home through thermal radiation. By heating the floor rather than the surrounding air, which can be less energy efficient due to thermal loss, diffused heat radiates from the floor up and is absorbed by surrounding objects that in turn help warm the entire room.   
Think of a radiant heating system much like heat from the sun, for example. When you step from the shade into the sun, you feel warmer even though the air temperature is the same, that is exactly how radiant heating works within the home. Plus, radiant heat can't escape out of open doors or windows like forced heat does. 
An added bonus — the most ideal heating system a homeowner can have is one that you don't even realize is there. Homeowners no longer have to worry about utilizing loud radiators, baseboards and vents, or deal with grime-spewing ductwork thanks to radiant heating systems' indoor air quality benefits and non-allergenic features.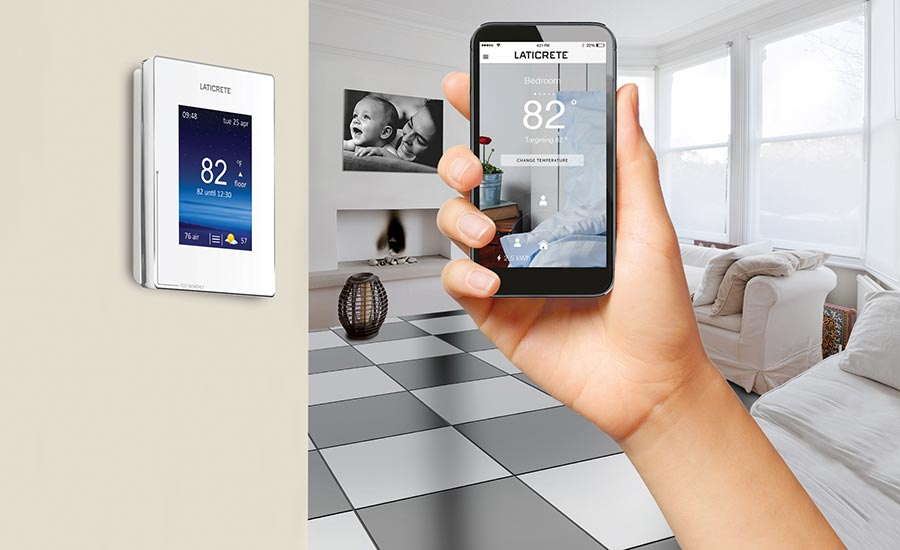 User-Friendly 
Thanks to their versatility and design flexibility, radiant floor heating systems are now able to be installed anywhere in one's home — the bathroom, kitchen, living room, bedrooms, basement and everything in between. Once installed, the system is covered with a finished flooring material of the homeowner's preference. Thanks to innovative technology, homeowners are no longer forced to implement a certain type of overlayment with their new radiant heating system and now can use materials such as tile, stone, vinyl, carpeted or hardwood floors. 
In addition to the customization that comes with the installation of a new radiant heating system, controlling the system is now more user-friendly than ever before thanks to recent technological advancements. Homeowners and business owners have the option to select a regular thermostat or opt for a Wi-Fi enabled system that further promotes green living. With the user able to control their floor's heat via their phones, these systems can learn routines and apply more efficient settings to reduce energy usage.  

Improve Your Space and the Environment  
With homeowners spending more time in their homes, coupled with the construction industry's focus on innovating building systems that focus on improving the environment, health, efficiency, ease of installation and—most importantly—promoting the green and sustainable building movement, radiant floor heating systems are on the rise more than ever before.  
When consumers consider the obvious benefits a radiant heating system provides, they should consider using products from a company that utilizes the most up-to-date solutions for the ultimate performance benefits.