The pandemic has highlighted the desire for healthier living. More than ever before, designers are tasked with selecting products that are better for people and the environment. They must create interiors that enhance our physical and mental well-being — with the floor as a starting point. "Flooring is the foundation of a room, it sets the tone," said Zuni Madera, design director at Foley & Cox, a New York-based firm. 
For Los Angeles-based designer Kishani Perera, the focus on health and wellness started as a personal journey and extends to her work today. When she became ill and experienced an array of symptoms, she sought out specialists for a diagnosis. "I was getting sicker and sicker. I started having breathing problems and developed multiple chemical sensitivities. No doctor could figure out what it was."  
Eventually mold was identified as the culprit, and Perera sought out organic and non-toxic products for her own home. She said more and more of her clients are on the same page now. "We have more of an awareness than we did 30 years ago. People understand what is harmful. Once you realize that something is detrimental to your health, it becomes harder to ignore." 
While most people aren't ready to commit to a totally eco-centric lifestyle, they often start by adding in more organic materials like wood or stone. "I tend to select natural materials. I love hardwood floors in the living areas or marble in the bathroom. These materials are timeless, they last. Flooring is not something that you change all of the time, so it's essential that clients invest in a quality product," said Rozit Arditi, founder and creative director of Arditi Design, based in New York City. 
There is an emphasis on different rooms, as people want places of respite or fitness in their residence. "Home gyms are definitely part of the conversation, we're getting more requests for them. My clients are also interested in separate sitting rooms or a quiet space that they can enjoy. It's about having multifunctional spaces, where a family can gather or an individual can go to take a break. There's that flexibility," Madera noted.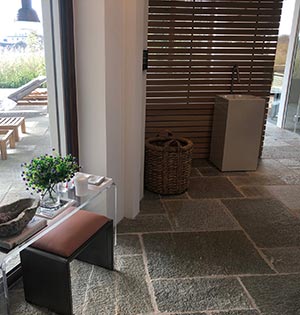 While most architects and designers prefer hard surfaces, carpet and rugs are still used as statement pieces. "I grew up in Turkey, so I appreciate rugs. We've been layering them. In a large living room, we'll take a jute or sisal material and then place an area rug on top to cozy it up. The hardwood is still visible, which creates a nice mix of textures," Arditi added. 
Perera explained she often likes to combine organic flooring. She chose a virgin wool carpet backed with hemp for children's rooms in a client's home because of the softness it provided. "We put a soy pad underneath it. It was untreated and totally natural. It was just so wonderful and cozy. For a vegan client, we are doing a stair runner and some rugs, which are going to be made of nylon and cotton. And then we'll add in some cactus fiber or jute. Depending on how serious the client is about using natural fibers or how sustainable they want it all to be, I can show them options that will work." 
Madera said that the right combinations give wellness spaces, which can often look too sterile or cold, an unexpected sophistication. "We love to use different materials when we can, because it just brings a different dynamic into an interior. It definitely adds layers of interest, and creates an environment that is welcoming. You don't necessarily feel like you are at a local spa or gym. It elevates the experience for the user." 
Colors provide a sense of calm, key to promoting better mental health in any space. "There has been a shift toward more green, more rust colors. We used to see crisp whites and grays almost exclusively. Now, we are using tones that are softer and warmer," Arditi noted. 
Perera said that natural tints are richer, especially when they are paired with organic materials. "I am using this particular hemp rug line that features vegetable dyes. The colors are so saturated, they are beautiful. They have a very earthy appeal." 
The designers note that people are not only concerned about their personal health, but the health of the planet, and their choices reflect that care. Arditi noted that not every item has to be brand new. "We have been getting a lot of calls recently from clients that have been in their apartments a long time and they want to refresh the floor a bit. We explain that they can refinish or redo the stain on hardwood floors. Even some of the engineered products can be refinished a few times to extend the life of the flooring." 
"My clients are walking the walk," Perera said. She noted that even a small change can have a big impact. "They choose recyclable materials, or if something is synthetic it was recycled. Whether it is the whole house or just a few elements, they are trying to be earth-friendly."