People want their outdoor living space to connect with the surrounding environment, and they want to create an environment that is personal, unique and beautiful.
"We all need a place to call a sanctuary," say Feras Irikat, director of design & marketing for Lunada Bay Tile. "Certainly since COVID-19, people have been reevaluating their indoor and outdoor spaces and are finding new ways to decompress and destress in their home environment. It's no longer just about having a pool or a backyard or a firepit. It's about how these features can contribute to an enhanced lifestyle."
Here's a roundup of some of the trends we're seeing for floors in the great outdoors. Click on the photos to enlarge and view product information.

Making the Indoor-Outdoor Connection
Since nature plays such an important role in wellbeing, outdoor areas continue to gain significance in the overall design of a space.
"[S]ince COVID-19, people have been reevaluating their indoor and outdoor spaces and are finding new ways to decompress and destress in their home environment."
– Feras Irikat
"Restorative Nature is the understanding that our homes need to provide us with restoration of mind, body and spirit," said Laura Grilli, director of product development for Daltile.
 
The trend incorporates many of the principles of biophilia, which is all about achieving a more grounded and slower pace of life, focusing on essentials and a deeper connection to the natural world. Outdoor projects emphasize the element of comfort, style, and safety, as more individuals look to entertain, exercise, and relax in the open air.
 
"These skillfully designed open-air retreats provide an extension of interior living and working spaces, as we see a blurring of the lines between interior and exterior environments," said Suzanne Zurfluh, director of design and trend, Emser Tile.
The look of natural stone, such as travertine, is a very desirable look for a wide range of design applications, however, its high-level maintenance requirements often knock it out of consideration come specification time. In response, Crossville introduced a new tile collection, Stone Fiction, to give designers the travertine style they want with effortless performance.
"Although travertine is a beloved natural stone, its porousness and irregularity can make upkeep and long-term performance really challenging," said Lindsey Waldrep, Crossville's vice president of marketing. In contrast, Stone Fiction is ideal for residential spaces, as well as the most demanding commercial installations—inside or out."
✕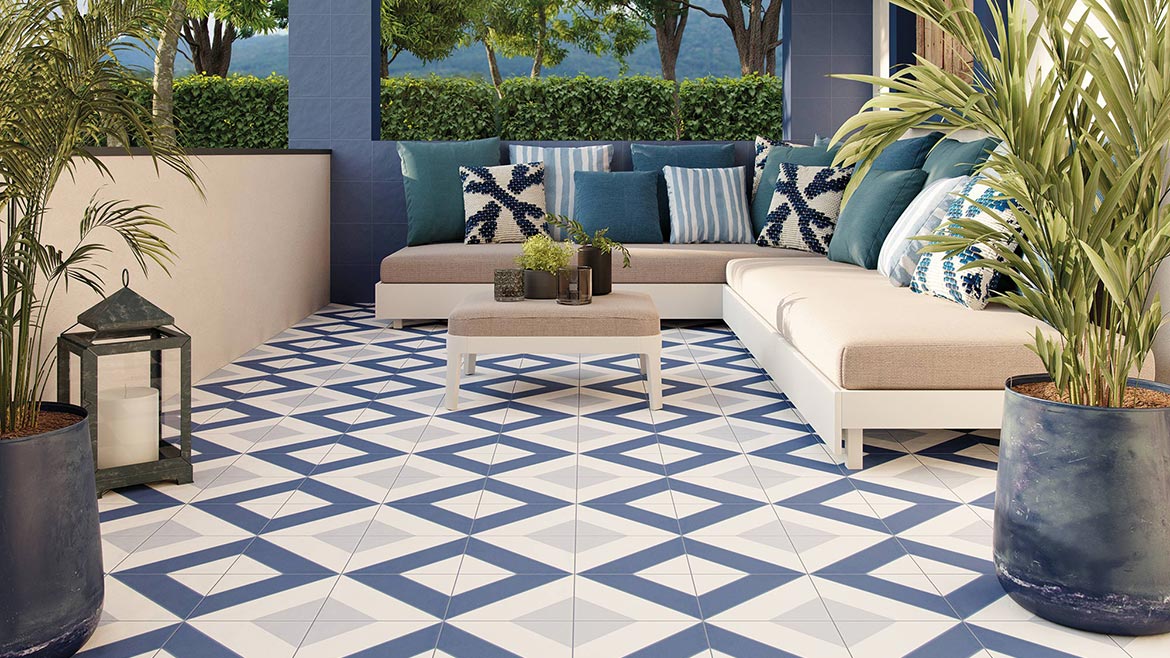 Moment porcelain tile by Undefasa. Photo: Tile of Spain.
✕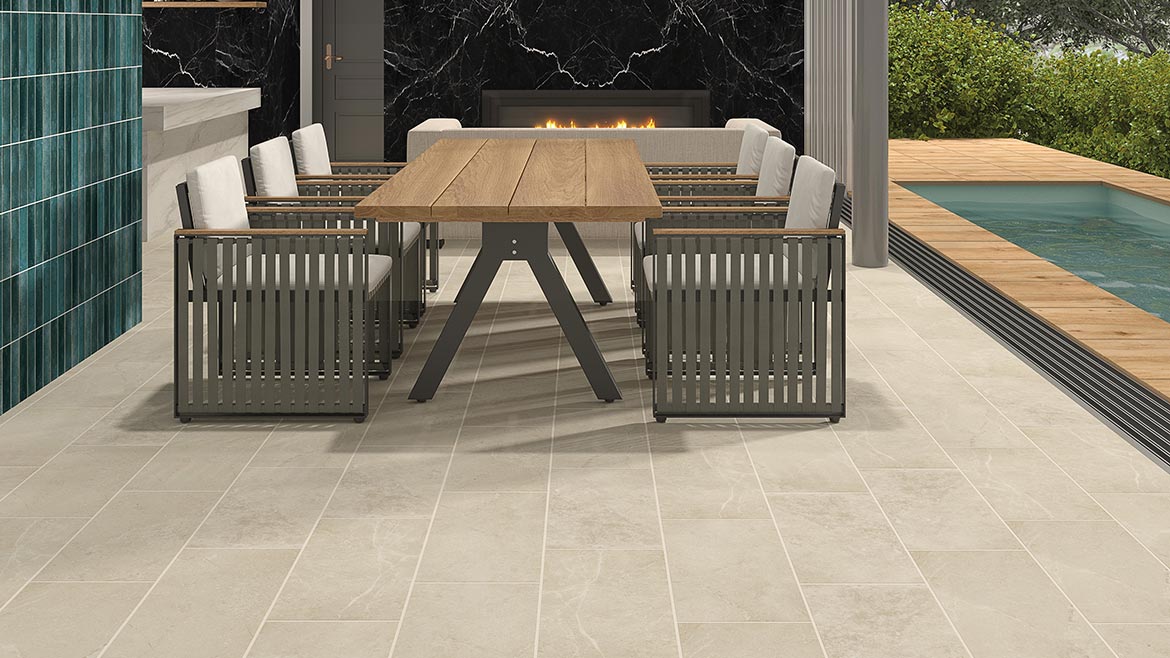 The Scripter collection of glazed porcelain tiles features StepWise technology, which offers 50% more slip-resistance than traditional tiles, making this product perfect for indoor and outdoor use. Photo: Daltile.
✕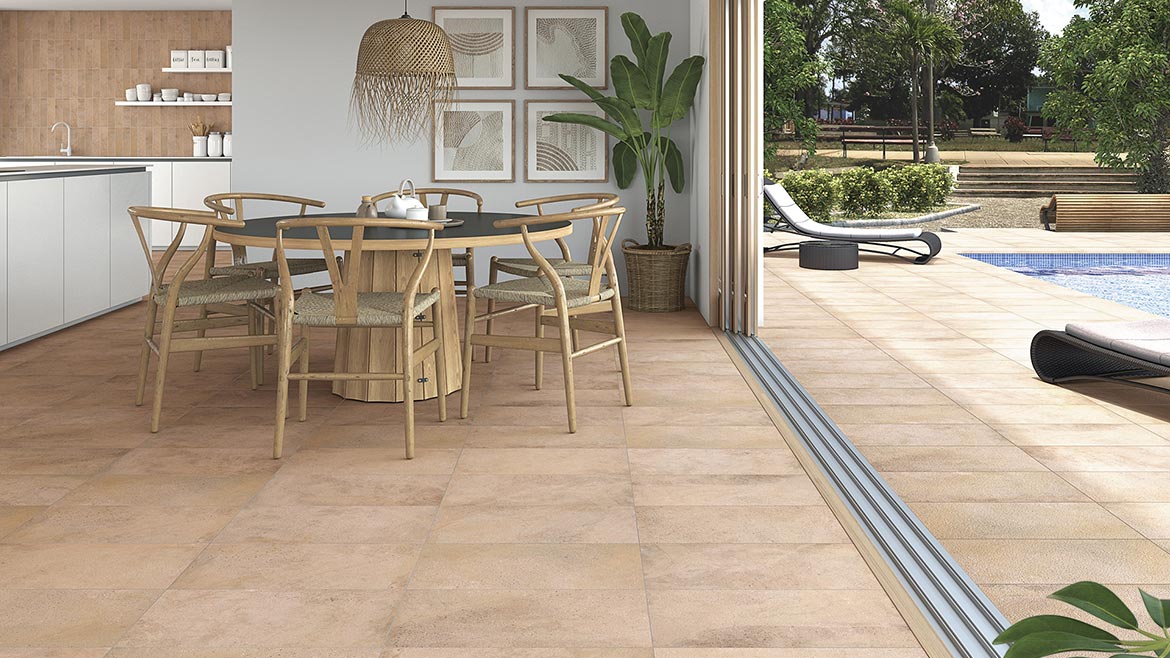 Stravaganza Altea by Stravaganza. Photo: Tile of Spain.
✕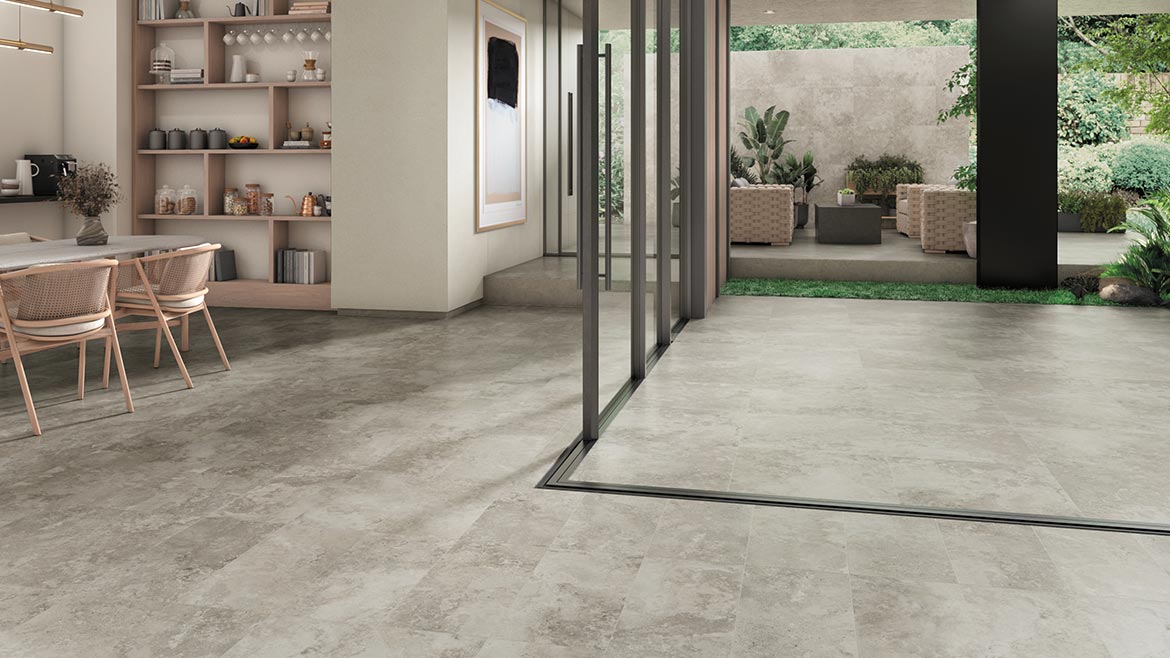 Stone Fiction offers the timeless appeal of crosscut travertine with the power of pure porcelain tile performance. Photo: Crossville.
✕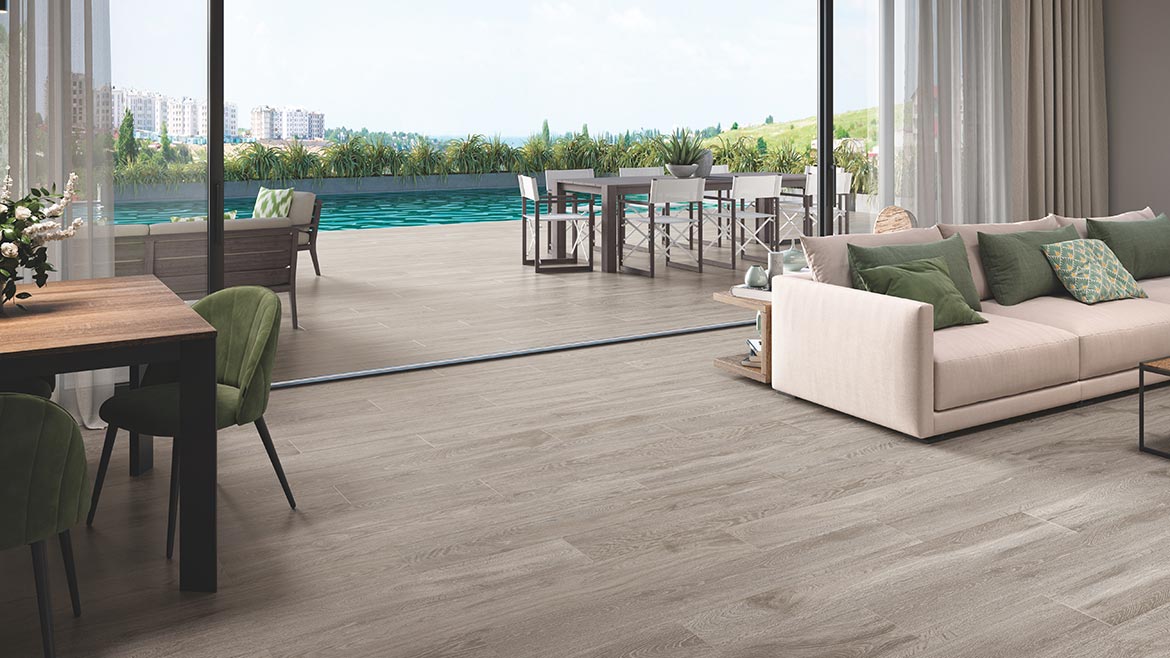 Spring by Porcelanite. Photo: Tile of Spain.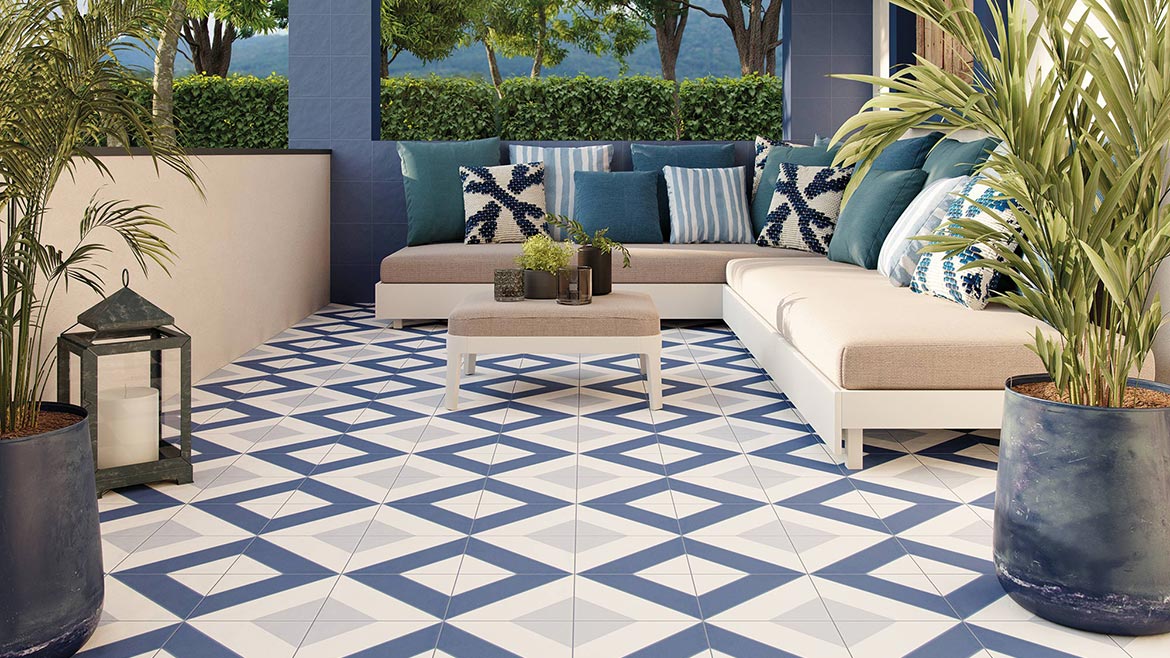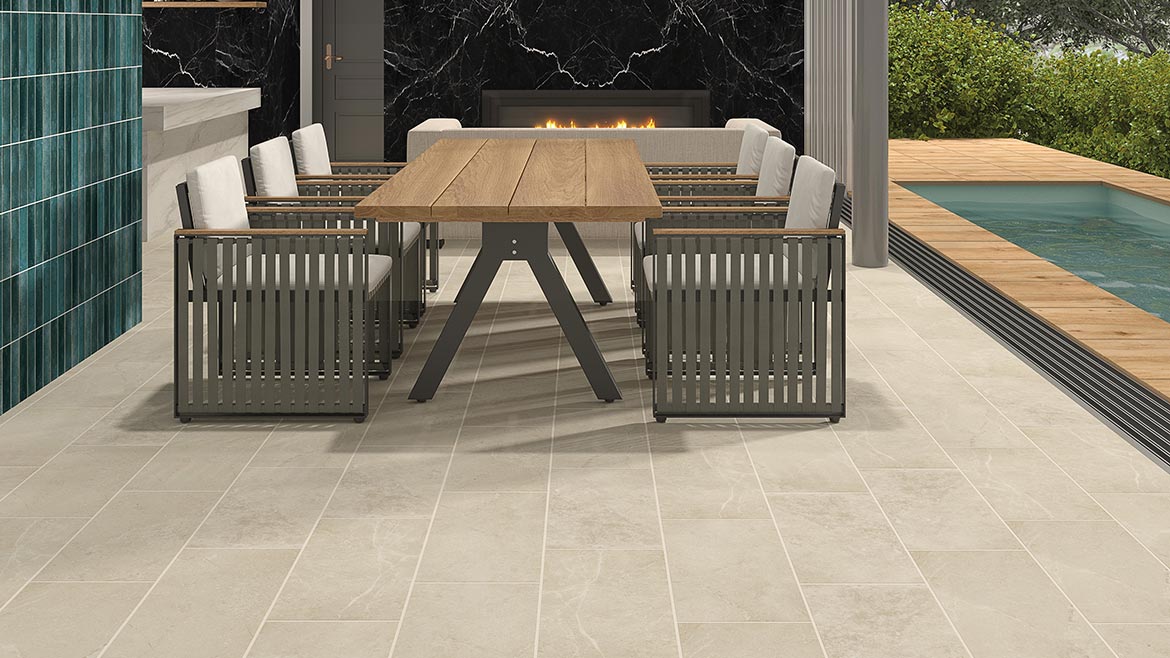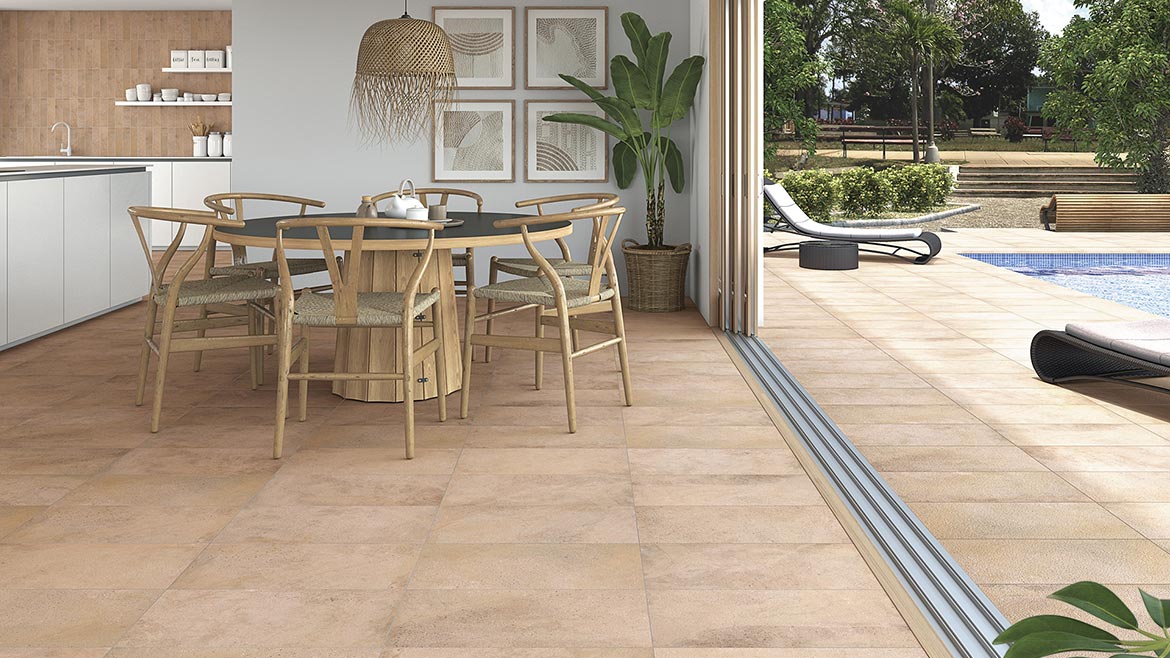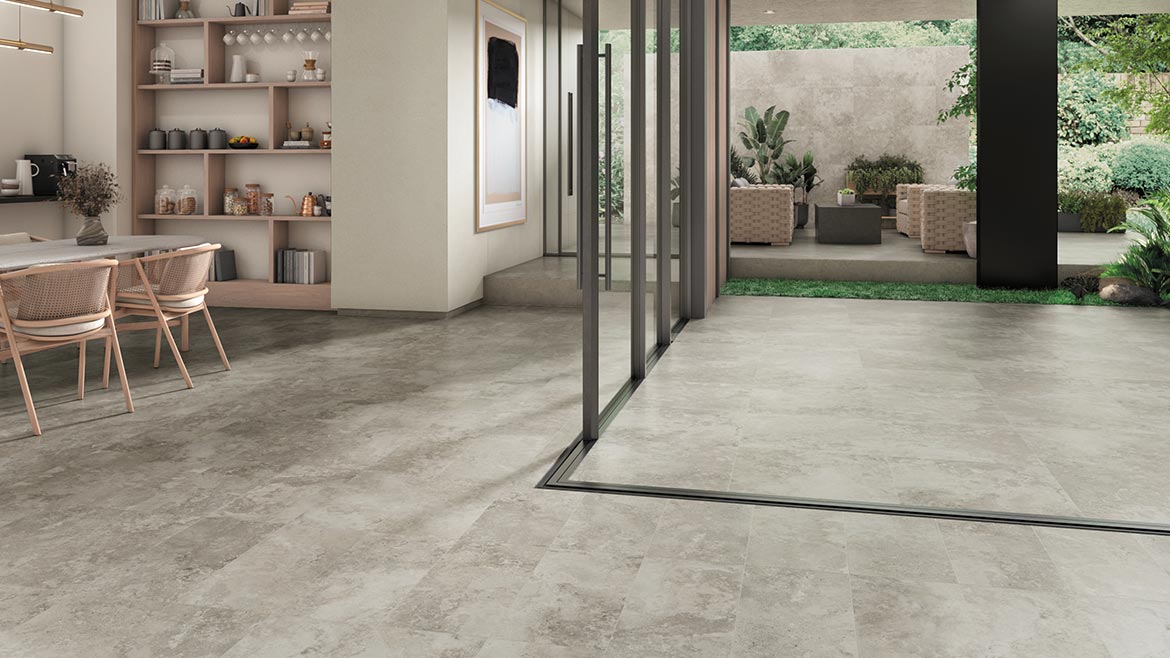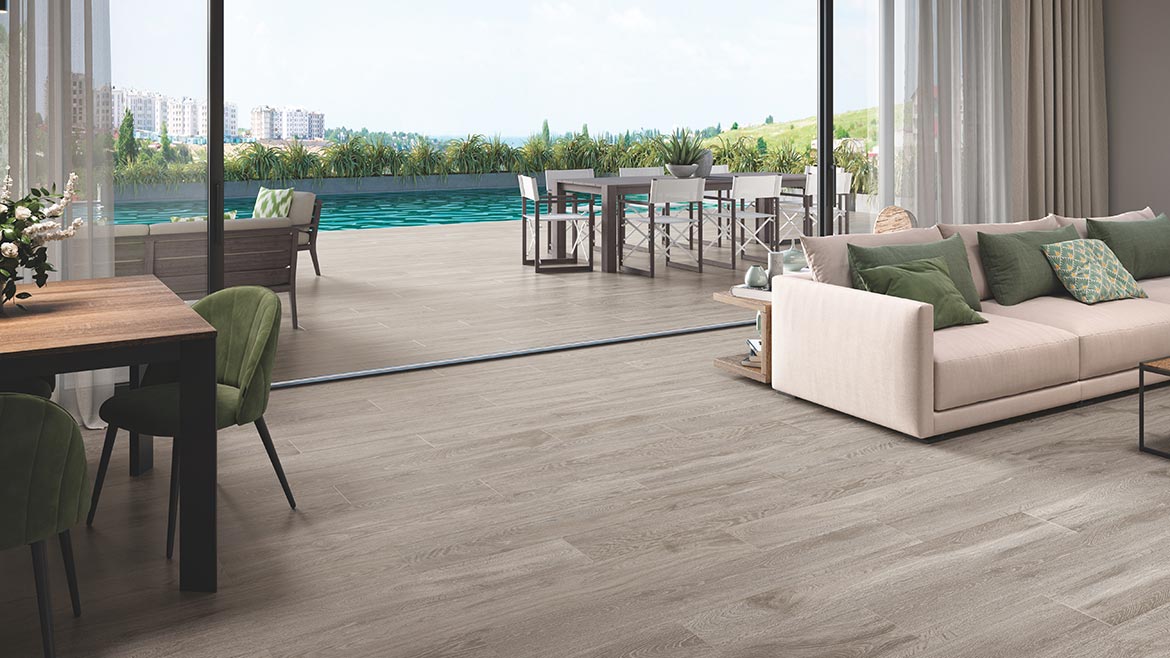 Paving the Way to Relaxation
Incorporating pavers can create an instant transformation, creating space delineation whether for patios, pool surrounds or as an accent walkway through gardens. 
"During the pandemic, we saw everyone moving into or increasing their outdoor spaces," said Kristin Coleman, senior vice president of Novita and spokesperson for Ceramics of Italy. "We definitely saw a spike in outdoor and tile and with the pavers in particular because they come in so many different materials, looks and sizes." 
✕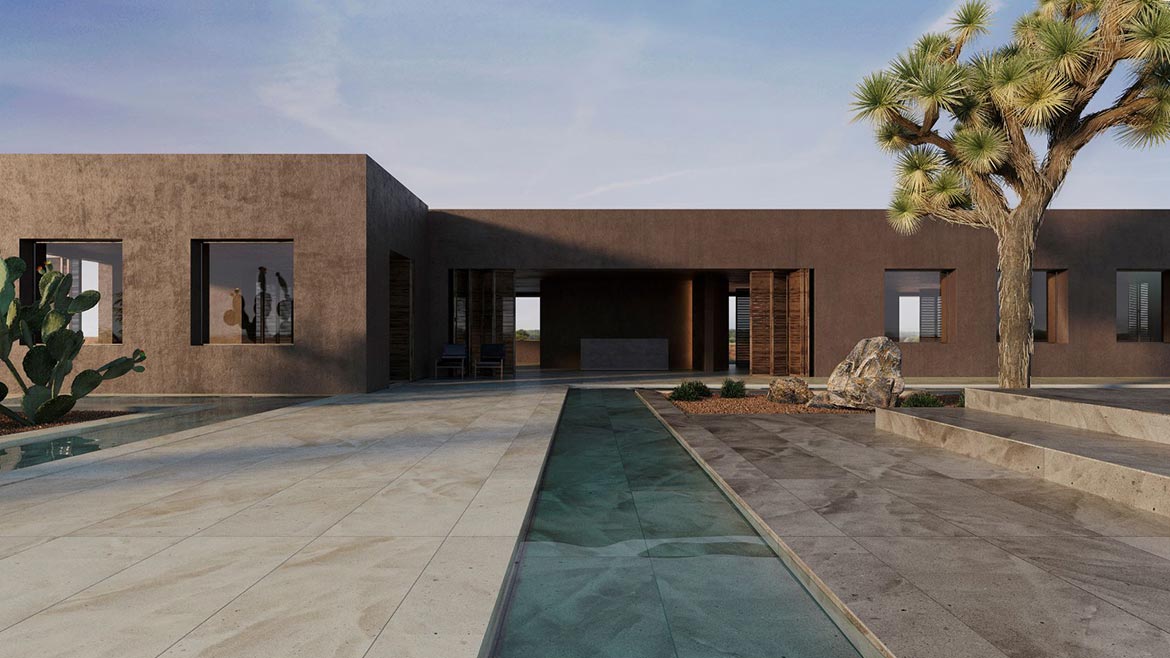 Anexo by Trituradoras Romeral. Photo: Tile of Spain.
✕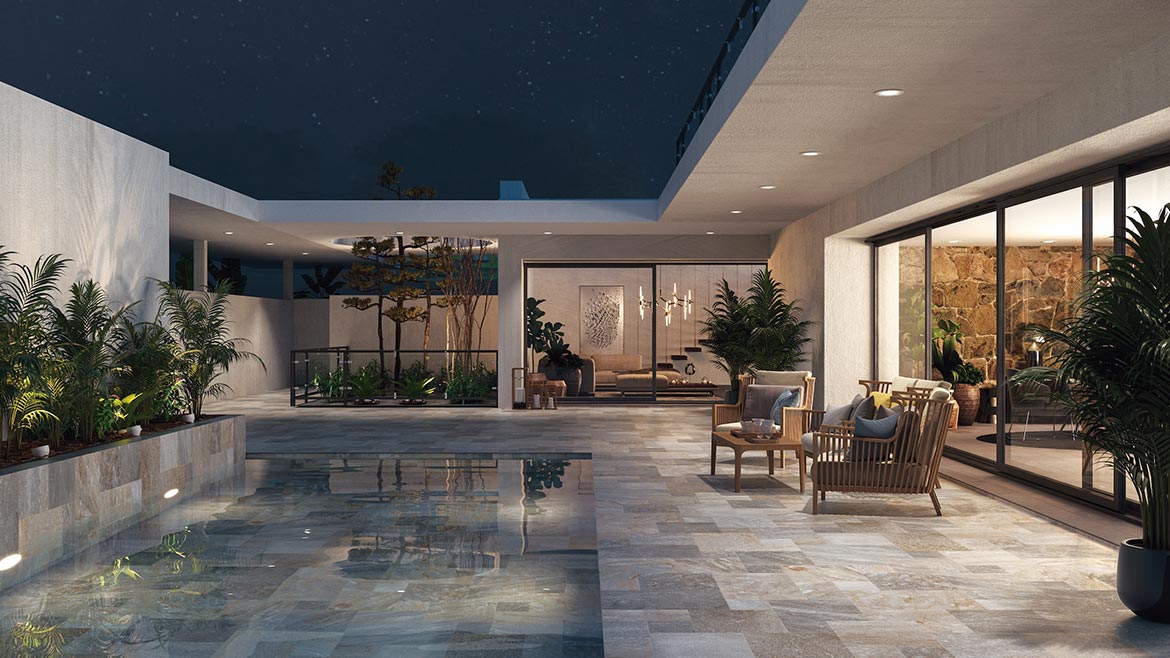 Manstone by Codicer. Photo: Tile of Spain.
✕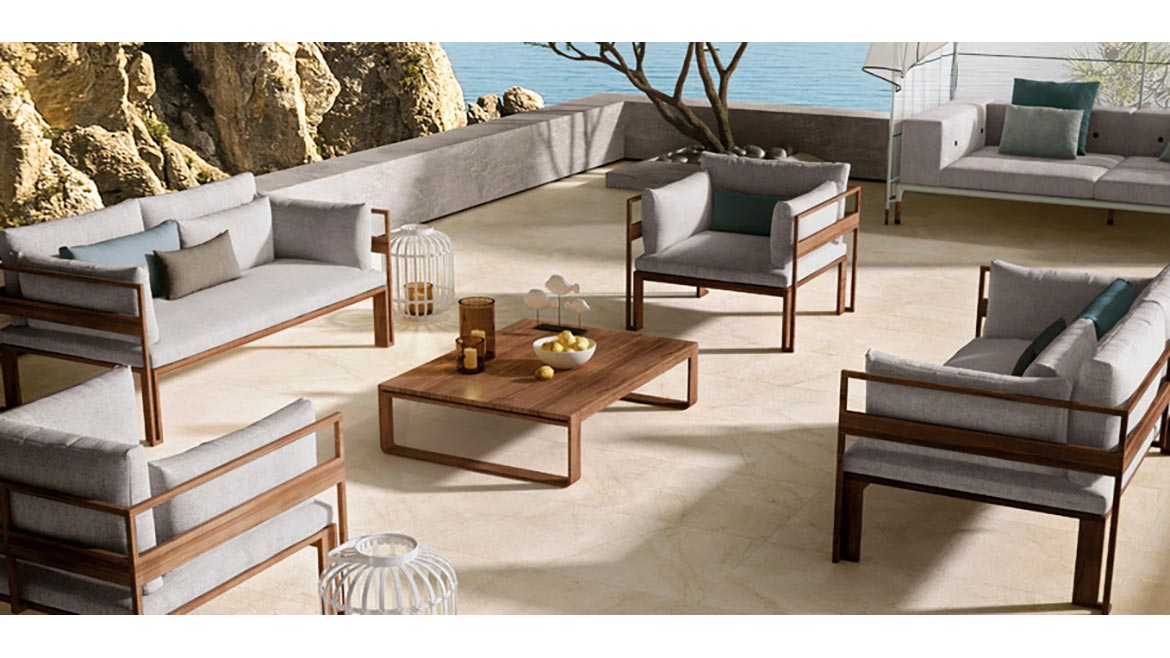 Arterra porcelain pavers deliver the desired look of natural stone with more slip resistance than other pavers on the makret. Photo: MSI.
✕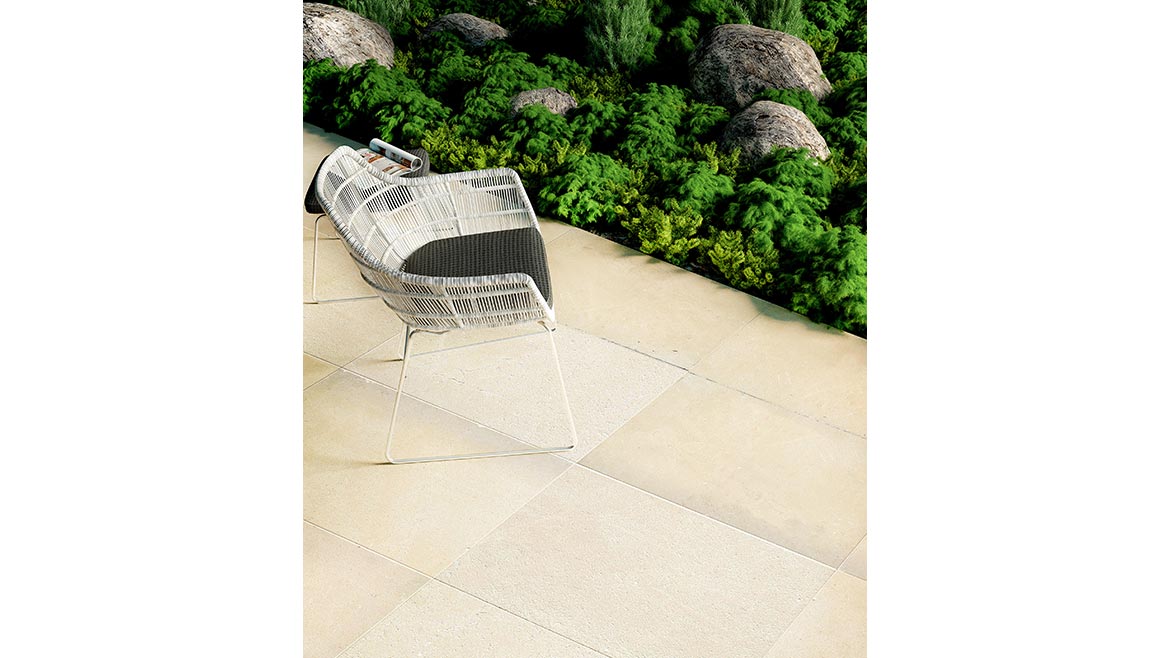 Emser has just launched Extero natural stone pavers which feature the beauty of limestone, the earthy look of travertine and the elegance of marble. Photo: Emser
✕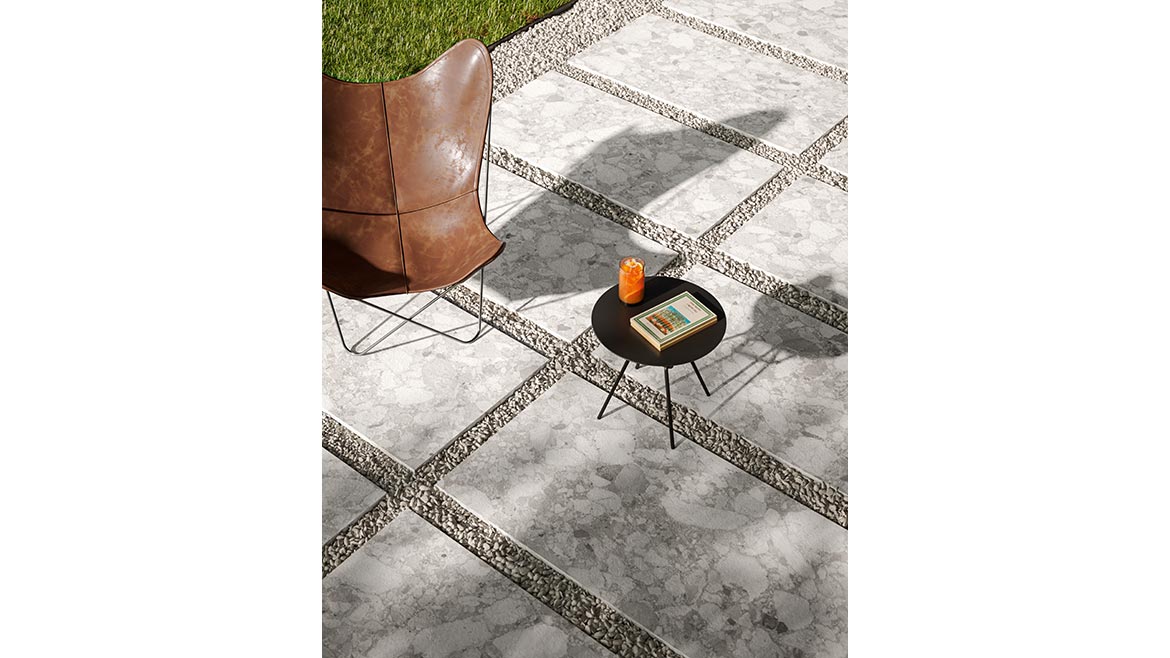 Pavers by Ceramica Sant'Agostino. Photo: Ceramics of Italy.
✕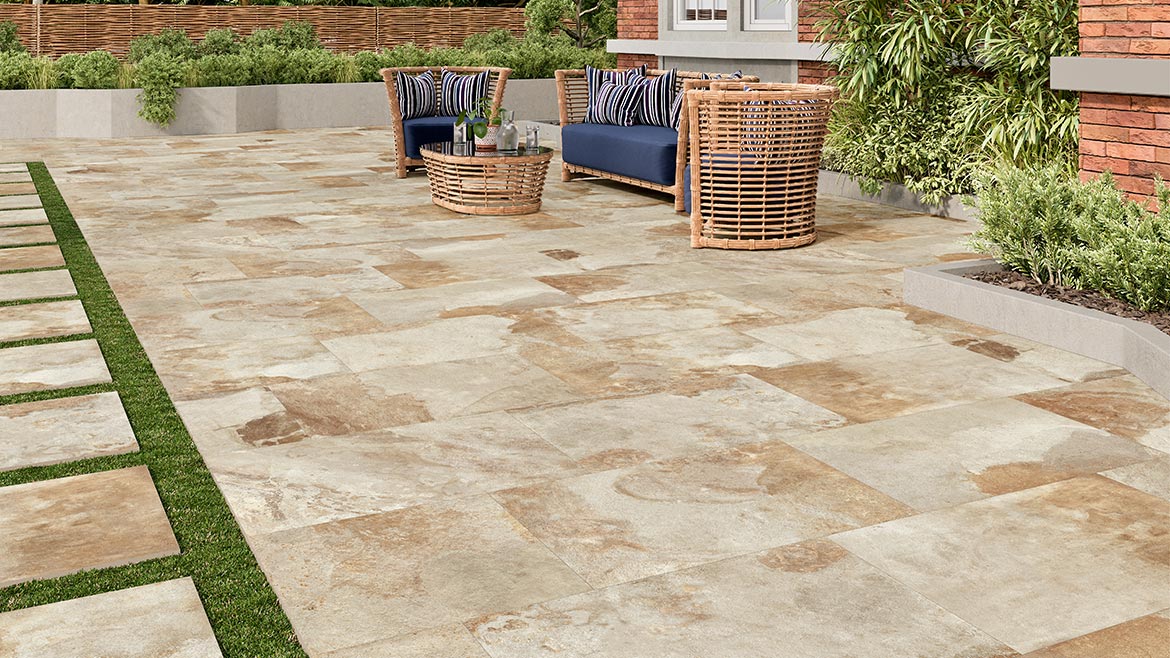 Shenandoah by Vitacer. Photo: Tile of Spain.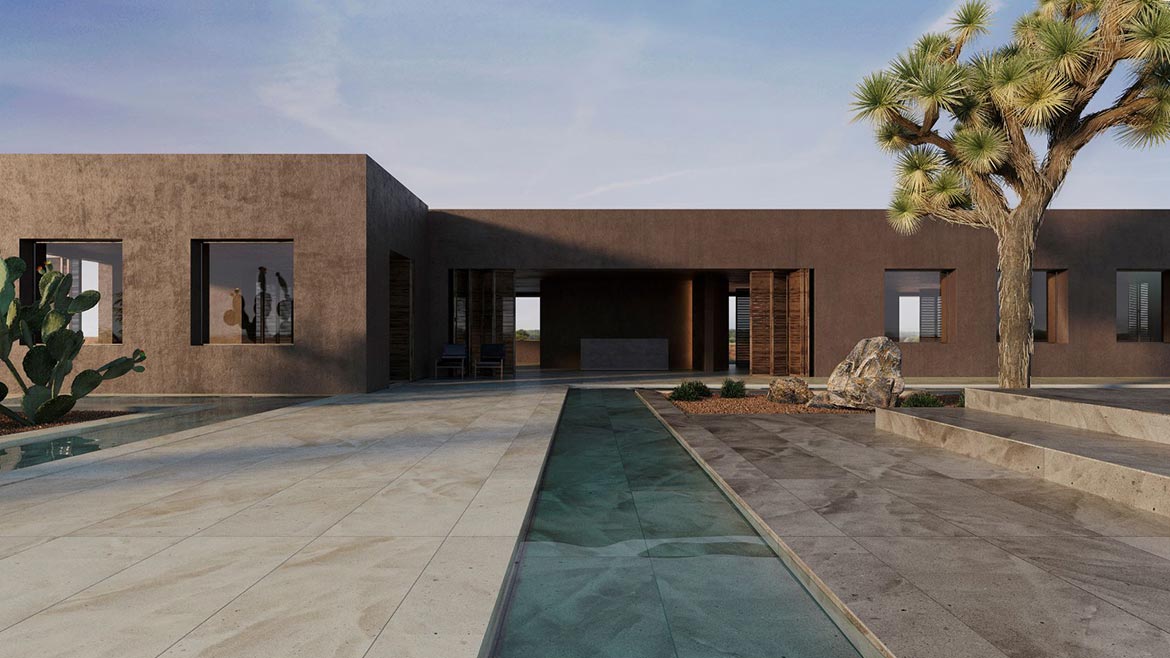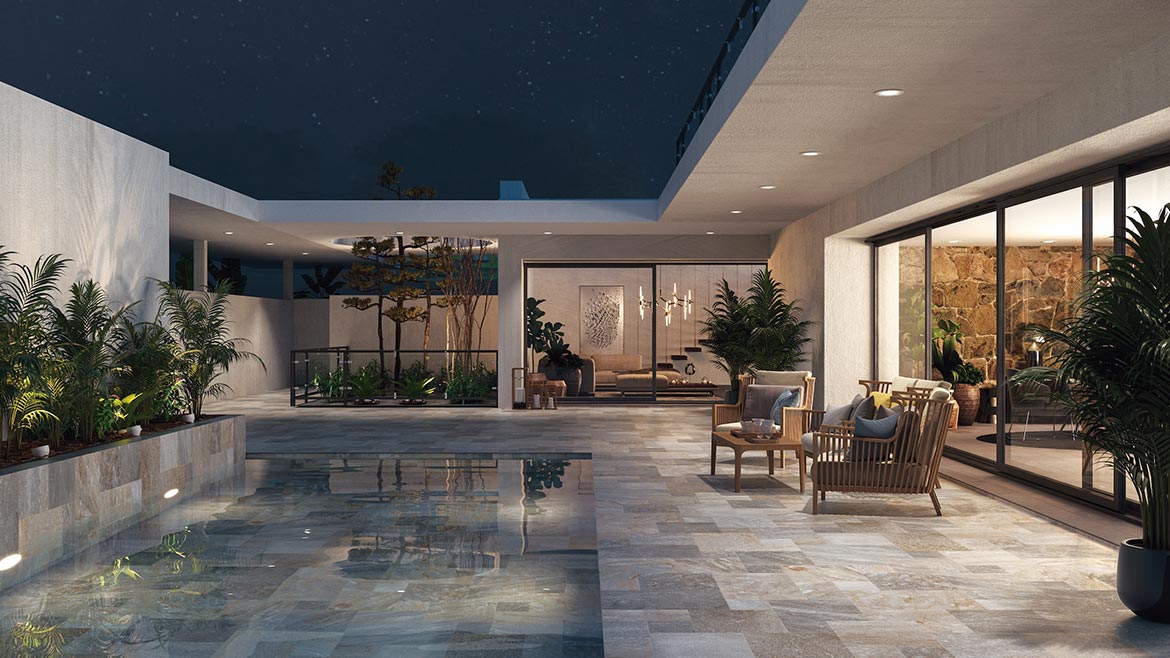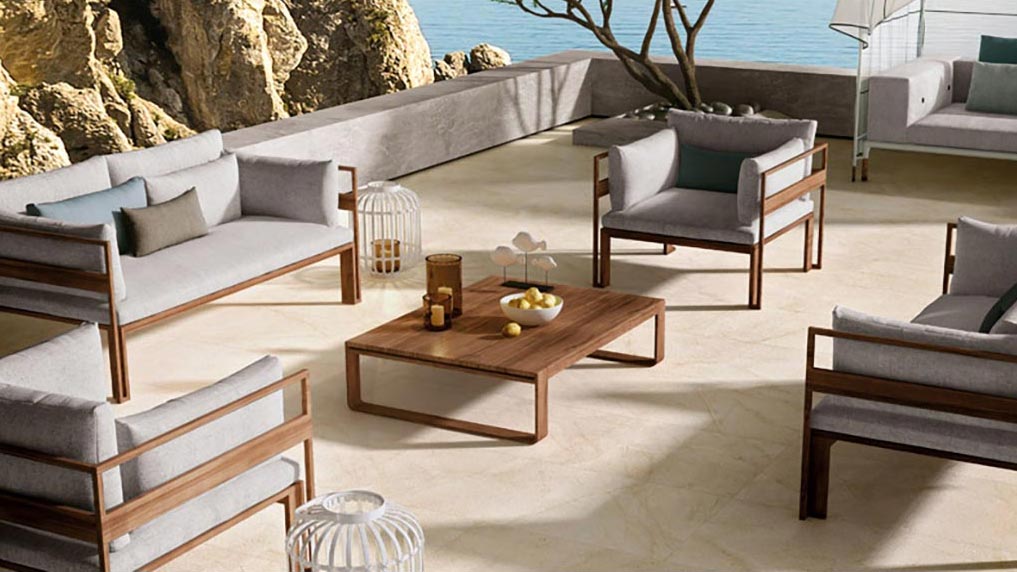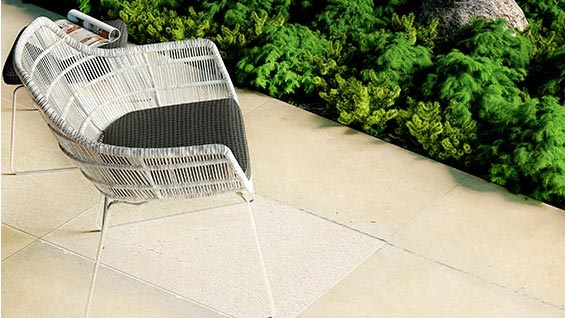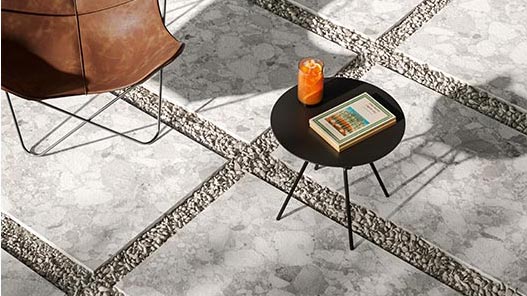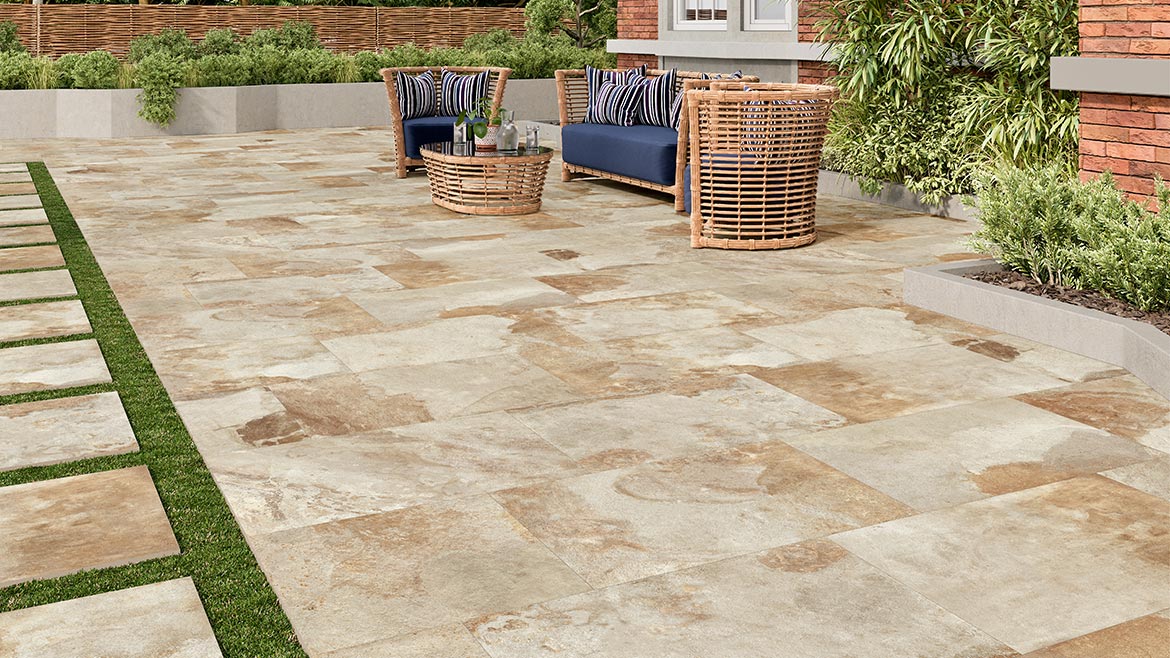 Take the Plunge
If you're lucky enough to have a swimming pool in your backyard – or if you're thinking about adding one – creating that perfect refuge is more than just adding water.
"People no longer want to just dig a hole and jump in the water," Irikat said. "Personalization is the overarching trend that encompasses all others and can take on many forms: functionality, playfulness, fantasy, safe haven. How you design your pool speaks volumes about the type of vibe you wish to create."
It comes down to personal preference and overall aesthetics when designing your outdoor space.
"Often associated with nature and sustainability; green reflects growth as well as an overall sense of newness," Zurfluh said. "While blue's innate connection to the ocean and the sky embodies stability and a clearer vision of the future." 
✕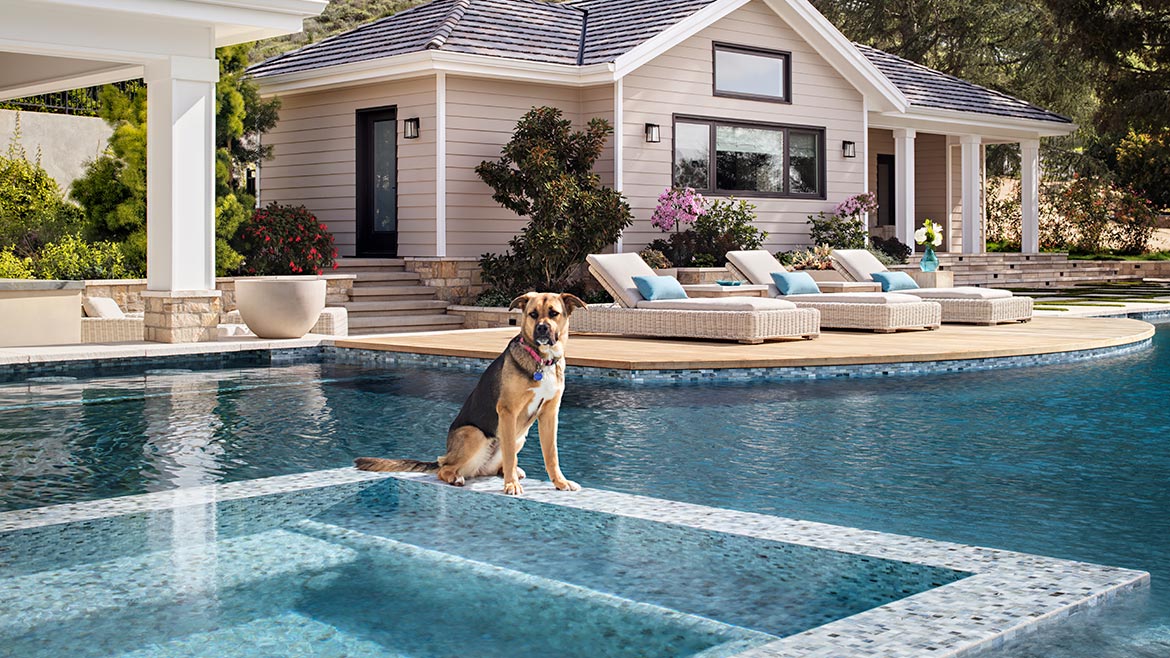 Agate 1x1 & 1x4 Pisa Pearl featured in a pool in Santa Rosa, California. Photo: Lunada Bay Tile.
✕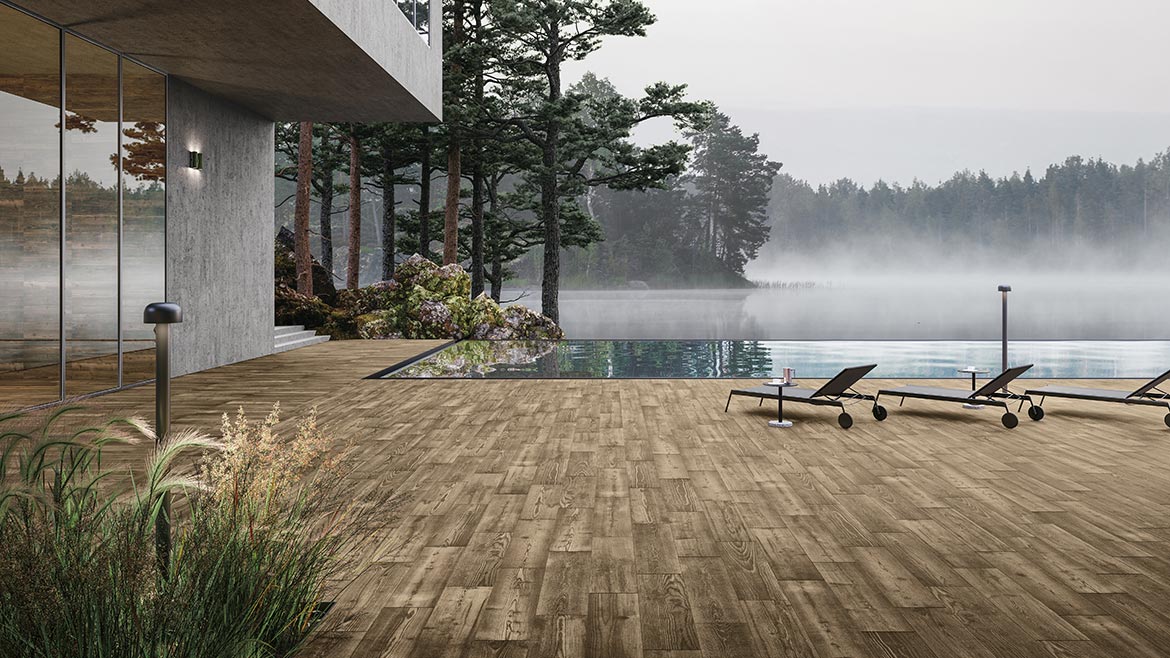 A wood plank look in porcelain by Refin. Photo: Ceramics of Italy.
✕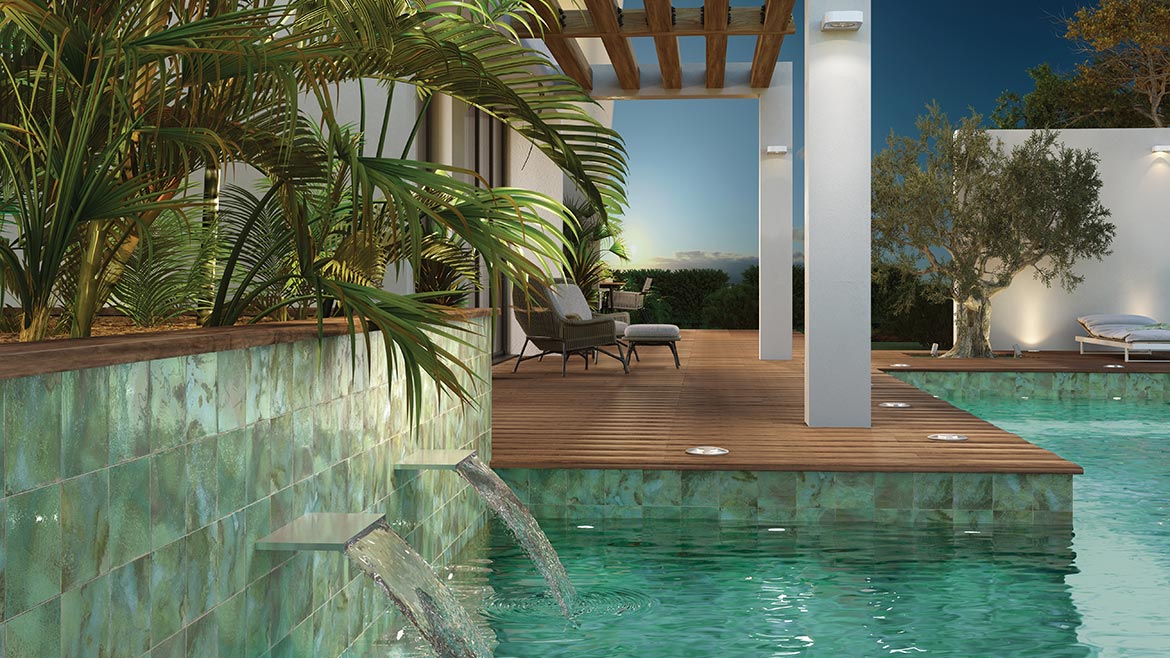 Designed for walls, in addition to being pool-rated, Immerse comes in three splashy colors: Cobalt, Aqua and Teal. Photos: Emser.
✕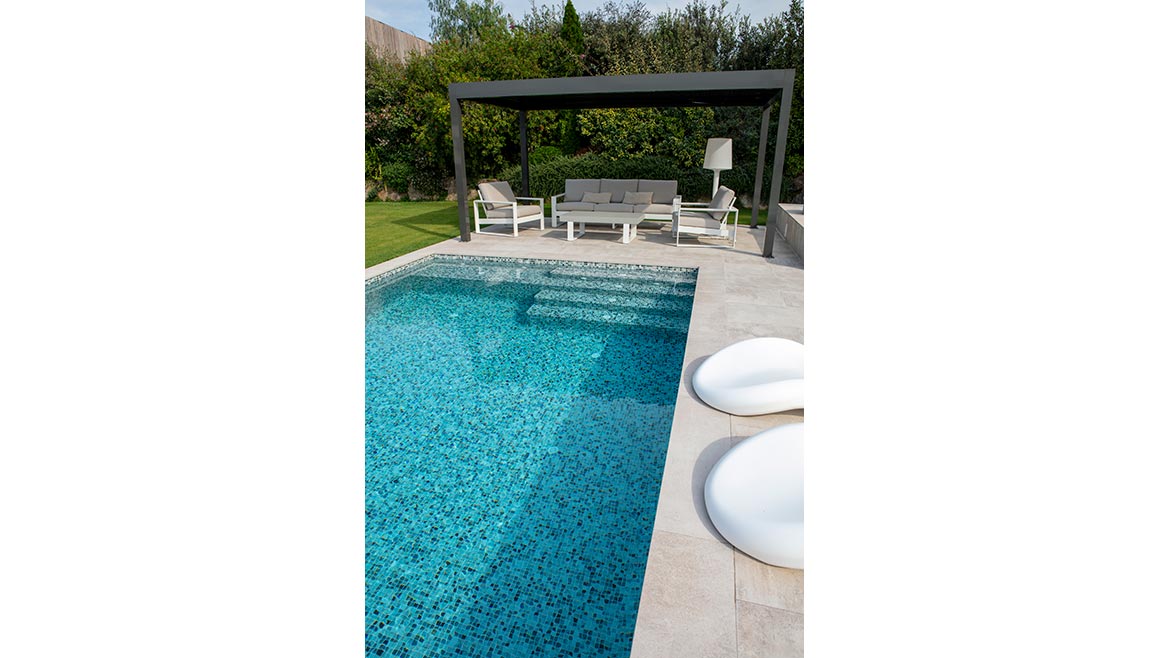 Nature by Vidrepur. Photo: Tile of Spain.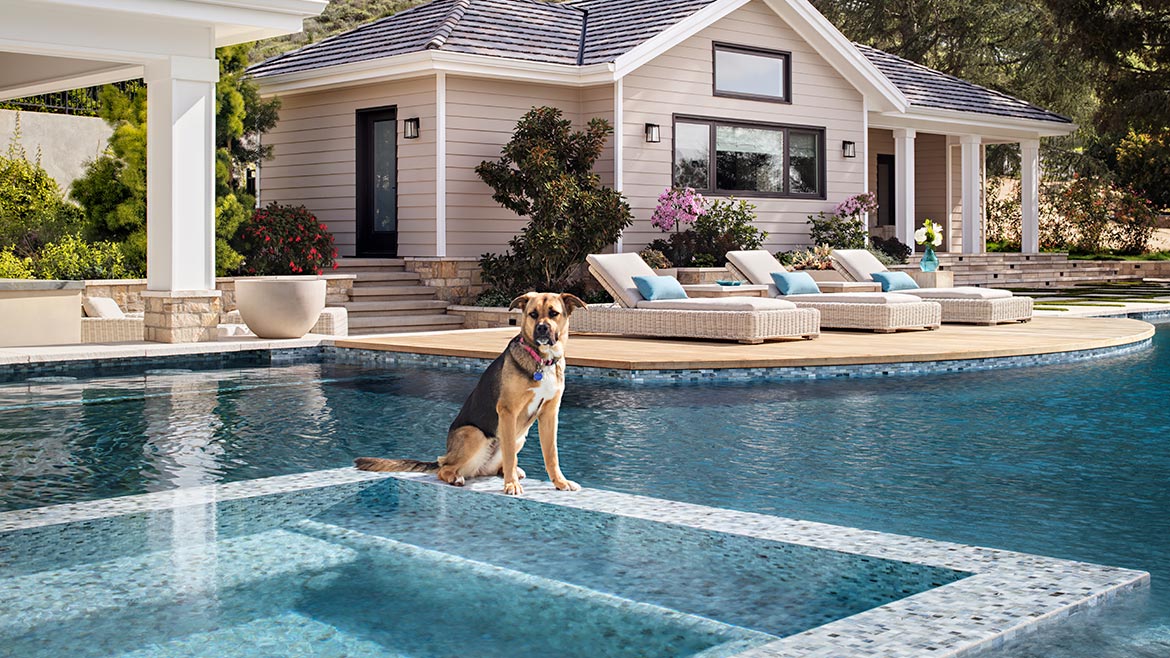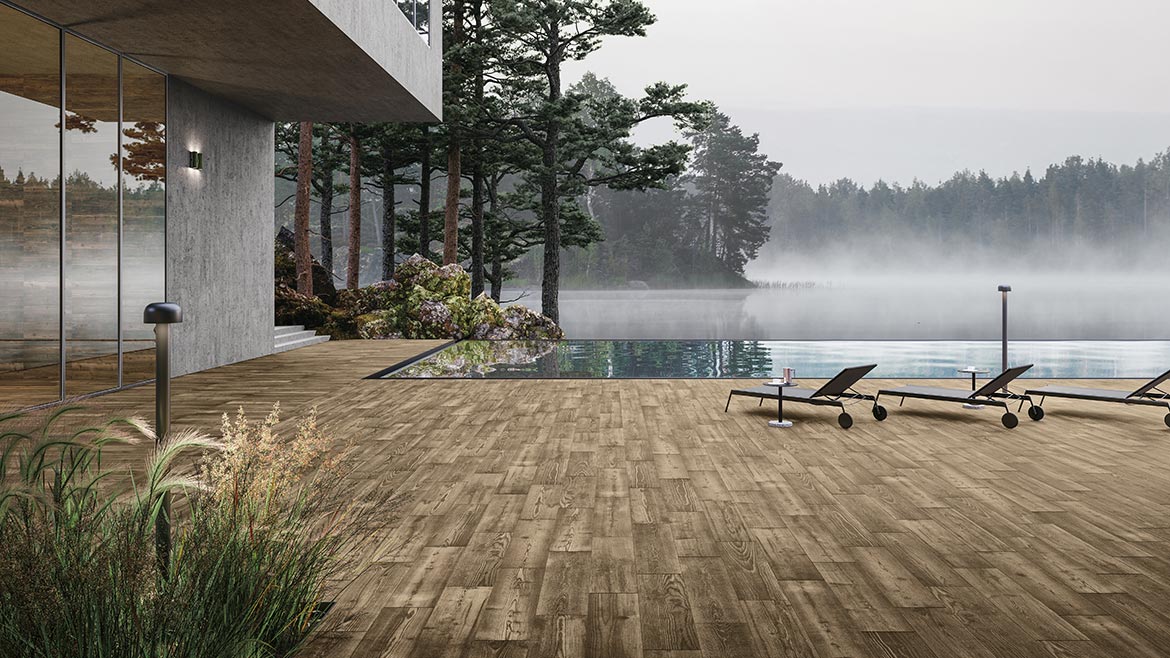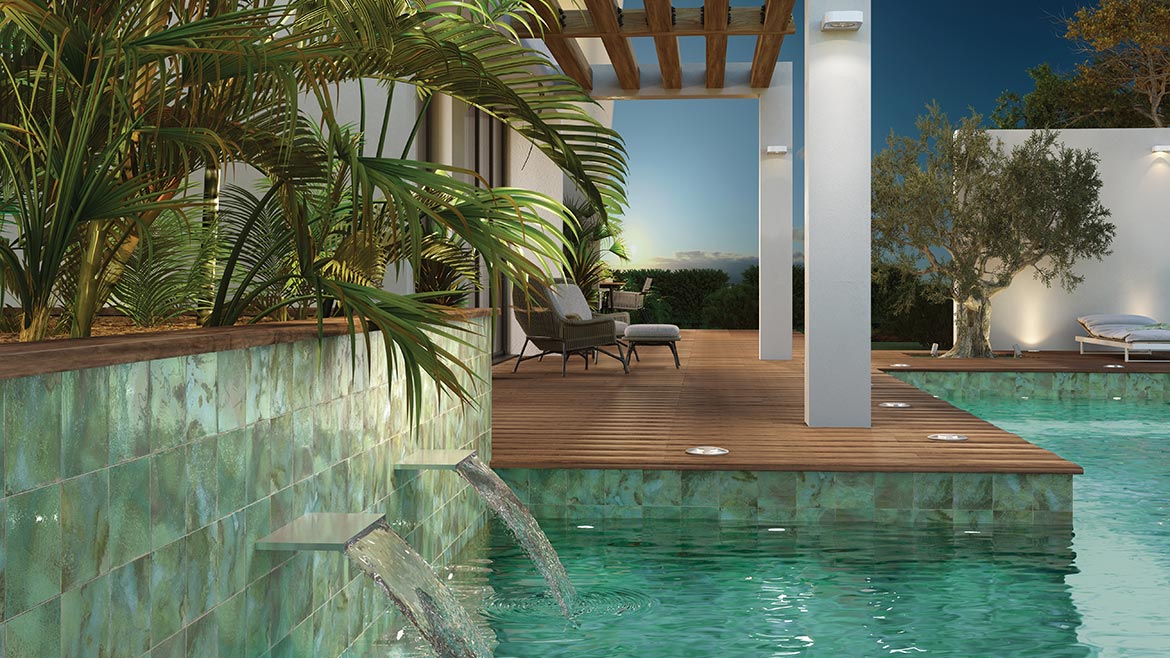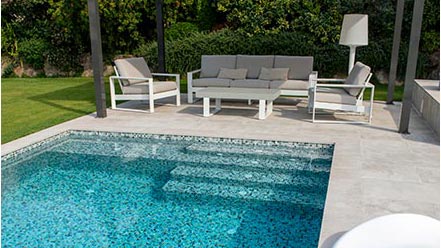 A Deck Above
With lumber prices high, it's easy to see why so many contractors and builders are turning to composite decking materials for outdoor floors. Customization is a big trend in decking as homeowners and designers want to express their individuality. This can be achieved by mixing boards of different colors or using boards of multiple widths to mirror the aesthetics of interior wood flooring. Creating customized decks doesn't necessarily mean more complex installations, which homeowners view as a significant upgrade but costs the same as standard-width boards.
Cali recently introduced 12-foot composite decking planks from the TruOrganics collection. Planks are made using recycled materials, with the core comprised of 60% reclaimed wood fiber and 40% high density plastics. This formula yields a stronger, more eco-friendly material that is uniquely protected against moisture, insects, rot, and chemicals.
"With our decking line, that meant optimizing shipping with the new 12-foot planks, and developing a material that can withstand the demands of a well-used, well-weathered outdoor space," said Cali President Doug Jackson. "It's meant to be lived on and enjoyed."
Planks feature a modern, matte finish, hardwood grain texturing, and natural colors options made to complement any home exterior. Customers can order free samples to feel and test out at home. Each color has matching rail and post kits to complete the project, as well as fascia and solid square edge planks for trim and stairs.
✕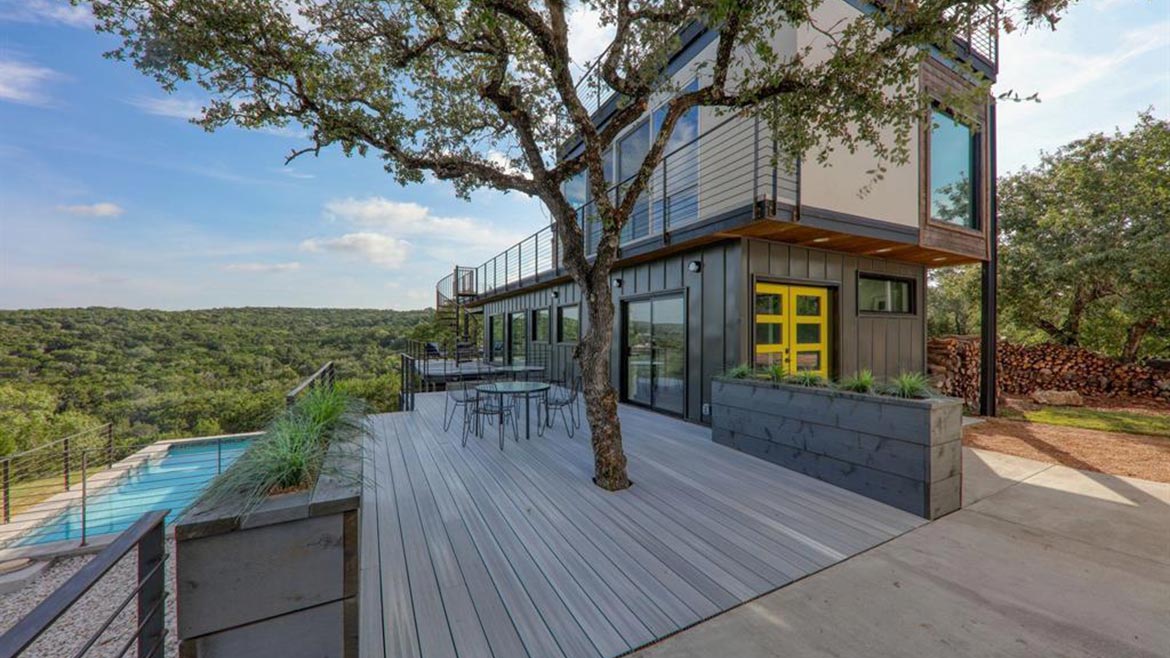 Cali's TruOrganics planks feature a modern, matte finish, hardwood grain texturing, and natural colors options made to complement any home exterior. Photo: Cali.
✕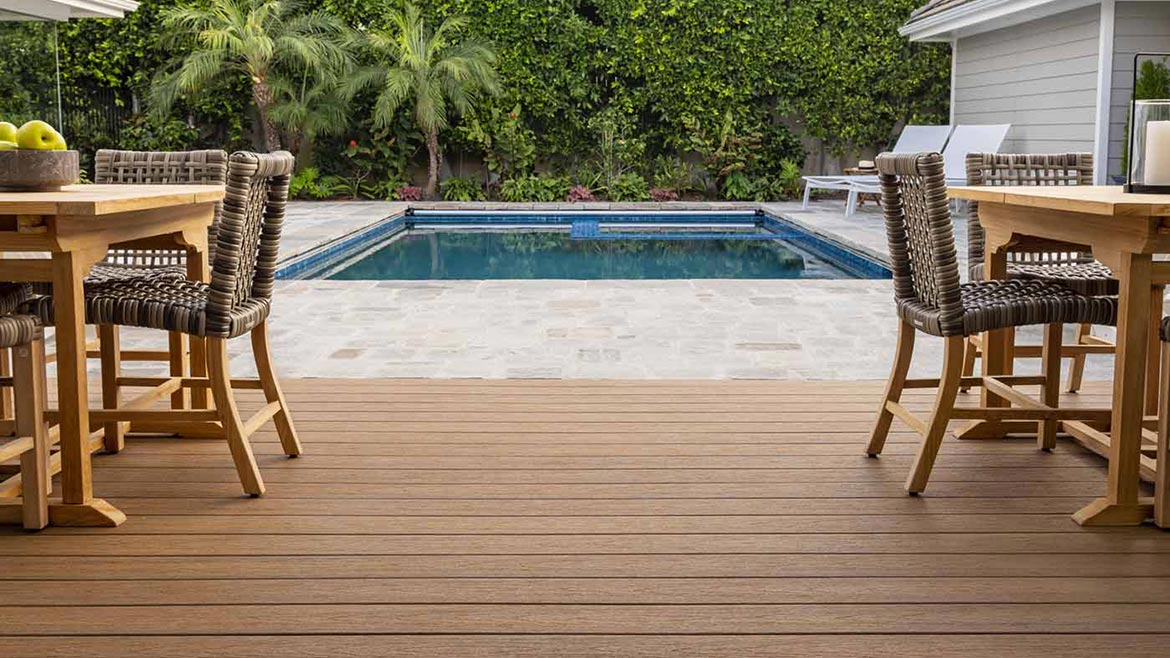 Hardwood-inspired hues of Antique Leather decking from the TimberTech Pro Reserve Collection. Photo: TimberTech.