Floor Trends looks back at the archives to uncover some of the major events, people, technologies and topics over the past 70 years.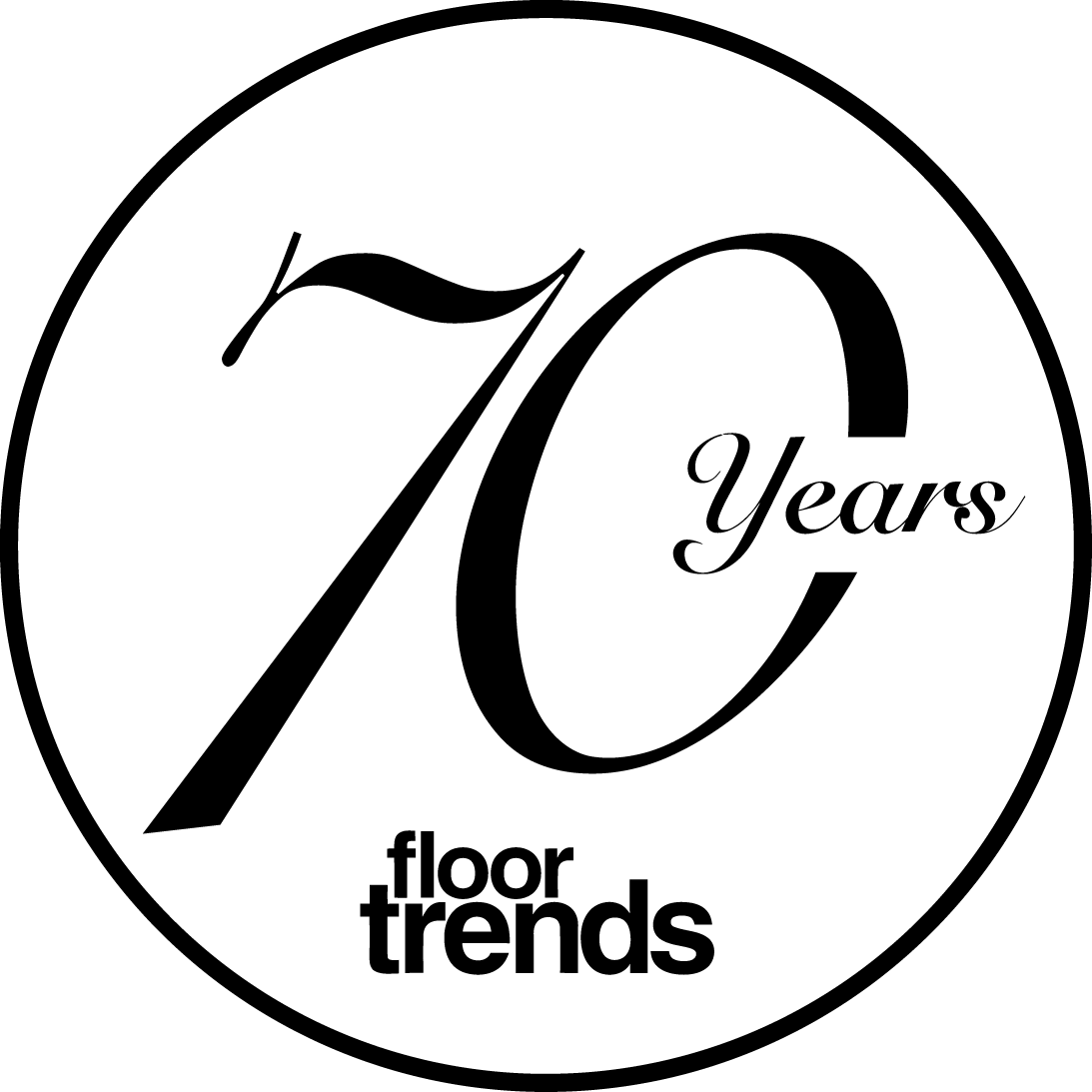 ▪  In 1950, only 10 percent of all carpet and rug products were tufted, and ninety percent were woven. Then came a lot of innovation: man-made fibers, new spinning techniques, new dye equipment, printing processes, tufting equipment, and backing for different end uses. By 1951, the tufting industry was a $133 million per year business made up primarily of bedspreads, carpet, and rugs, with carpet accounting for $19 million. The industry broke the billion-dollar mark in 1963, according to The Carpet and Rug Institute.
The first carpet cushion was made from cattle hair. Tufting brought huge increases in the amount of carpet in the marketplace, and ever-growing carpet production exceeded the availability of cattle hair. To meet the demands of the market, new cushions came on the scene - first, hair was combined with rubberized jute, which was followed by synthetic fiber, urethane, rubber, and polyurethane foam cushions. Today, the overwhelming percentage of carpet cushion business belongs to polyurethane foam, both prime and bonded.
▪  In 1955, the number of full-line floor covering dealers, contractors and distributors in the wood business were few and far between. Wood took a hard hit in the late 50s when the FHA approved carpet as a finished floor. The result: wood floors dropped from 22% of the market in the 50s to 2%. Things changed for the better for the wood industry in the 1960s. A strong catalyst for change was the introduction of adhesives to install wood floors. A new generation of wood products, adhesives and finishes has spurred the wood industry to new heights. Today, wood floors represent an extremely important part of the business for floor covering retailers, contractors and distributors.
▪  In the late 50s and early 60s, W.W. Henry introduced the first latex based adhesive for sheet vinyl and vinyl composition tile along with a true-latex multi-purpose adhesive in the late 60s.
✕
In 1955, department and furniture stores were the leaders in floor coverings. The specialty store steadily gained strength and assumed the lead positions by the late '50s.
✕
In 1955, Winter and Summer Markets took place at permanent spaces in home furnishing buildings in Chicago and San Francisco along with a few local markets in hotels. Next, permanent buildings opened in Dallas, Denver, Los Angeles, New York, and Seattle. At the same time numerous local markets were held in hotels. The industry then went from Summer-Winter markets to just a Winter event and finally to none. With the exception of Atlanta's Rug Market, the rest were gone as floor covering markets. Gone, too were the regional and local markets.
✕
Lucille Ball and Desi Arnas help Sloan-Delaware sell flooring through a 16-page catalog.
Click images for details
▪  In 1969, DuPont launched the Antron brand of nylon 6,6 carpet fiber in the commercial market.
▪  Tufting gained momentum in the 1960s and soared to dominance, spurred by the growth of synthetic fiber. Widths increased from 3 feet to 12 feet and consumers for the more affordable carpets. The leap from a weaver and a helper on a loom that turned out 200 yards a day to automated tufting machines with one technician controlling multiple machines producing thousands of yards per shift brought carpet prices down and value up. The number of carpet manufacturers grew from a couple handfuls to more than 400 at the high point.
Tufted carpet in the early years was plagued by restretches. Carpet literally grew on the floor, creating wrinkles galore. Some carpet pros performed almost as many restretches as original installations. The problem was greatly reduced when double jute backed carpets replaced single-backed. In the early 1960s, synthetic (olefin) backing came on stream for primary backing and then was used for the secondary backing. In time, jute disappeared. The addition of secondary backs to tufted carpet gave the needed dimensional stability.
Bonded cushion standards for carpet was a major step forward. Carpet manufacturers got behind the standards and now only warrant their goods when they're installed over these standardized cushions, enabling a carpet to perform the functions for which it is designed. Over the years, technology unleashed a wide selection of backings, including cushion-backed carpet, rubber backed, unitary backs and unibond backings.
▪  Polyester was introduced to the carpet industry in the mid 1960's, and has been well accepted for its bulkiness, color clarity, and good stain and fade resistance.
▪  In the late 1950s, the Federal Housing Administration approved carpet as a finished floor, which increased carpet sales and adversely affected wood floors (Wood had a 22% market share in the '50s down to 2% in 1980).
▪  The development of heat seaming in the 1960s was a major advancement that changed carpet installation forever. Many call it the most significant advancement in installation. Improvements in tapes and systems continue to be brought out.
▪  The American Carpet Institute's advertising campaign in the 1960s pounded a slogan "Home Means More with Carpet on the Floor." It delivered a strong message to the consumer that carpet was no longer just an expensive luxury limited to just a few but that it was available at a variety of price points and did belong and was affordable for all homes.
✕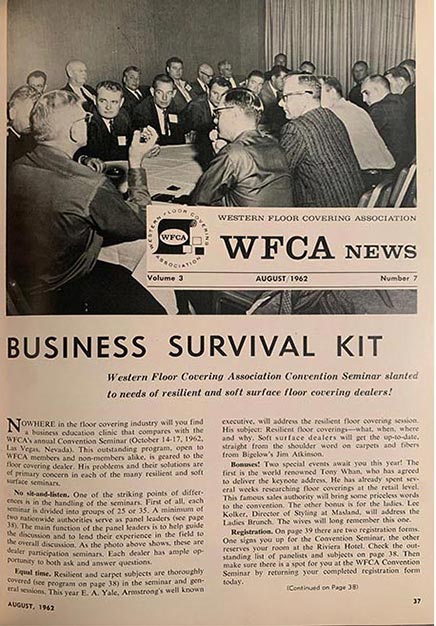 The World Floor Covering Association gave a monthly update within the pages of Western Floors.
✕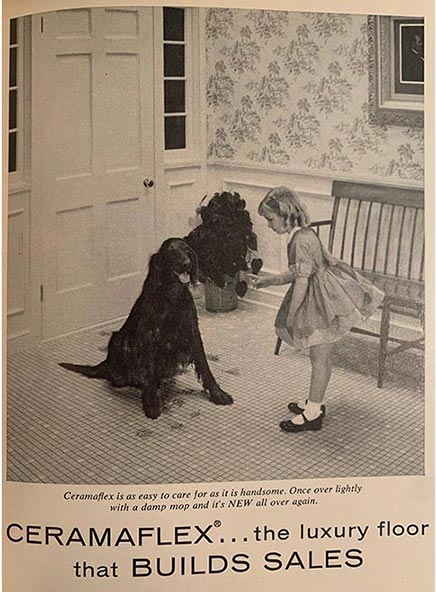 Ceramaflex ad from 1960s.
✕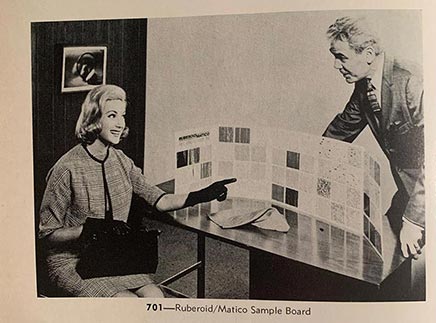 Ruberoid/Matico sample board from the 1960s.
✕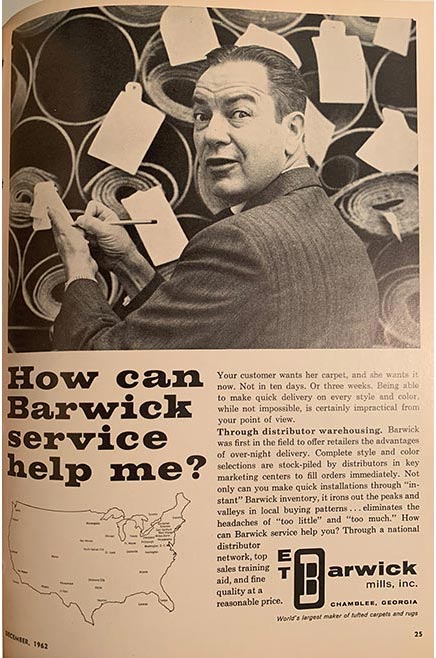 Barwick Mills was a leader in product development, having created the first wide-width tufting machines, first with vulcanized roller coatings, first to make tufted nylon, first to use jute as a primary backing material, first to heat-set nylon, first to use polypropylene. In 1963, Barwick Mills tapped public capital markets and became the first U.S. producers to purchase carpet printing equipment, and in 1967, it introduced a relatively successful line of printed carpet aimed at kitchens. The company collapsed in the mid 80's after years of several bad business deals and company embezzlement.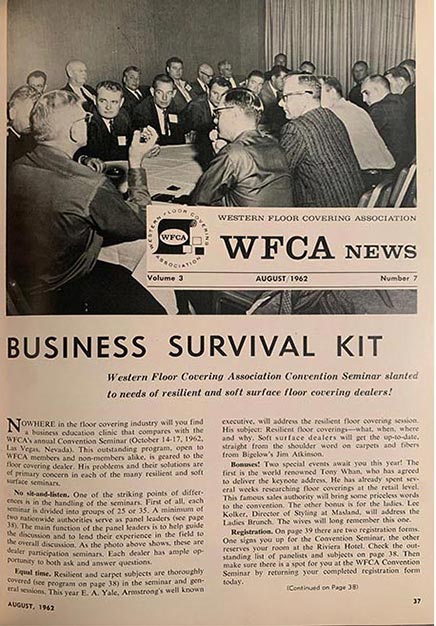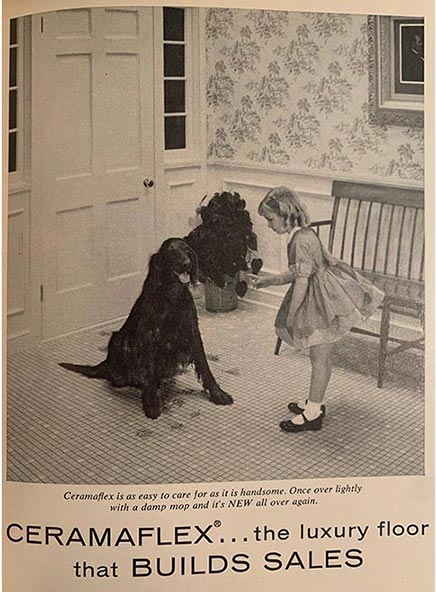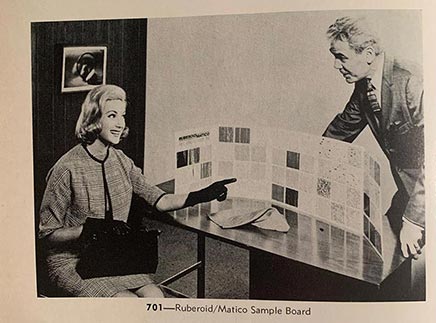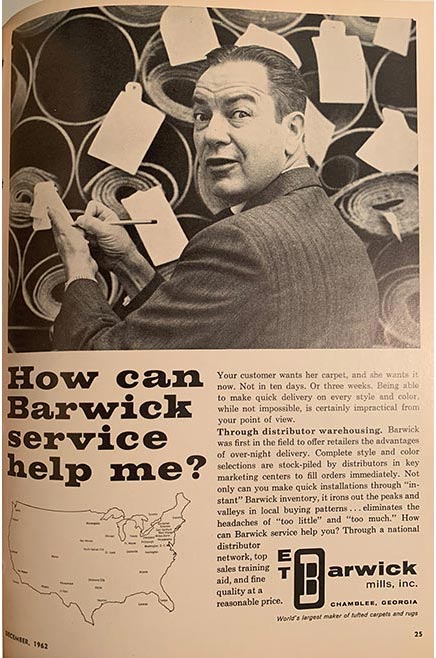 Click images for details
▪  Between the mid-50s and 1970 there were two manufacturer associations serving the carpet industry. One was the American Carpets Institute (ACI) headquartered in New York, which was founded by the woven carpet industry. The other was the Tufted Textile Manufacturers Association (TTMA), a long-established group that served a variety of textile producers, including bedspreads and rugs. With the growth of tufted carpet manufacturers, carpet became a large and important part of TTMA. Both associations served their members well. It soon became obvious that the carpet industry associations should be under one roof. In 1970, the two merged under the present name, Carpet and Rug Institute, headquartered in Dalton.
▪  There were two economic recessions in the 1970s, one from 1974–1975 and another from 1979–1982. They are linked by being each initiated by increases in oil export prices imposed by the Organization of the Petroleum Exporting Countries (OPEC). In 1973–1974 OPEC quadrupled the price of oil exports and over the period 1978 to May 1980 doubled the existing price.
▪  A federal law mandating that asbestos be removed from building materials was passed in the late 1970s, and the U.S. Environmental Protection Agency (EPA) published the new rules in 1980. The EPA gave the industry some time to work through their inventories by stating that: "manufacture, importation and processing must cease by August 27, 1990."
▪  The number of Western carpet manufacturers grew to more than 30 by 1970. In 1973, the Carpet Manufactures Association of the West (CMAW) was founded. The combined membership of regular and associate members was 60. This made Southern California the second largest carpet manufacturing area in the nation. In October 1994, the CMAW merged with the CRI.
✕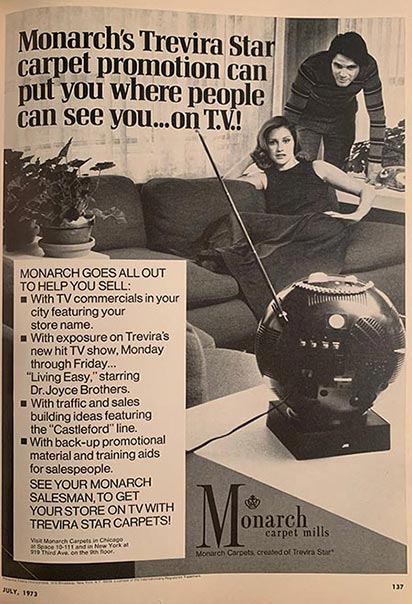 The number of Western carpet manufacturers grew to more than 30 by 1970. In 1973, the Carpet Manufactures Association of the West (CMAW) was founded. The combined membership of regular and associate members was 60. This made Southern California the second largest carpet manufacturing area in the nation. In October 1994, the CMAW merged with the CRI.
✕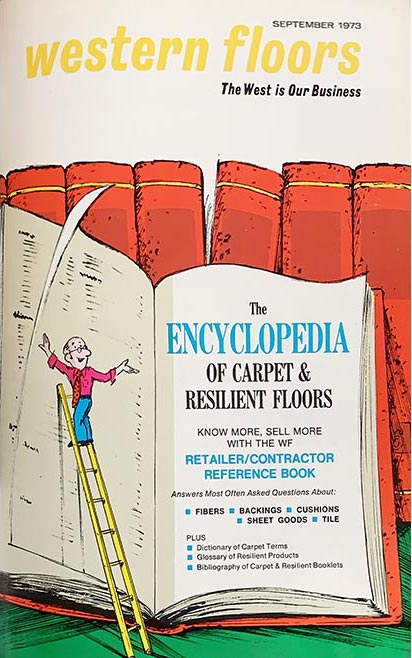 The Resilient Floor Covering Institute (RFCI), headquartered in LaGrange, Georgia, was established in 1976 as an industry trade association of manufacturers of resilient tile and sheet vinyl flooring products for both commercial and residential applications and suppliers of raw materials, additives and sundry flooring products. RFCI has a long-standing reputation among its members for effectively responding to issues affecting the resilient industry and adapting to changes in the flooring industry.
✕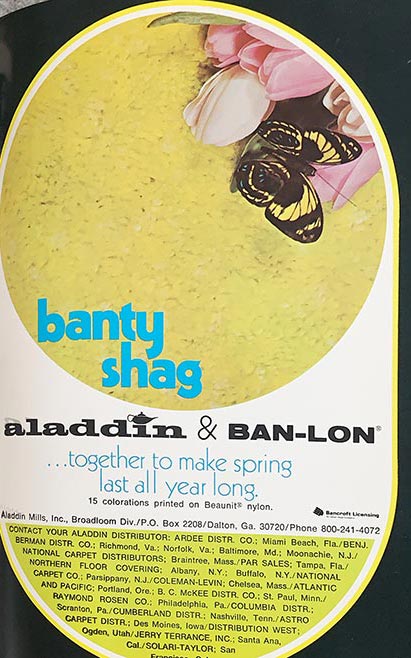 For many years, shag carpet captivated the industry and consumers— and shag's strong appeal resulted in healthy increases in sales. Cheap carpet was referred to in the industry as "$2.95-a-yard FHA Shag."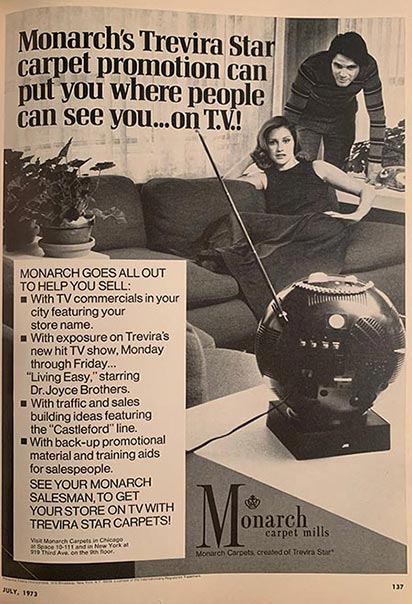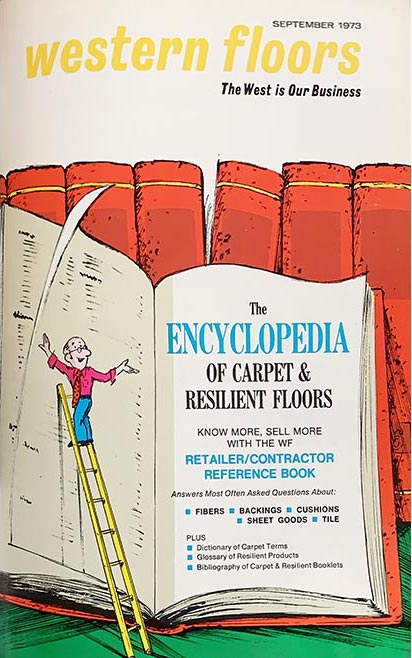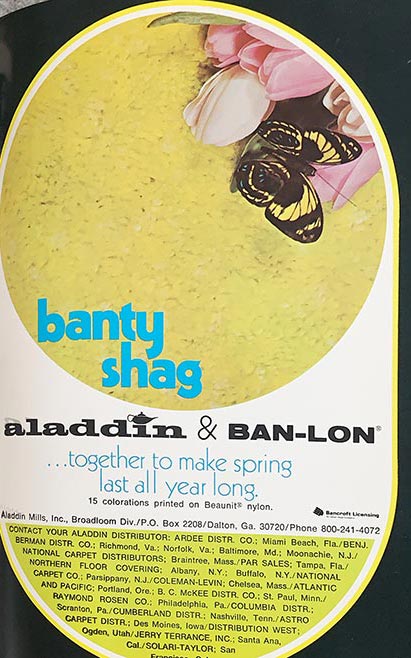 Click images for details
▪  Stainmaster was started by DuPont in 1986. The brand was built on stain-resistant technology, which while new, captured consumer attention thanks to a major consumer ad campaign. That year, the industry was still fairly fragmented at the time from the manufacturer. The fiber companies were in a much better position to really drive the business. DuPont advertising of Stainmaster ranks among the strongest programs in the industry's history.
▪  In 1983, Harris-Tarkett introduced pre-finished engineered hardwood long-strip flooring to the U.S. market - called the first floating installation system for hardwood.
Oak remains the majority species in engineered wood products. A few years after it debuted oak was joined by hickory/pecan in 1986 in commercial and hickory and pecan in residential in 1991. The first engineered maple came out in 1989 - and the race was on to introduce new engineered wood species.
✕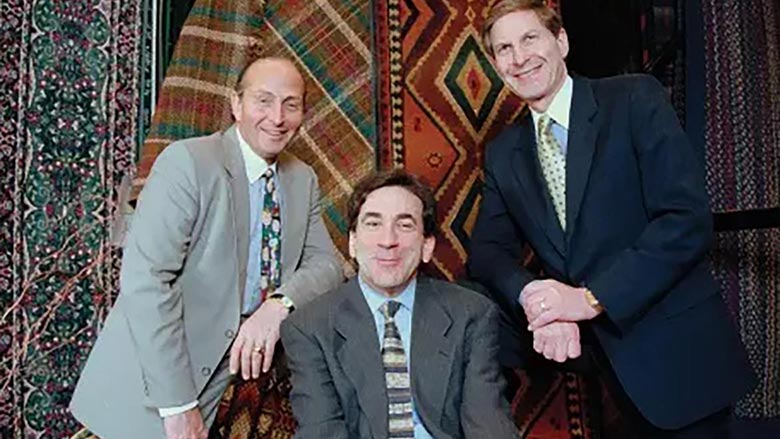 Alan Greenberg and Howard Brodsky found CCA Global Partners in 1984 with an ambitious vision in mind— to create a unique solution that would enable independent flooring retailers to operate profitably while maintaining their autonomy. In 1985, Carpet One is established, with 13 members. By year's end, retail sales volume for Carpet One's 26 members reaches $25 million.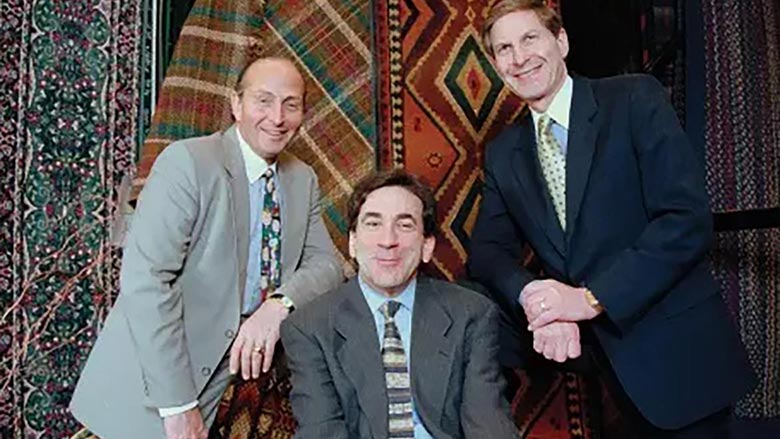 Click images for details
▪  In the 1990s came the era of consolidation: mergers and acquisitions to a large degree, attrition to a lesser degree. The number of mills fell to fewer than 50.
▪  In 1990, the Western Floor Covering Association stepped boldly forward to fill the void with Surfaces held at the Las Vegas Convention Center. It started strong and in a few short years became gigantic, drawing exhibitors and attendees from around the world. At the time, Surfaces showed that the industry doesn't want permanent mart buildings/spaces or regional/local markets, it wants what Surfaces provides. In 1999, Surfaces was sold to Hanley-Wood.
▪  In 1997, the North American Laminate Flooring Association (NALFA) was formed by U.S. and Canadian manufacturers and importers of laminate floors. Its primary purpose is to create voluntary product performance standards for laminate floors in North America.
Laminate floors gained a strong position in Europe in the 1980s, but it wasn't until the early 90s that they crossed the Atlantic to North America. While Pergo wasn't the only laminate floor to initially enter the North American market, its marketing plan led the parade. Laminate floors' rapid success in North America was truly remarkable and sensational and the product continues its remarkable growth. Close attention given to installation for both the DIY and professionally-installed markets continue to contribute to sales growth. It is a floating floor, tongue-and-groove that includes choice of glued joints, glueless click together systems and joints that are pre-glued. The sound problem has been addressed with separate underlayments or sound control foam attached to the product. Research and development have produced laminate floors with the ability to be installed in a wide array of sites and every room in a home.
▪  In 1995, International Design Guild launches, catering to interior designers and discriminating consumers by providing quality flooring from around the world.
▪  In 1998, CRI launched a $100 million campaign "Carpet. It just feels better."
▪  In the 1990s, four manufacturers decided to enter the commercial flooring contract business - with little success. Few such operations remain; the majority were closed or sold. One went into the retail business with several hundred stores. Eighteen months later it sold off that division.
✕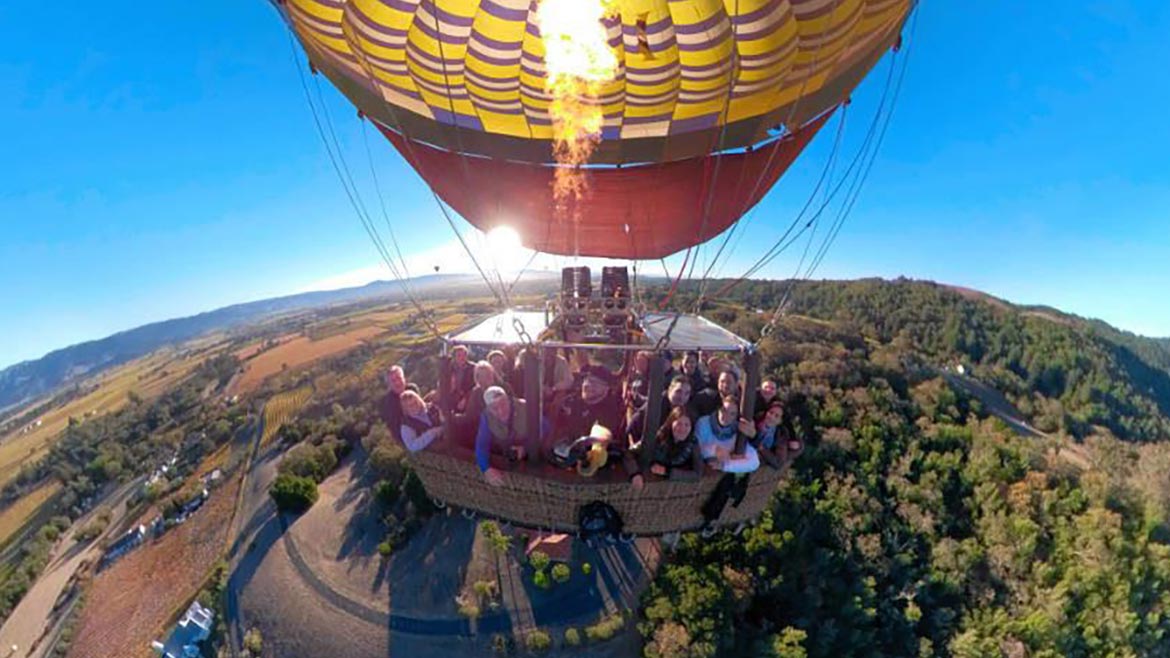 The National Floorcovering Alliance was created in 1991 by eight of the most powerful retailers in the United States. Fewer than one tenth of one percent of all carpet and flooring dealers meet the exacting criteria required for consideration for membership in this organization. Uncommonly large volume and preeminent industry reputation are among the exacting prerequisites applied. This photo was from the 2018 NFA fall meeting.
✕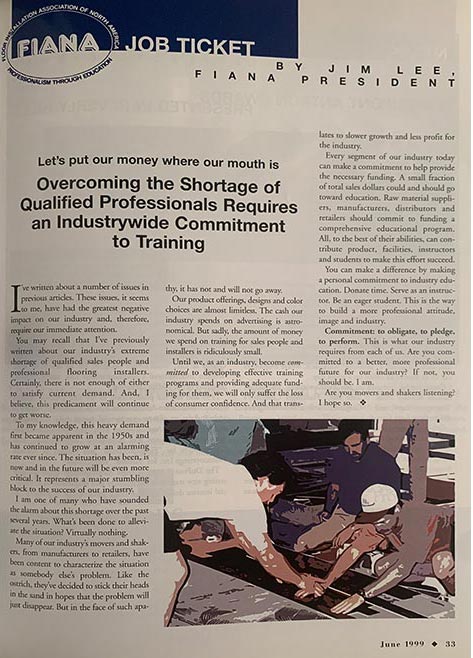 Recruiting installers has long been an issue. It was in 1993 that the International Certified Floocovering Installers Association (CFI) made its debut. CFI installers are required to pass rigorous hands-on tests in five categories to demonstrate their skills, complete extensive written and oral tests and sign the CFI agreement prior receiving their certification. The agreement states the "installation will be performed in accordance with CFI standards and the manufacturer's specifications."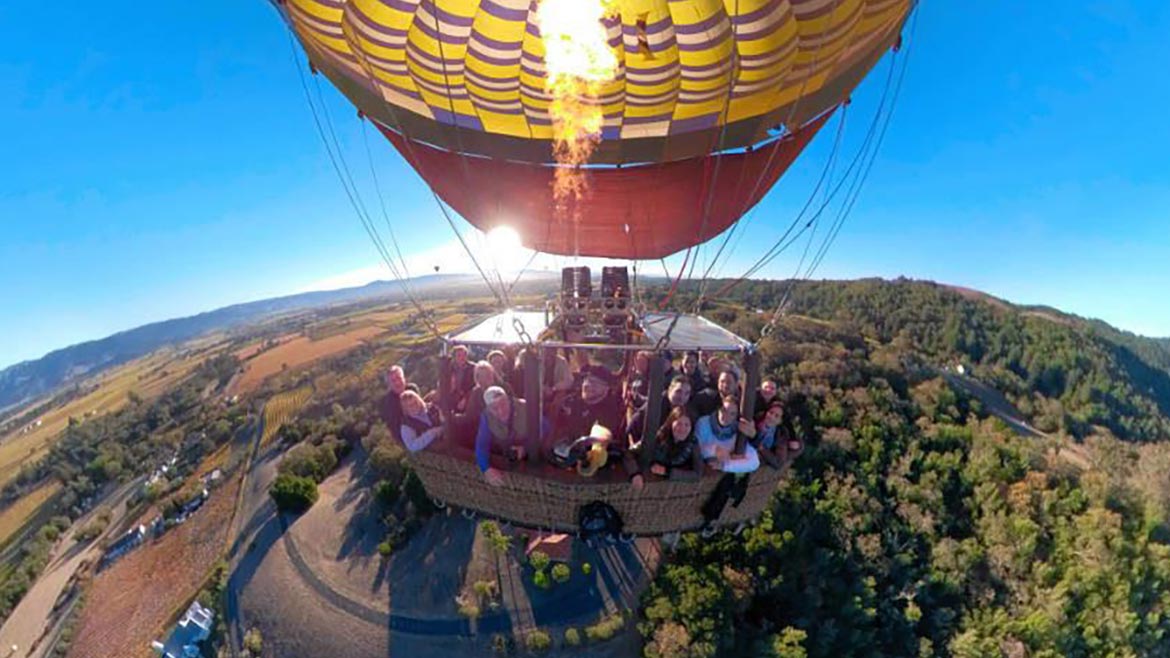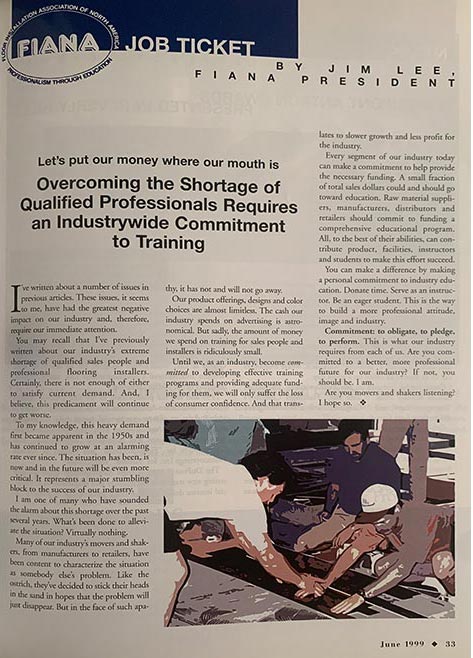 Click images for details
▪  Lasting from December 2007 to June 2009, The Great Recession was a severe financial crisis combined with a deep recession economic downturn was the longest since World War II. It was the longest recession since World War II. The collapse of the housing market — fueled by low interest rates, easy credit, insufficient regulation, and toxic subprime mortgages — led to the economic crisis.
▪  The Moisture Vapor Emission Testing White Paper published in 2000 is a position statement on qualifications for testing for moisture vapor. The White Paper states that moisture vapor testing needs to be performed by qualified independent agencies and not by floor covering personnel. The recommendation requires that architects move such testing away from Division 9 of constructions specifications and place them with other construction-related test requirements.
▪  In 2005, Mohawk is acquired by laminate floor manufacturer Unilin.
Carpet Co-op of America purchases certain assets of franchisors Flooring America and Flooring Canada, which are recast as a cooperative.
▪  In 2003, CCA Global Partners starts a charity golf tournament for the Floor Covering Industry Foundation.
✕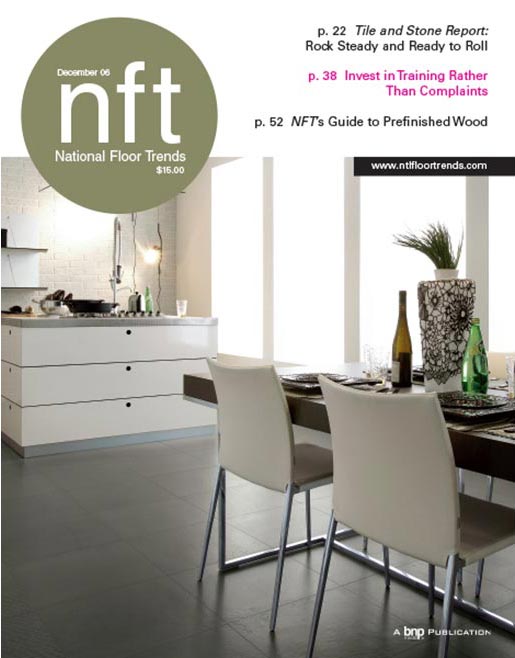 National Floor Trends, December 2006
✕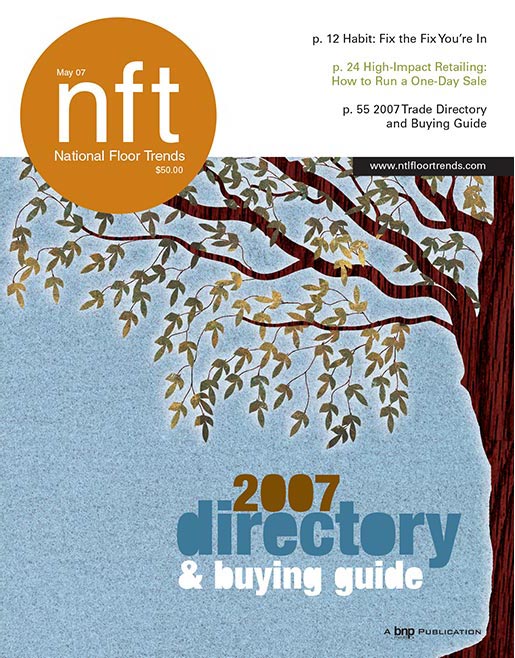 National Floor Trends, May 2007
✕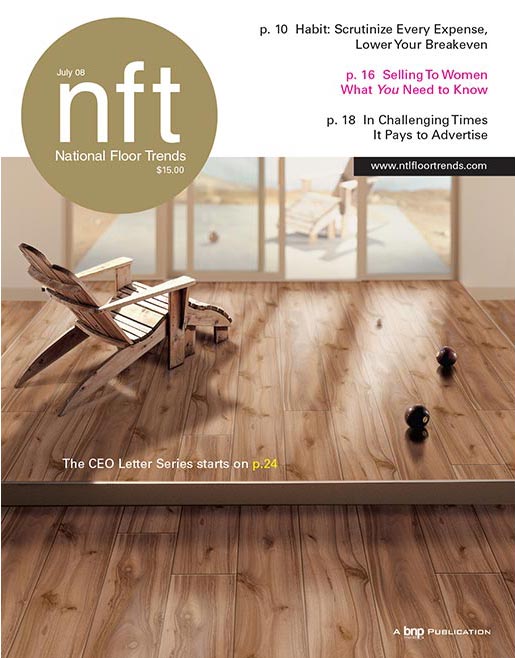 National Floor Trends, July 2008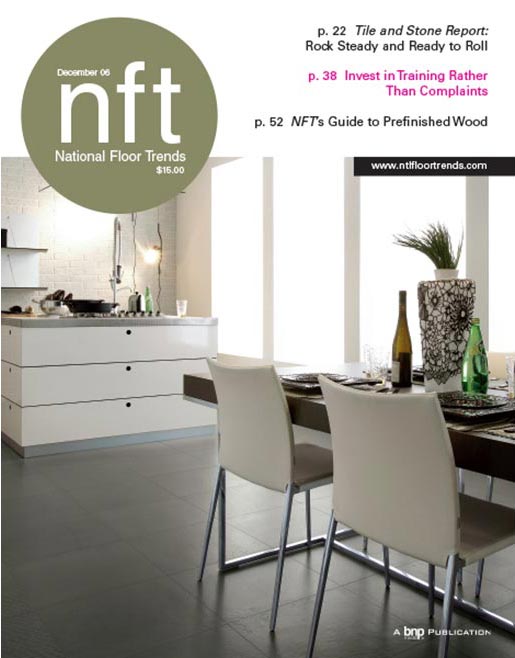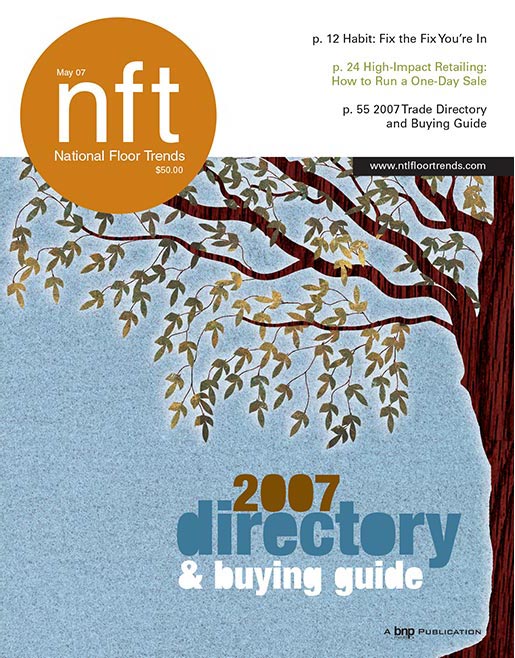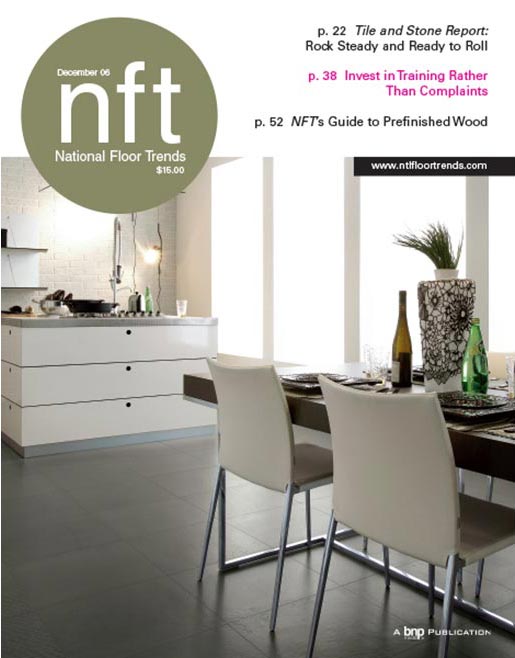 Click images for details
▪  In March 2010, the NSF American National Standard 332: Sustainability Assessment Standard for Resilient Floor Coverings was finalized under the American National Standards Institute (ANSI) standards-setting process and can now be used to certify the sustainability attributes of resilient flooring. The standard provides a means for designers, architects, facility managers and purchasers to evaluate the sustainability of a range of products. These include vinyl composition tile, sheet vinyl flooring, vinyl tile, rubber sheet flooring, rubber tile, linoleum sheet flooring, linoleum tile, polymeric flooring, resilient wall base and resilient stair treads.
▪ Piet Dossche, who was president and CEO of USFloors, introduced COREtec WPC flooring in 2012, revolutionizing the hard-surface category. In 2016, Shaw Industries, a Berkshire Hathaway company, acquired USFloors, giving it the support and infrastructure needed for even more rapid growth.
▪  In December 2019, The WFCA announced the first ever industry-wide initiative, "We are Part of the Solution," to impact the most pressing matter facing our industry - the installation crisis. The WFCA committed an initial seed-funding donation of $1 million and challenges industry leaders to join with the WFCA in solving the labor shortage. This breakthrough collaborative effort will include two distinct initiatives that will serve to broaden industry support and participation.
As an initial step, the WFCA spearheaded the formation of the Floor Covering Education Foundation (FCEF), an organization dedicated to recruiting and training individuals in preparation for a career in the flooring industry. The Foundation's initial purpose will be to recruit new installers, scholarship their trade education, and place these new artisans into floor covering industry careers.
▪ In January 2021, Jim Aaron was named executive director of the Floor Covering Education Foundation. CCA and the WFCA have a long, supportive relationship. A number of CCA employees have served on the WFCA's Board of Directors.
✕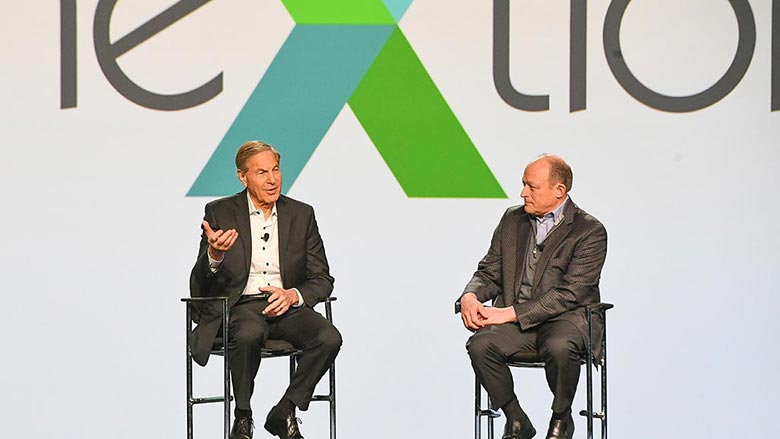 In 2018, Drive launches as CCA Global's first technology company focused on helping independent retailers elevate the way they communicate with customers.
✕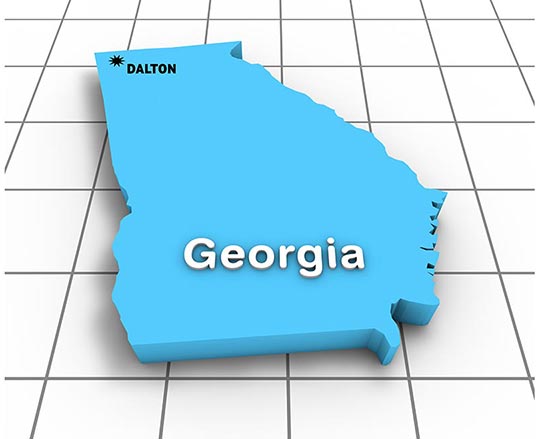 Tufted products make up more than 90 percent of total carpet and rug products created, followed by less than 2 percent that is woven, and 6.7 percent for all other methods, such as knitted, braided, hooked, or needlepunched. The Dalton area continues to be the center of the tufted carpet industry. Today, the area produces more than 70 percent of the total output of the worldwide industry of over $9 billion. Dalton is now known as the "Carpet Capital of the World."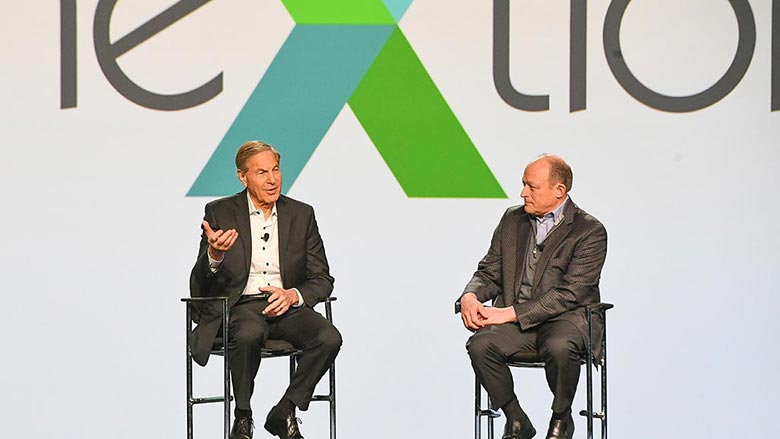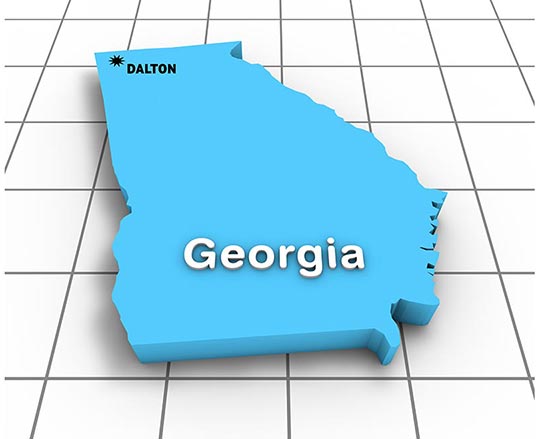 Click images for details
▪  In December 2020, The Resilient Floor Covering Institute and its 22 manufacturing company members launched a campaign to "inform and excite" consumers that resilient flooring is a Beautifully Responsible choice for their homes, the group said in a statement. This message includes all resilient flooring types, including rigid core and flexible luxury vinyl, vinyl composition tile, linoleum, vinyl sheet, rubber and cork flooring.
COVID-19 dominated 2020. On March 15, 2020, the CDC issued guidance recommending against any gathering of 50 or more people for an eight-week period. On March 16, President Trump issued new guidelines urging people to avoid social gatherings of more than ten people and to restrict discretionary travel. Before the pandemic hit, the housing market was showing signs of strength with January and February 2020 new home sales at their highest pace since the Great Recession. The entire economy was impacted. The unemployment rate jumped in April 2020 to a level not seen since the 1930s.
Since then, inflation emerged as a challenge for the United States as strong demand, skewed toward goods and away from services, interacted with the supply chain stresses. In 2021, supply bottlenecks slowed the recovery of both imports and exports of such products as automotive and capital goods that are at the heart of the global value chains that were disrupted by pandemic-related challenges.
▪  In April 2021, Invista sold the Stainmaster brand and certain associated assets to Lowe's. The purchase included all brand-related intellectual property from its parent company, Invista, and all related trademarks and sub-brands. It meant all independent flooring retailers who carried Stainmaster products had to scramble to find alternative products.
▪  In January 2022, the first round of students completed the Floor Covering Education Foundation's (FCEF) Basic Floor Covering Installation program at Georgia Northwestern Technical College (GNTC) in Dalton, Georgia. During the 10-week course, eight students got the opportunity to work hands on with each flooring category, learning the ins and outs of installation. Floor Trends and Floor Covering Installer recorded their journey, highlighting what they enjoyed, what they learned and how they felt about the program. In March 2022,  FCEF announced that its 10-week non-credited Basic Floor Covering Installation program GNTC has been approved for accreditation.
✕
Michigan flooring retailer, Flooring Edge, was forced to shut down during the state's stay at home order.
✕
Invista sold the Stainmaster brand and certain associated assets to Lowe's, in mid-April 2021.
✕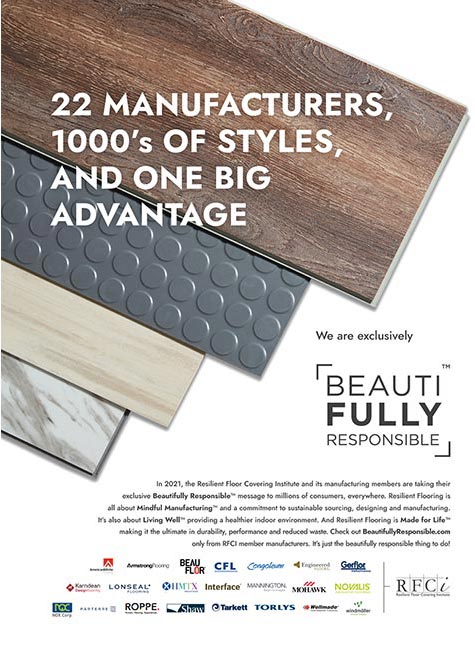 Beautifully Responsible consumer digital media campaign
✕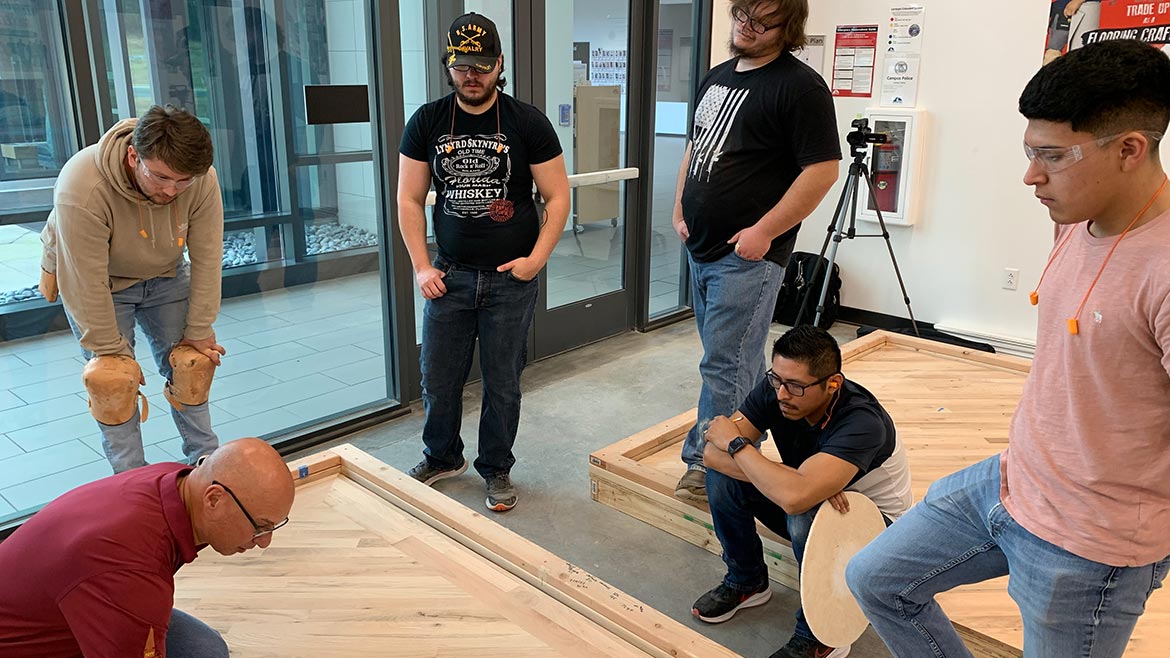 In January 2022, the first round of students completed the Floor Covering Education Foundation's (FCEF) Basic Floor Covering Installation program at Georgia Northwestern Technical College (GNTC) in Dalton, Georgia. Photo: Floor Trends.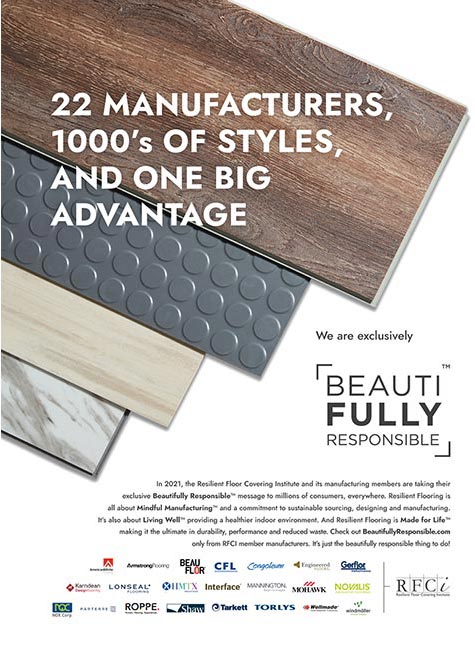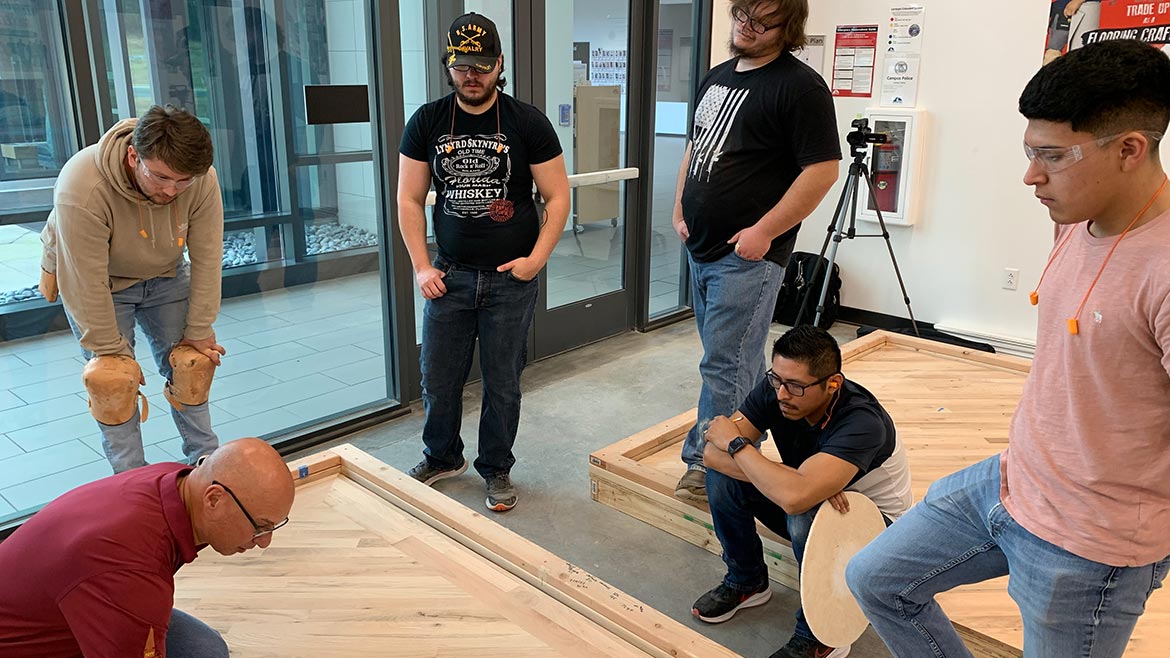 Click images for details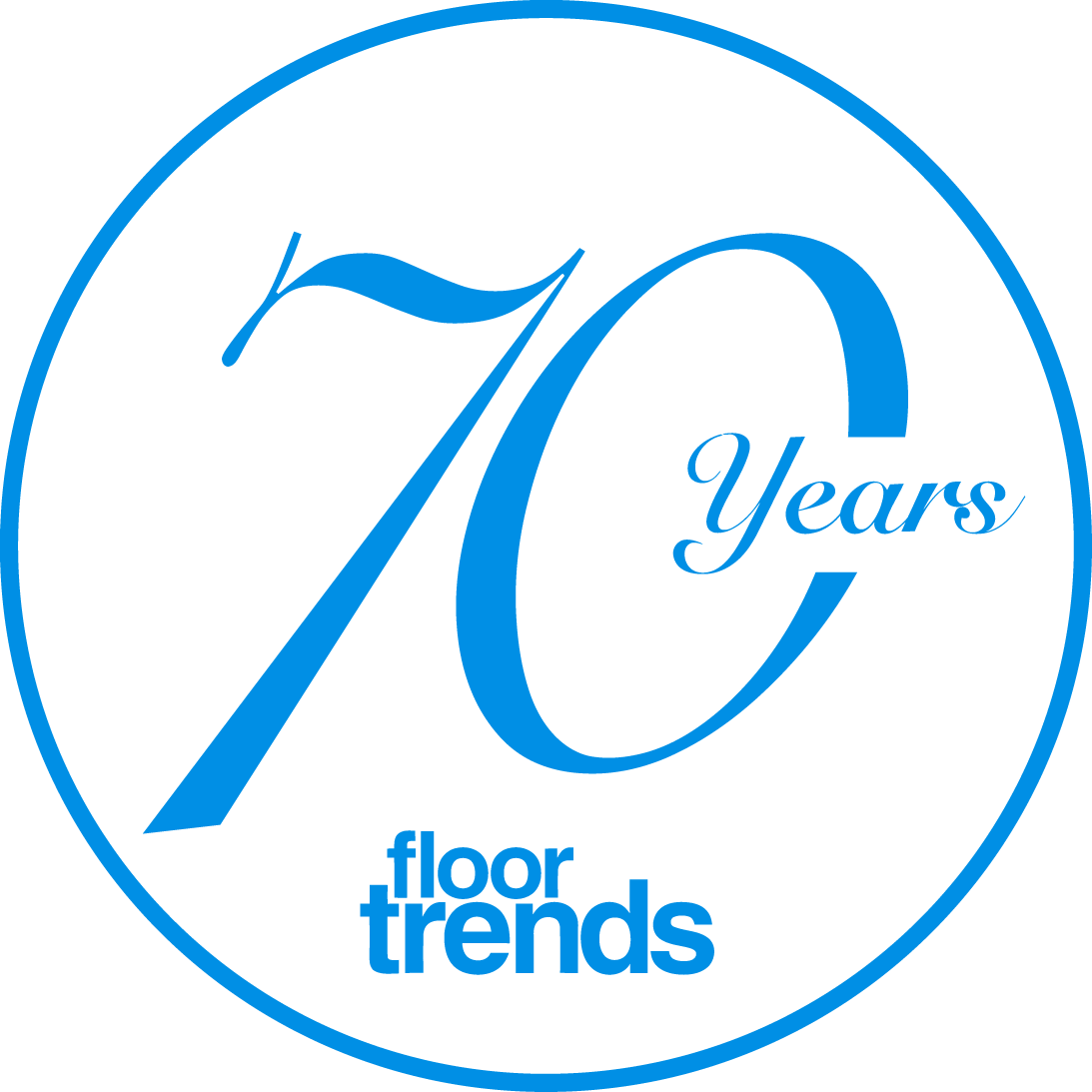 Up Next:
What's in store for the future of the flooring industry?