For 25 years, Floor360 has been installing high-fashion flooring in the Madison and Milwaukee, Wisconsin, markets. 
Employing nearly 60 people, owner and president Ryan Koechel said the company installs more floors in new Wisconsin homes than any other flooring company and provides interior makeovers free of charge to non-profits by leading the Design for a Difference movement in Madison and Milwaukee.
"Our company, which focuses on design and customer service, was founded in the 1990s. As our business has grown and our team has expanded, we have survived, succeeded, and grown," said Ryan Koechel, owner and President of Floor360, "We're thankful for our current and future team members, customers and partners, as well as those who support our charitable efforts."
Bob Tobe and Laurie Tobe founded Wisconsin Flooring Company January 8, 1998, which was later re-branded Floor360. The retailer now has a 10,000-square-foot showroom located in the Design Mart in Madison, along with a 10,000-square-foot showroom in Milwaukee.
The company's original mission from its inception in 1998 remains the same today: to bring design visions to life by offering quality flooring at competitive pricing with superior design expertise and excellent customer service.
The company teamed up with Duchateau in 2019 to sell high-end wood flooring. Nature's perfect surface, hardwood, covers the floor to ceiling in this area. Duchateau offers an entire collection of wall coverings in addition to the finest hardwood flooring in a variety of colors and styles. This room is a showcase for what the Floor360 installation team can do with a chevron floor and geometric patterns on the wall.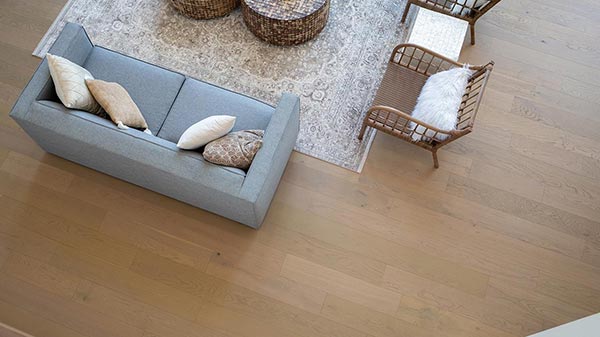 Through an agreement with Kashou Carpets, Floor360 also operates a separate creative space, Kashou Design Studio, which features high-end soft surfaces. Bob Kashou's grandfather opened Kashou Carpets in Milwaukee over 100 years ago, importing the finest rugs from around the world and installing the best carpeting. 
The entrance to Kashou Design Studio is inside FLOOR360, and is visible through a glass panel wall with a FLOOR360 logo. The carpet area inside the studio features the finest brands like Antrim from Stanton, Silver Creek Carpet from Bloomsburg, Nourison, Stark Studio Rugs and the Dabbieri Collection. Floor360 is also only showroom where you can find custom made luxury creations from J. Leigh Carpets in the state of Wisconsin. The entire design-driven carpet collection was curated with the discerning design professional in mind. 
In 2015, Floor360 began sponsoring Design for a Difference interior makeovers of Madison area non-profit facilities, followed by the addition of Design for a Difference-Milwaukee in 2019. The makeovers rely 100% on the generosity of Madison and Milwaukee interior designers who devote six months to planning, and an army of businesses and volunteers who donate money, time, labor and materials to complete each project. Cumulatively over time and six makeovers, Floor360 along with the Madison and Milwaukee communities have donated over $2 million value and impacted over 100,000 individuals who reap the benefits of the makeover for years after the results are revealed. 
"We're grateful for the support from the Madison and Milwaukee communities," Koechel said. We're committed to meeting the demand for quality flooring and installation along with highly personalized service, and to do everything in our power to earn trust while strengthening and building mutually beneficial relationships with our partners."