The past three years have been a transformational time for commercial design, which has been affected by major global shifts. From a global health crisis and the fights for social justice to economic and political volatility and shifting job landscapes, commercial flooring is leading a path to a new world through technology, smarter manufacturing and design. 
Advancements in commercial flooring in 2023 is making it more sustainable, durable and beautiful. Younger generations are looking at intentionality and authenticity in their designs. As game-changing technologies emerge, flooring manufacturers are leveraging these advancements to help improve specifications and the affect flooring has on the built environment. 
"As passionate advocates of the circular economy, we know that driving change for a better future is a collective effort," said Paul Young, senior vice president, product, innovation, design and sustainability, Tarkett North America. 
Floor Trends has rounded up the top trends in commercial flooring for 2023. 

Trend: Conscious Creation 
As the impact of consumption on the environment becomes increasingly visible, a generation of future-facing manufacturers, architects and designers are adopting considered, long-term, sustainable and circular approaches to design.
Increased education and visibility around humanitarian the environmental impact of manufacturing, has led to an uptick in prioritizing environmental, social and governance (ESG) principles in what commercial flooring manufacturers and specifiers design, purchase, and use. 
Consumers want to protect the planet and are making sustainable choices. Consumers, including home buyers, are placing increasing emphasis on sustainability as a value guiding their purchasing choices, with increasing numbers of consumers saying they are willing to pay a purchase premium for sustainability. 
The American Society of Interior Designers (ASID)'s 2023 Trends Outlook notes that the public does notice and care when a company does not uphold environmental, social & governance principles and ideals. A recent survey showed that a majority of respondents would actually take actionable steps against a company they felt was disregarding ESG issues. Manufacturers that demonstrate a sense of social purpose and a commitment to good stewardship of the planet take center stage over those whose design and developmental practices avoid these important humanitarian tenets. 
"Perhaps at no other time in history has interior design played such a significant role in addressing some of society's most pressing challenges," said ASID CEO Khoi Vo. "Designers are responding to changing needs in their communities by creating new spaces or adapting existing ones to make a positive impact on places where people live, work, play, heal, or learn." 
Biophilic design, which incorporates elements of nature into the built environment, continues to be a leading trend in commercial flooring. In particular this year mushrooms and fungus in particular have been gaining popularity as a source of inspiration in interior design. The unique shapes, textures, and colors of mushrooms have been incorporated into various design elements, providing a natural and organic aesthetic. 
HMTX took another step forward in creating more sustainable resilient flooring with the introduction of the Mycelium Collection, the first non-vinyl, circular, multilayer flooring system. SRP TPU flooring. Two plastic bottles (PET) are upcycled into each square foot of SRP flooring, which is constructed with a PET top layer, thermoplastic polyurethane (TPU) core layer, and a cross-linked polyurethane foam back layer. SRP flooring can be ground up and transformed into an engineered TPU giving HMTX the ability to recycle each plank into new planks, making it a circular product. The product won the Best of Neocon Award for Sustainability.
Mohawk Group shared insights on its manufacturing innovation, Color Pulse yarn system, which offers a solution-dyed nylon option that mimics the effects of space-dyed fiber using with a zero-water dyeing process. An adaptable palette and rich tonal movement are punctuated with rhythmic intervals of different colors and crisp, clear color separation.
"We believe that all design can serve the greater good and better the planet," said Jackie Dettmar, vice president of marketing, design and product development, Mohawk. "We are focused on developing products that help answer the challenges faced by our world today – influenced by natural, digital and built environments that empower users' work to make a positive impact."
Mohawk Group borrowed inspiration from mycelium, the thread-like roots that form fungal networks underground. The Mycotopia collection includes 16 meditative patterns that explore the hidden structures of mushrooms and their ecological importance. 
The product designers said the designs emphasize a sense of wellbeing and connection while grounding and centering spaces with natural warmth and organic beauty with a wide range of tufting formats— including Definity, Pattern Perfect broadloom and tile, PDI print tile, tufted broadloom, and hand-tufted rugs.
Taking root, a commercial LVT collection, features three styles that display abstract design elements of mushroom structures, mycelium growth, and spalting maple trees. 
Conscious Creation Gallery
Click any photo in the gallery for product information.
✕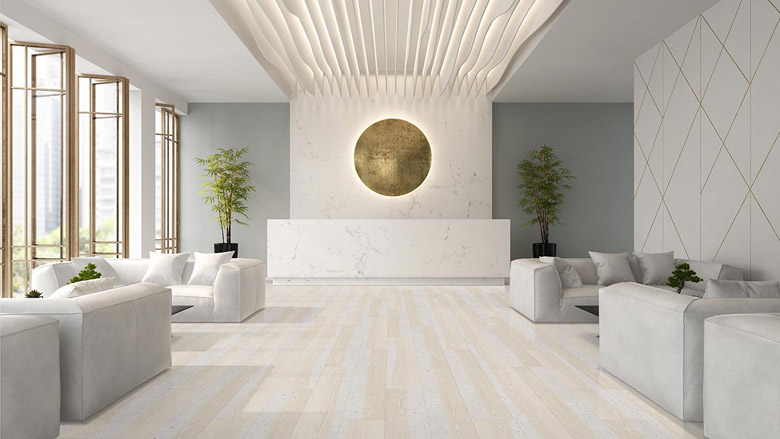 Mycelium Collection, by HMTX Industries, is the first non-vinyl, circular, multilayer flooring system. Photo: HMTX.
✕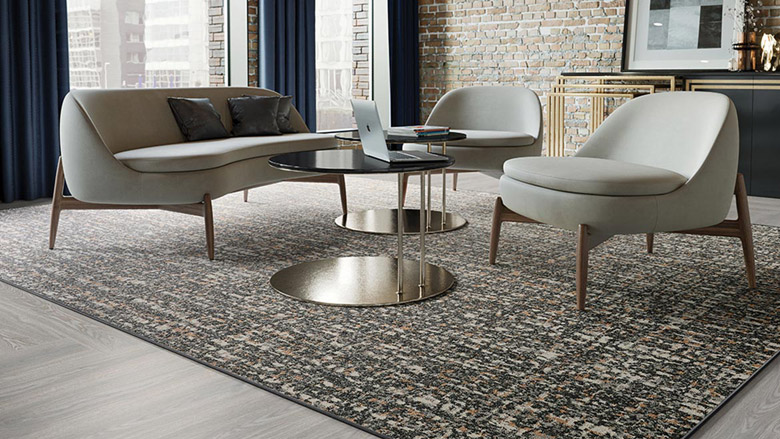 Durkan's Mycrotopia collection is inspired by the hidden structures of mushrooms and their ecological importance. Photo: Durkan
✕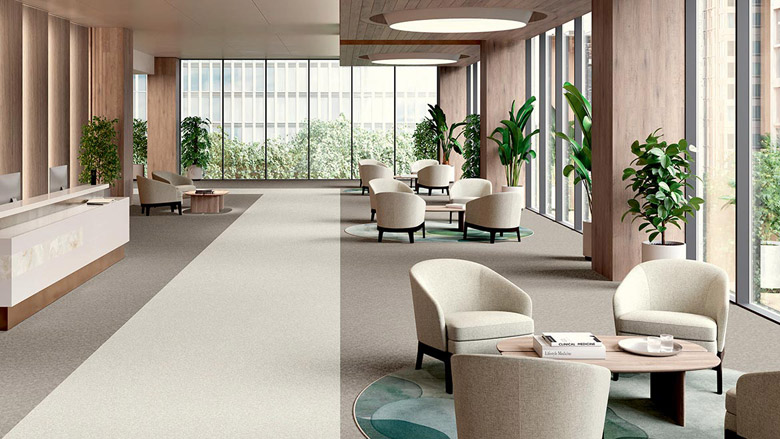 Shaw Contract's innovative, PVC-free, and bio-based resilient flooring collection that mirrors the captivating play of light in nature.
✕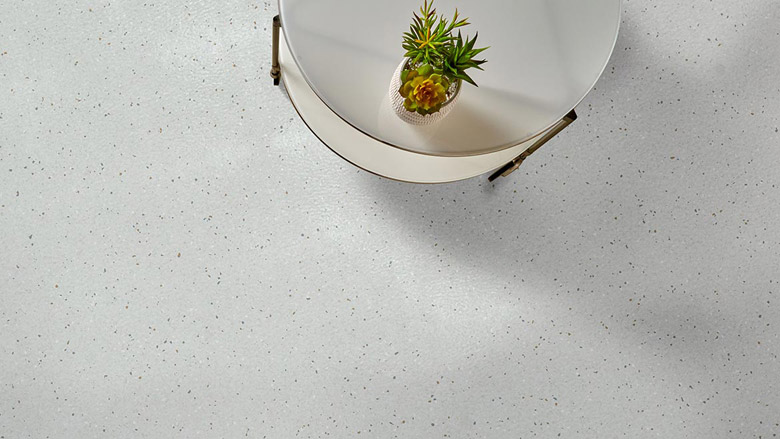 Armstrong Flooring™ Natralis™ Collection from AHF Products (7-2086) uses light-reflective colors to naturally conserve energy and was inspired by North American landscapes.
✕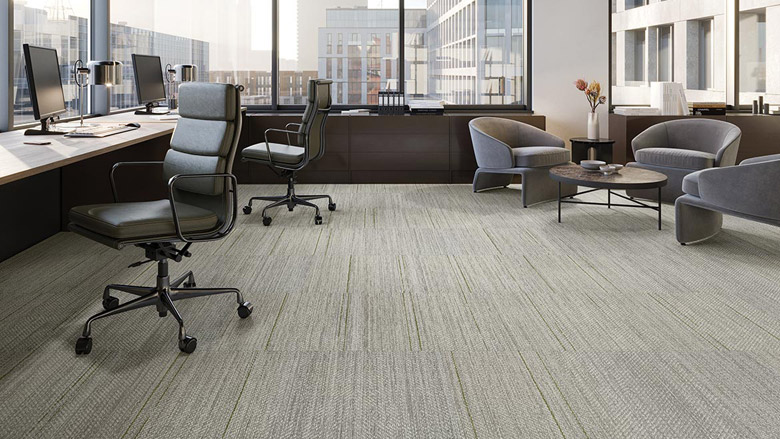 Mohawk Denim Culture is made with Color Pulse, a fiber that delivers multi-color dimension of space dyed yarn but with the lower environmental impact and high performance of solution dyed nylon. Photo: Mohawk Group.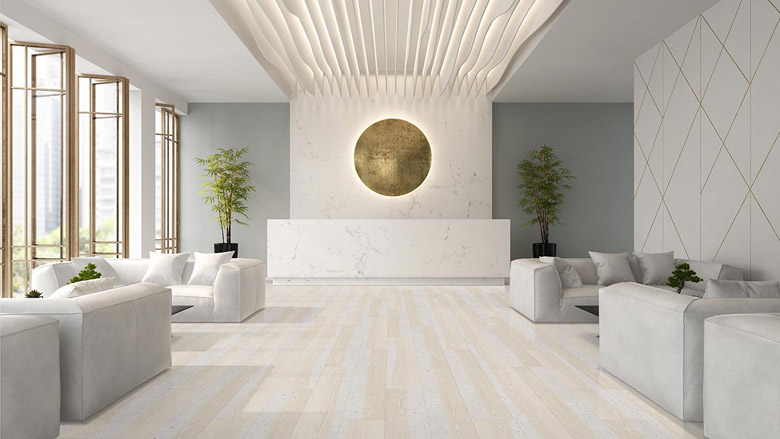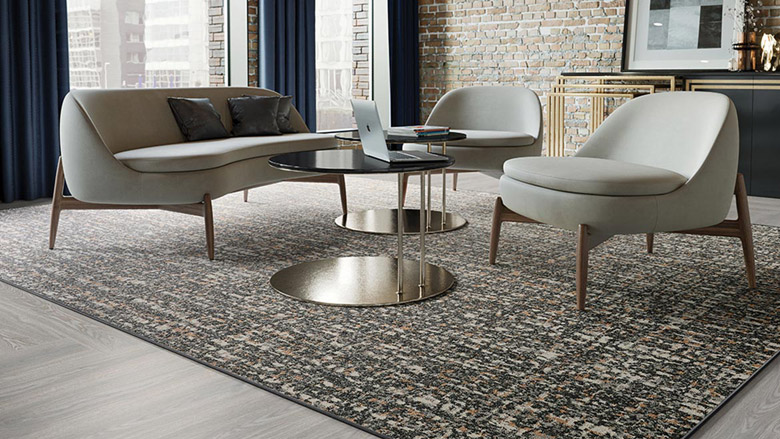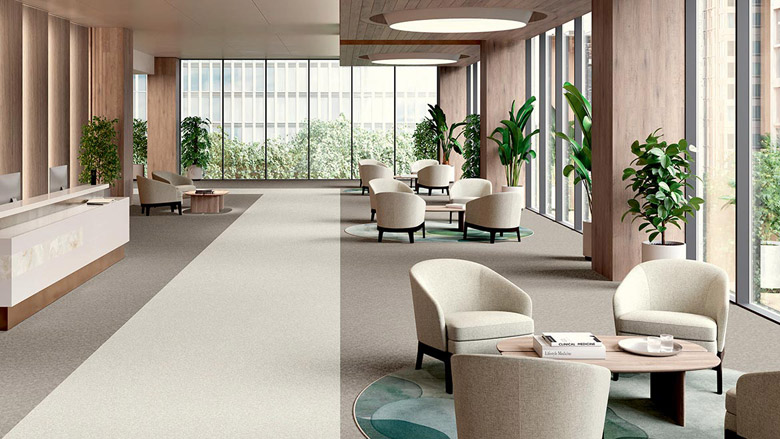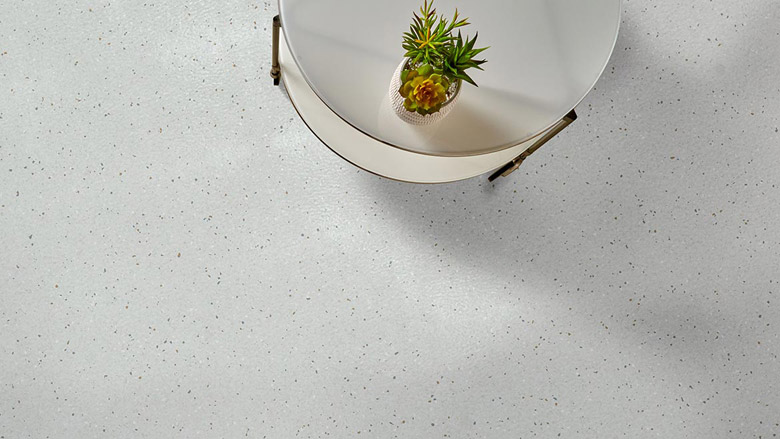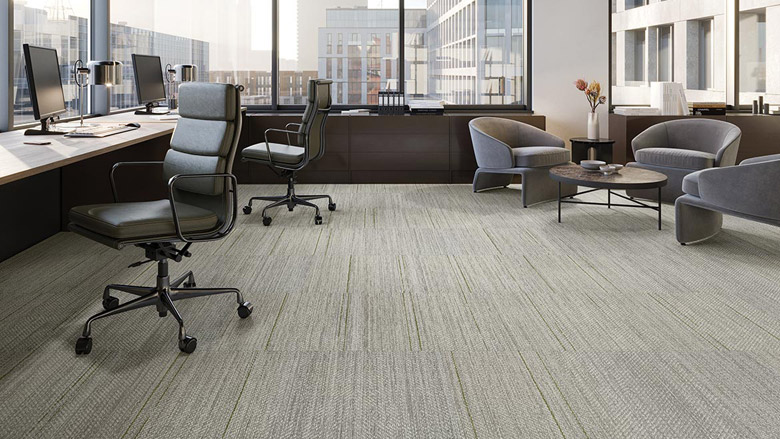 Trend: Collaborative Design
With Gen Z projected to make up a third of the workforce by 2025, according to the Manpower Group, 2023 Workforce Trends Report, and older generations retiring later, designers, facility managers, and other specifiers must cater to an expanding community with diverse needs and expectations. 
Human connection, well-being, and consistent comfort have emerged as priorities for both younger generations looking to establish smart habits and older generations seeking physical longevity as well as a vibrant and active career. As a result, there is a demand for spaces and products that offer opportunities to connect and collaborate while also allowing users to accommodate their personal wellness goals and feel more balanced.  
"When the two concepts of intentionality and authenticity are applied to workplace design, the result is an environment that encourages meaningful collaboration, camaraderie, and the organization's key values, as well as the unique identities of its employees," said Laura Leung, WELL AP and designer for IA Architects. "The intentional workplace considers all aspects of the design—from layout to lighting to acoustics to ergonomics—ensuring an enjoyable, memorable, and healthy environment tuned to user needs and requirements. Intentionality and authenticity are catalysts for each other at the heart of an organization."
Tarkett's most recent collection, Collaborative collection emerged from a collaborative mark-making process led by Tarkett's vice president of design for its commercial business, Omoleye Simmons, who joined the company in September. As a former art educator, Simmons has experience coaching designers in technology and concept development, translating art to product. That process is evident in the collection's design patterns, which were created by layering the marks of different team members, integrating and transforming them into something much greater than the sum of its parts.
"In creating this collection, our goal was to celebrate hyper collaboration through cooperative artwork," Simmons said. "We embarked on a hands-on exploration that included mark-making, spraying and brushing watercolor paint, and layering paper. We experimented across design studios, sharing steps in the design process—selecting each others' creations to merge with our own and offering feedback along the way."
Collaborative Design Gallery
Click any photo in the gallery for product information.
✕
Hip Hop Architect Mike Ford's new rug collection with Shaw Contract. Photo: Shaw Contract.
✕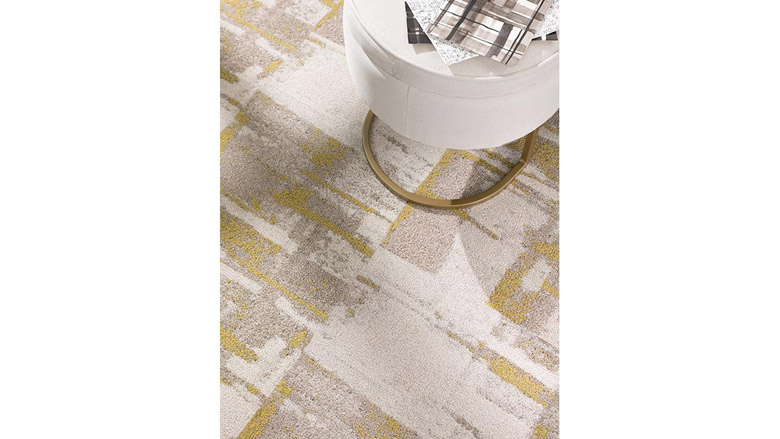 The Collaborative collection emerged from a collaborative mark-making process. Photo: Tarkett.
✕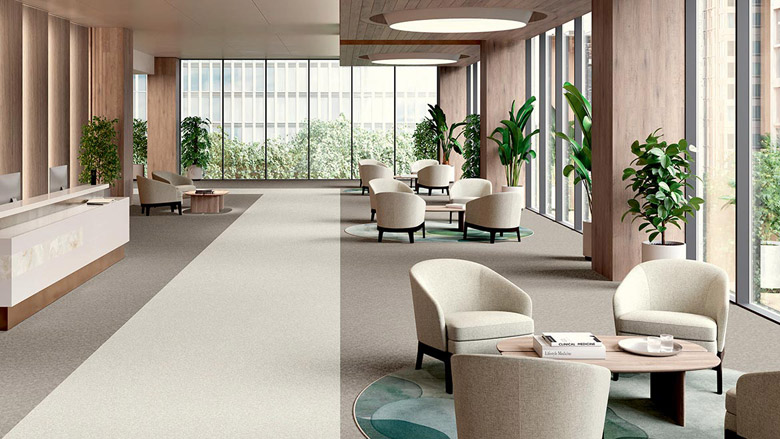 Patcraft's Material Edit collection was developed in collaboration—tapping into an idea of rediscovery through personal history-- and inspired by connection and shared artistic experience. Photo: Material Edit.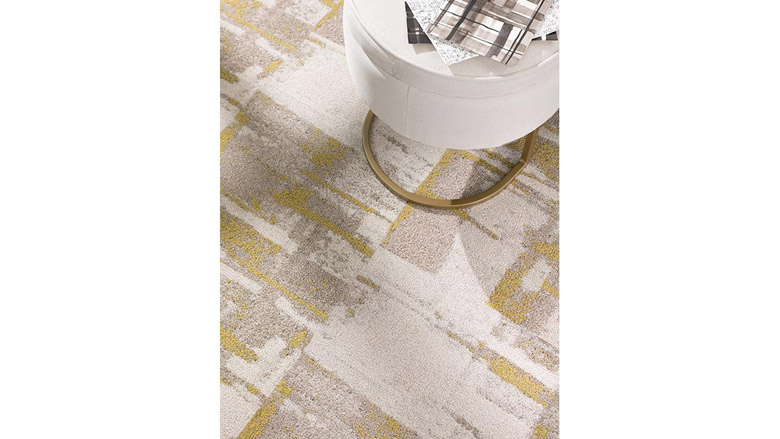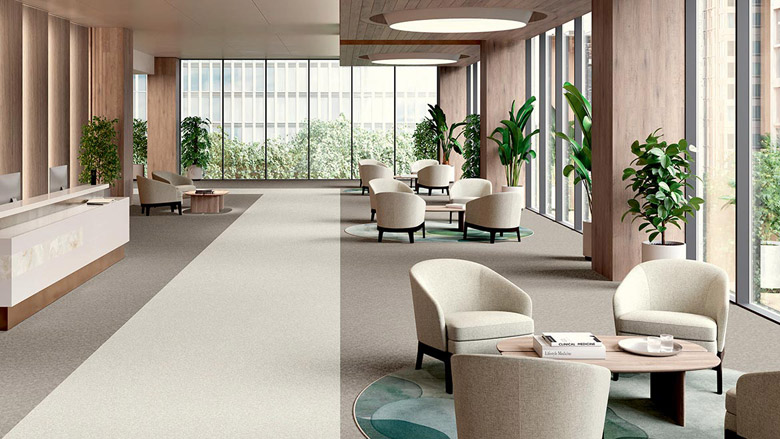 Trend: Practical Solutions for Architects & Designers
As game-changing technologies emerge, companies across all verticals are leveraging these advancements to help improve their user experience. The integration of emerging technologies within products has become increasingly crucial, addressing issues such as virtual fatigue, ergonomic optimization, hybrid workspaces, physical well-being, productivity and creativity stimulation, and the creation of inclusive environments.
Gensler's 2023 Design Forecast noted that recent and projected technological advances in product development can improve accessibility and equity: "Products conceived with meaningful consideration for dexterity, body fit, and ADA compliance can significantly enhance workplace inclusivity. Touchless workstations, advanced display panels, and other tech-enhanced products will help write the next chapter for equity in the workplace. Concepts that used to reside only in science fiction are now real tools unlocking equal access where it once was impossible." 
AHF introduced Armstrong Flooring Natralis commercial homogeneous vinyl sheet to fulfill projects ranging from healthcare and senior living to education and hospitality.  Its through-pattern provides even wear, a consistent appearance and superior gouge and abrasion resistance to withstand heavy foot and rolling load traffic. Because it is easy to push, pull, and roll heavy equipment and furniture across this floor, it is ideal for high-traffic commercial settings. Plus, the high-performance coating resists soil, stains, scratches, scuffs, and abrasions, as well as chemicals and damage from alcohol-based hand sanitizers.
"Flooring is increasingly at the forefront in the decision-making process, and Natralis is a true problem solver," said Fred Reitz, senior vice president-commercial, AHF Products. "It is incredibly durable, easy to clean, low maintenance and meets high performance criteria for applications such as healthcare, senior living, education, and hospitality."
As commercial project timelines continue to impact projects, AHF Products introduced a Quick Ship program featuring 12 Armstrong Flooring Luxury Vinyl Tile (LVT) options, manufactured in Lancaster, Pennsylvania. Orders up to 2,500 square feet will ship within five business days and 20,000 square feet will ship within 10 business days, according to Reitz.
"Unify is a best-in-class class service story," Reitz said. "Making the product in Lancaster and printing the films in Pennsylvania gives us a unique speed to the market and a unique reliability to that speed for both large and small quantities."
Kuberit's Design-Clip Profile offers specifiers a versatile way to manage floor covering expansion and contraction. It uses a two-part system with a universal base paired with one of three top-profile options addressing reducer, edge trim, and transition functions. There are no exposed hardware elements once the system's base is put in place, the coverings installed on either side, and the appropriate top portion of the profile tapped into position using a robust connection method.  

Trend: Art & Nature  
Commercial designers carry the responsibility of creating spaces that impact daily lives and are more focused than ever on blending indoor and outdoor spaces. 
 As the built environment evolves and the need for inventive spaces for workplace, healthcare, multifamily and hospitality settings grow, research shows that people are spending much of their time indoors. In fact, Americans spend 90% of their lives indoors, according to the Environmental Protection Agency. 
These findings were the inspiration behind the BEHR BioNature Collection, which includes a palette of five color themes that provide the vision for connecting distinctive moods with colors that reflect elements from the natural world.
At Patcraft, the design team began the Material collection begins with rediscovering lost art, said Susan Smilek, Patcraft's Director of Product Development.
Product designers Amanda Hopkins and Erin Helm started out on separate creative tracks as they were working on different projects—Amanda on a carpet tile collection and Erin on a resilient. They were both exploring a reconnection with artistic techniques from their past as inspiration, and they realized many commonalities in their design processes
"From the scent of fresh pine needles to the sound of waves crashing against the shore, nature awakens our senses and renews our spirits," Simmons said. "We trust its longevity, rely on its rhythm, and are centered by its beauty." 
Tarkett's Renewal Series showcases two prints inspired by the outdoors: Veiled Grove and Ebbing Waves. Both designs are offered in three modular sizes, available on Flex-Aire Modular cushion or on Ethos Modular, a non-PVC backing that is certified Cradle to Cradle Silver v3.1. Ebbing Waves is also available in Powerbond RS, the world's first certified asthma & allergy friendly soft-surface floorcovering. 
Art & Nature Gallery
Click any photo in the gallery for product information.
✕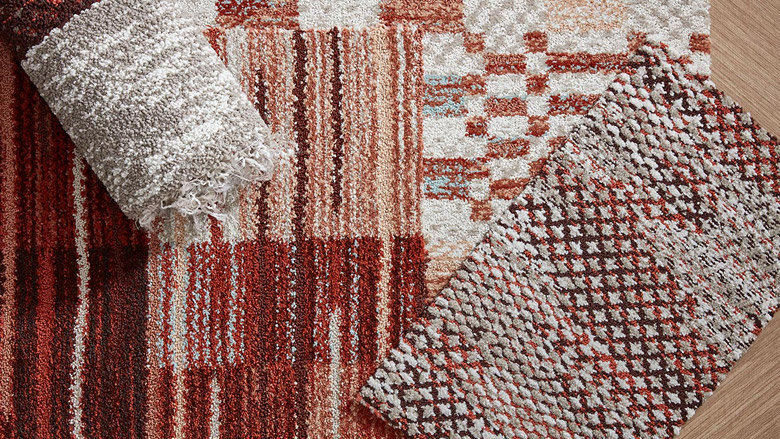 A varied collection of carpet tile, rugs, broadloom, and LVT, inspired by the artistic richness of Mexico's Oaxaca region. Photo: Patcraft.
✕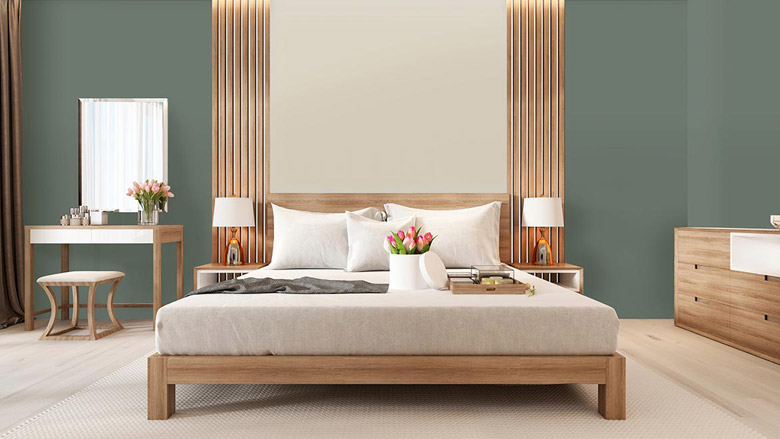 Behr Paint Company debuted the  BioNature Collection, nature-based paint color palette informed by biophilic design concepts—bridging outdoor and indoor elements and bringing a sense of harmony and wellbeing to any built environment. Photo: Behr.
✕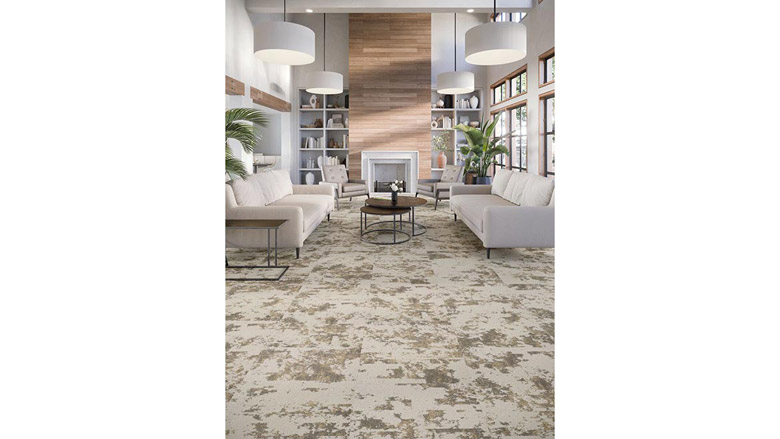 Tarkett's Renewal Series showcases two prints inspired by the outdoors. Photo: Tarkett.