Manufacturers of profiles, stair treads and accessories have stepped up their product game for 2023. Performance has always been at the forefront of design when it comes to these products. Rightfully so! However, the focus is shifting toward a higher level of aesthetics and even greater functionality. 
Here, we highlight a selection of manufacturers who shared their latest innovations and some insight into how they are meeting the demands of consumers. 

Enduracor's Treads & Risers system. Photos: Artistic Finishes.
Artistic Finishes
The Enduracor Treads & Risers use the same waterproof core material as the other
Enduracor products and is a versatile solution for flooring projects. This tread and riser product
line highlights Artistic Finishes' digital print technology on their exclusive 4-layer design. The system is offered in a traditional round nose as well as a contemporary square nose. 
Highly water- and scuff-resistant
Easy glue down application
3/8-inch thick with treads 11.5-inch depth and risers at 7.5-inch height
Comes in 48-inch lengths
Küberit
Flooring professionals are looking for ways to enhance their project designs, make installations more efficient, and turn over outstanding installations for clients. Küberit is working closely with them, moving across all of these objectives with a range of stair-nosing profiles designed with aesthetics, durability, and engineering top of mind. 
Küberit provides twelve stair-nosing profile shapes with each available in different sizes for use with varied floor covering gauges. Multiple finishes and even custom colors are available to complement floor coverings and design objectives. Küberit Stair-Nosing Profiles offer slip resistance and enhanced visibility of each stair. 

KS-A profile. Photos: Küberit.
Küberit KS-A
The KS-A profile presents a narrow, elegant edge visible at the stair's right angle while providing nesting points for the edges of the tread and riser floor coverings. KS-A stair-nosing profiles are installed before the coverings and provide an important, but simple additional benefit – a pre-determined bending point to fully adjust the nosing to the stairs. One more benefit of these profiles – they can be used on walls for a professional edge using coverings on either side of the profile. 
Available in four standard finishes, including silver, sand, bronze, and black
Highly-functional, minimalist profile
Ideal for use with LVT, LVP, sheet vinyl and laminate
Designed for 3 mm to 8 mm flooring thicknesses
Can be installed with screws or adhesive 
"Küberit KS-A stair-nosing profiles have really taken off as project planners have increased their use of LVT coverings paired with a desire for an elegant presentation with each step," explained John Solberg, Business Development Manager, Küberit USA. "Flooring professionals use KS-A profiles to efficiently edge each step with an integrated look, working easily with floor covering materials." 

KS-D profile. Photos: Küberit.
Küberit KS-D
The covering used on the stair tread tucks inside the KS-D profile, providing a clean presentation of the profile and covering with a ridged surface on the profile for added safety. Installers addressing the need for curved stairs can use the bendable version of Küberit KS-D profiles, allowing a custom bend to match the stair's radius. The bending is done in the field at the stair. All Küberit KS-D profiles are made from anodized aluminum, providing a commercial grade construction ready for heavy traffic.  
Available in three finishes, silver, sand and bronze
Ideal for a wide range of floor coverings
Designed for 3 mm to 15 mm flooring thicknesses
Can be installed with screws or adhesive 
"KS-D profiles are a standard in a flooring contractor's inventory, but go beyond the expected with a wide variety of height or covering thickness options available," explained Rhyal Knight, Business Development Manager, Küberit USA. "The bendable option available with the KS-D profile allows a custom fit in the field using the simple bending tool also provided by Küberit." 

KS-E profile. Photos: Küberit.
Küberit KS-E
Similar in construction to Küberit KS-D stair-nosing profiles, KS-E adds a pocket into which the floor covering used on the stair riser can be inserted. Both the covering for the stair tread and the riser are fully integrated within the KS-E profile. KS-E completely covers and fits the edges of the tread and the riser floor coverings. A ridged surface with KS-E gives added safety to each stair tread across all of the available finishes. 
Available in three finishes, silver, sand and bronze
Ideal for everything from LVT to wood
Designed for 5 mm to 15 mm flooring thicknesses 
"The strength and durability of all Küberit profiles make them a preferred option for flooring professionals with KS-E certainly excelling in that area given its carefully engineered pockets for tread and riser coverings," commented John Solberg, Business Development Manager, Küberit USA. "As with all Küberit profiles, custom powder coating is available, allowing branded and special color finishes to be achieved."
Laticrete
Laticrete is taking tile design to the edge with the addition of profiles and trims to its growing roster of tile, stone and flooring installation products, making it the industry's first manufacturer to provide a complete tile installation system from the substrate up. The comprehensive offering features more than 4,000 possible combinations of shapes, colors, sizes and styles and is covered by the same best-in-class system warranty as other Laticrete installation products.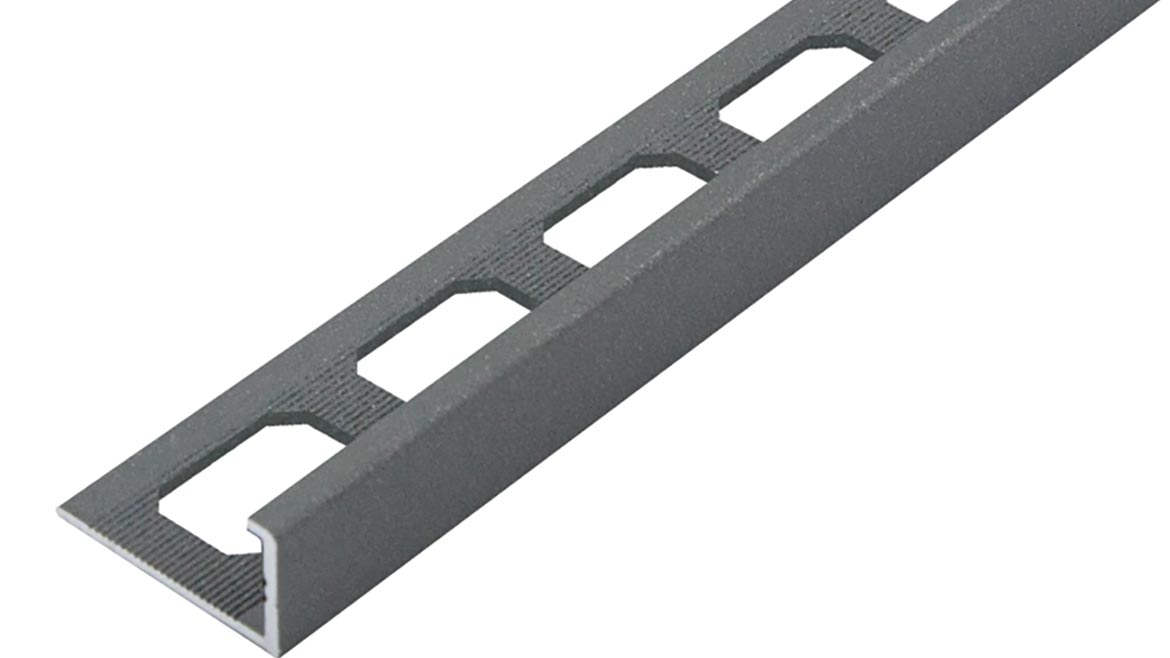 L-Shaped profile in gray metallic. Photo: Laticrete.
Profiles and Trims
The German-engineered and -manufactured profiles and trim pieces for floors, walls, countertops, stairs and balconies are available in five materials, including two stainless steel options, aluminum, brass and PVC. Additionally, profiles and trim pieces are offered in the most popular Laticrete grout colors, as well as the option to customize them through the brand's AnyColor program to create one-of-a-kind looks.   
"Our customers will not just benefit from the convenience of specifying a complete system from the substrate up; they will also be covered by the same best-in-class system warranty as other Laticrete installation products. We want Laticrete to become the ultimate partner for tile installers, distributors, architects and designers, helping them to do their jobs more easily and to better serve their customers," said Ben Lampi, product manager, Laticrete.
Performance Accessories
Performance Accessories is a system that includes everything from underlayments to trims and transitions to adhesives to stair solutions. The products are designed to coordinate with all Mohawk floors and other manufacturers' floors. The trims and transitions offer multifunctional features and waterproof capability and are designed to not only meet Mohawk's warranty requirements but also the requirements for other floor manufacturers' warranties. 

Performance Accessories Waterproof Quarter Round. Photos: Mohawk.
Trims
Taking waterproof innovation to the next level is the Waterproof Quarter Round, equipped with a built-in gasket to seal the perimeter of the room. This trim option removes the need for installing backer rod and silicone, saving installers time and money, while guaranteeing a waterproof installation. 
Paintable—comes pre-primered white
Waterproof gasket comes pre-attached
Can be used with any waterproof flooring from any manufacturer 
"Performance Accessories are the finishing touches that bring the floor to life," Jon Woodbury, senior product director, Performance Accessories. "We stand behind the approval of the customer. If the customer isn't satisfied with the aesthetic of the trims that we presently provide, we will replace it. Our goal is to make them happy."  

Performance Accessories Laminate 5-in-1 transition kit. Photos: Mohawk.
Transitions
Each transition system is equipped with a multi-function feature, providing installers with everything needed to finish the space with less waste and fewer pieces than traditional individual transition moldings: a T-molding, a hard surface reducer, an end molding, a carpet transition, and in the case of the Laminate 5-in-1, a stair nose.  
Wood 4-in-1: designed to coordinate with Ultrawood collection
Laminate 5-in-1: coordinates with any Mohawk laminate floor 7 mm to 12 mm
Vinyl 4-in1: coordinates with any vinyl floor 2 mm to 8 mm 

Performance Accessories Stair Solutions. Photos: Mohawk.
Stair Solutions
Designed for a new build or a renovation, Performance Accessories Stair Solutions innovative trims and treads are easy to install. Providing the perfect fit every time, Stair Solutions come pre-finished to coordinate beautifully in design and texture with your wood, vinyl, or laminate floors. 
Includes stair noses, treads, risers, and caps
Can be installed over existing flooring 
Pre-finished, require no painting or finishing
Treads designed for boxed or one-sided stairs come with pre-mitered return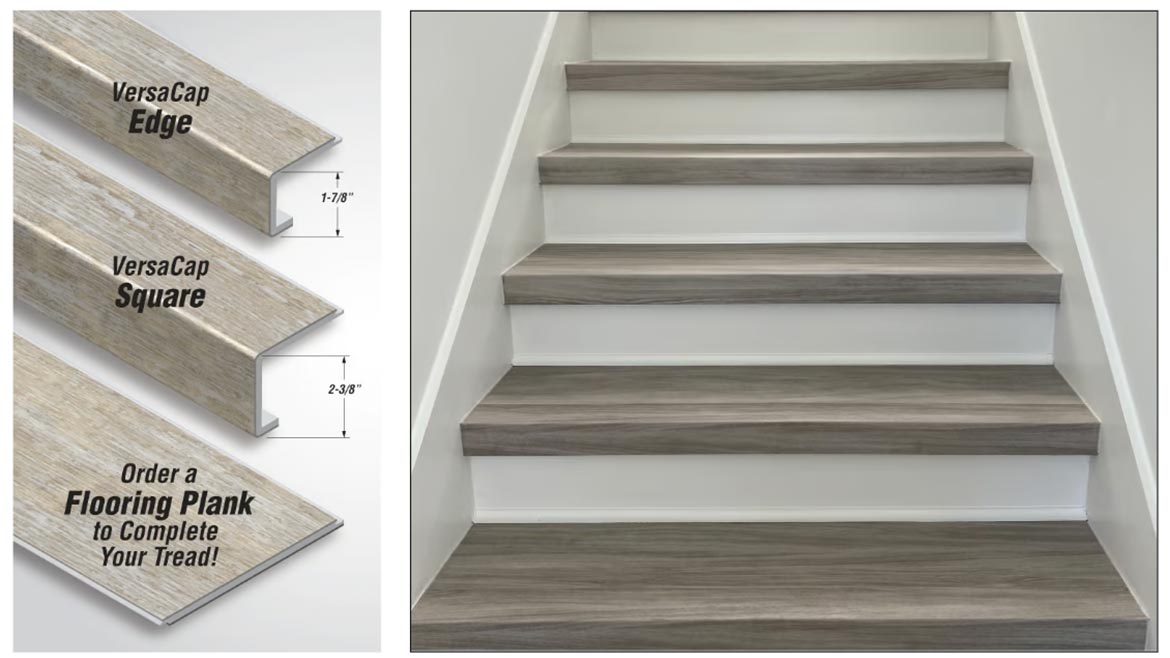 Versatrim's VCAP stair solutions. Photos: Versatrim.
Versatrim
VersaCap is used to create custom, matching, flush stair treads and returns that perfectly compliment the floor plank to provide an elegant cohesive look. Versatrim uses the chosen flooring materials for the exact color match and fit. These stair solutions are easy to install, made to order and highly durable. A bundle package is now available for VersaCap and the flooring plank to complete tread orders. 
Available in Edge and/or Square depending on floor type
Inside height: measure the thickness of the floor, multiply by 2 and subtract from outside height
Length: dependent on length actual floor (maximum length for VersaCaps is 46 inches)
VersaCap works with select products from these brands:  Axiscor, BHW Floors, Eastern Waterproof Flooring, Engineered Floors, Essential Floor Products, Evoke, Floorfolio, Floors For Life, H2O by Karndean, Happy Feet International, Home Legend, Johnson Hardwood, Karndean Design Flooring, LX Hausys, Matrexx Floor, Next Floor, NRF Distributors, Six Degrees, Southwind Carpet Mills, Stanton 
"Versacap allows our customers to use the actual flooring to create a finished stair solution that is an exact match every time," said Tina K. Emery, director of business development, Versatrim. "This floor may come from a U.S. manufacturer or a Chinese manufacturer. It could be private label or a no-name brand. Simply send us the flooring, once it passes our testing process, we will send you what you need to complete that perfectly finished staircase."