Flooring Installation
A "Hospital of the Future" in Escondido, California is a true Custom installation for a San Diego-based stone contractor.
Custom Building Products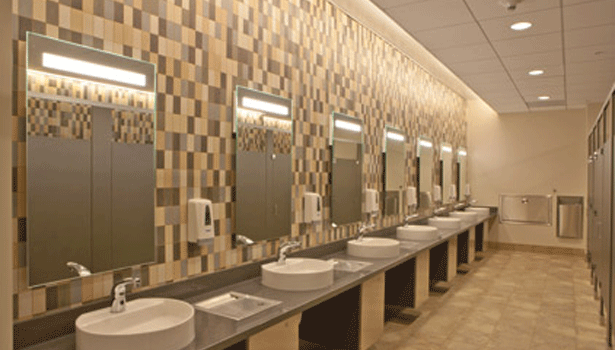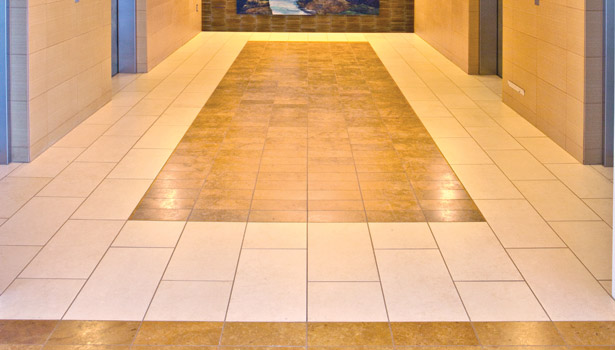 After a two-year long construction project, which began in April 2010, the future home of Palomar Medical Center West in Escondido, California is nearly completed and scheduled to open this summer. Situated on a 52-acre site, the total budget for the construction project, the second largest building project now underway west of the Mississippi, is in excess of $956 million.

The overall project incorporated 20 different types of finish material including 3 types of glass tile, 9 different porcelains, 4 types of stone tiles and over 165 tons of natural rock.

"The biggest part of the job were the 288 patient toilet/shower rooms that rival most of the finest resorts," said Amber Fox, President, Wirtz Quality Installations, Inc., of San Diego. "The rooms measure 8' x 9' with a radius wall, bench and shower floor without any curbs. The complete room was tiled, with the exception of the ceiling. We took on this job starting at the studs, created the very critical pitch to the drains and then waterproofed the floors using Custom Building Product's RedGard® Waterproofing and Crack Prevention Membrane. All floors had to pass a 24-hour flood test before we could continue. There were a total of 5 inspections that every patient bathroom had to pass before any tile could be installed."

Custom's products offer excellent quality and ease of application and we specify them for our projects. We've gotten to know and trust their brands," said Fox. "But it goes deeper than that. The people at Custom are always here for us — to support us throughout the installation process. Not only did they ensure the proper materials were specified, but at our request, they were there to observe us during the application of their products to ensure we were applying them correctly from beginning to end. It is a true partnership".

"Finding the right combination of products that factored in all the variables was essential. We worked closely with Wirtz to determine the best and most efficient way to install the variety of different items that were required for the job," said Devin Dickey, Custom Building Products' Territory Manager.

"The scope of this project was massive. It's one of the largest privately-funded construction projects we've seen in a long time," continued Dickey. "And it has required the involvement of virtually every department at our company — from our research lab to product and technical support to marketing and sales. Custom has been integrally involved with every phase of this project, including product recommendations, technical specifications, LEED® Certification, and on-site job visits."



I want to hear from you. Tell me how we can improve.