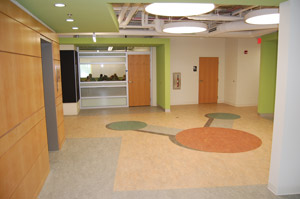 Since 1842, Virginia's Mary Baldwin College has fought to preserve the education of women through undergraduate and graduate classes that allow students to pursue their dreams. In 2011, the college began making plans to overhaul the Pearce Science Building to improve research space for both faculty and students. New plumbing and electrical systems were installed in the building's basement, but following the installation, relative humidity (RH) levels in the new concrete began to rise and caused moisture problems.

To get the problem fixed right away and allow students to resume use of the building, the college hired flooring contractor B&L Floorcovering of Richmond to install new vinyl sheet flooring. In order to quickly complete the installation spanning 2,500 square feet of flooring area, head installer Scott Esmay knew he needed products he could trust. Esmay chose to use surface preparation products from CHAPCO to complete the renovation in a timely manner with quality, fast-curing products.

After working with Fishman Flooring Solutions to secure the necessary products, B&L Floorcovering began the project by treating the concrete with CHAPCO'S DEFENDER™, a high penetrating 100% solids epoxy designed to reduce moisture vapor emission rates. CHAPCO'S DEFENDER was chosen because it can be applied directly over clean concrete and doesn't always require shot blasting —the process of using steel pellets to ready a concrete surface to receive a thicker coating. The moisture vapor barrier is also designed to work fast, which was necessary for this job since the concrete had an extremely high 99% RH / 25 lbs.

The B&L team mixed CHAPCO'S DEFENDER with silica sand to create a thicker product to deal with the deep saw cuts throughout the area. After applying the moisture vapor barrier, the contractor then applied CHAPCO's Multi-Purpose Primer to improve adhesion and bond strength before applying CHAPCO's Premium Self Leveling Underlayment to create a smooth finished surface.

"We've used CHAPCO'S DEFENDER and other products from the brand before, and we've always been impressed with the performance and ease of installation," notes Esmay. "We knew that the short time frame for this renovation required superior products, and CHAPCO certainly fit the bill. We have some upcoming projects that will definitely use CHAPCO'S DEFENDER as the moisture solution."

B&L Floorcovering managed to complete the renovation within the tight deadline, despite weather delays. With the temperature hovering between 55 and 60 degrees, the concrete took longer to dry between each step. However, the renovation was an overall success, the college was very pleased and the students were quickly able to resume use of the Pearce Science Building to pursue their research.

For more information about CHAPCO'S DEFENDER, Multi-Purpose Primer, Premium SLU, Smooth Finish or other CHAPCO products, visit www.chapco-adhesive.com.
---
About H.B. Fuller Construction Products Inc.
H.B. Fuller Construction Products Inc. (a subsidiary of H.B. Fuller Company) is a leading provider of technologically advanced construction materials and solutions to the commercial, industrial and residential construction industry. Headquartered in Aurora, Illinois, the company's recognized and trusted brands - TEC®, CHAPCO®, Grout Boost®, Foster®, AIM™ and others – are available through an extensive network of distributors and dealers, as well as home improvement retailers. For more information, visit www.hbfuller-cp.com