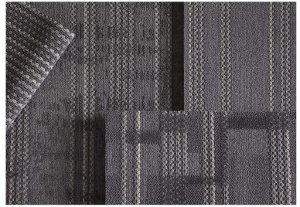 From ancient royalty to modern fashion, pearls have held sway as the most desired and elegant adornment. Their classic beauty was the primary influence of the String of Pearls Collection.
Consisting of four styles, Freshwater (Broadloom), Tahitian, Cortez and South Sea (tile), each are adorned with the texture of a string of pearls and designed with a timeless and classic elegance.
As we see in today's modern jewelry trend of layering, each of the styles is created by the layering and infusing of different colors and texture throughout the breadth of the pattern. A touch of a high luster yarn also adds to its elegant texture and overall, rich feel. A truly spectacular effect captured in a modern weave technique by BOLYU.
The three carpet tile styles can be installed monolithic, quarter turn and ashlar. All four styles within the String of Pearls Collection can be installed individually or they can be grouped together to create a sophisticated, chic space.
For more information go to www.bolyu.com.