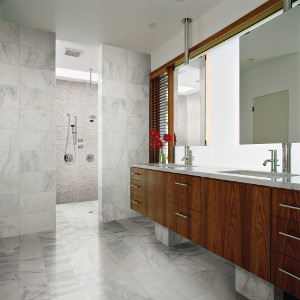 The inherent beauty of stone is timeless, and Daltile brings that beauty to life with its new Natural Stone and Manufactured Stone collections and line extensions.
New additions to the Natural Stone category include two inspiring collections, First SnowElegance Marble and Siberian Tundra Limestone. Daltile has also added Modern Cut Stack, as well as new color additions to Sculpted Ledgestone and Chiseled Ready Stackfrom its Manufactured Stone category. These stone additions reflect Daltile's ongoing commitment to broadening its product portfolio, and remaining a leader in style, design and quality.
"The unparalleled natural beauty of stone has the ability to transform any setting with
elegance and character," said Lori Kirk-Rolley, senior marketing director for Daltile. "From limestone and marble to manufactured stone, our customers can feel confident about bringing the ambience of high-quality stone into any space."
First Snow Elegance Marble
Clean, white colors are a design staple for any space, and were the inspiration for First Snow Elegance, the newest addition to Daltile's Marble Collection. This natural marble tile offers a more pure white color with very little movement for a crisp clean design. Available in a variety of popular design sizes and finishes, First Snow Elegance will empower customers to achieve the elegant white look they envisioned.
Siberian Tundra Limestone
The latest style isn't black and white, but a contemporary shade of gray. Siberian Tundra limestone is a dark shade of gray, giving any space a design that is both contemporary yet timeless. Available in a range of floor and wall sizes, plus complete trims and mosaics, it will give any design a rich and high-end look. In addition, its chair and pencil rails, plus two truly unique mosaics enhance this floor/wall offering.
Modern Cut Stack Manufactured Stone
Modern Cut Stack is Daltile's newest Manufactured Stone offering. With an organic stone texture, linear look and a wide color range, Modern Cut Stack provides the ultimate warm atmosphere while maintaining a fashion-forward look.
Sculpted Ledgestone & Chiseled Readystack Line Extensions
New colors have been added to Daltile's Sculpted Ledgestone and Chiseled Ready Stack Manufactured Stone Lines. Sante Fe and Nightfall are the newest additions to the Sculpted Ledgestone palette of colors; Auburn Earth has been added to the Chiseled Ready Stack spectrum.
For more information, visit www.daltile.com