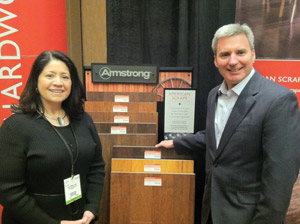 (l-r) Mara Villanueva-Heras, vice president residential marketing, and Kevin Biedermann, senior vice president, residential flooring products
Kevin Biedermann, senior vice president, residential flooring products at Armstrong World Industries, offers some thoughts on the company, the industry and the future during Surfaces 2013.
Looking Back
As the economy has unwound itself it's been brutal; we've had to make some very tough decisions. Being one of the leaders in the industry, we have a lot of production capacity. And as new construction dropped, we had to take out some of that production. We've got terrific folks, families, plants, we invest in communities, and there's little that's harder than to have to make those decisions.
But the worst thing you can do is not make those cuts, because if you don't, you don't have a healthy business and you cannot continue. It's a responsibility you have, but it's definitely tough. What doesn't get noticed a whole lot, though, is that we have net invested more into the company than we have taken out, investing more in plants, equipment, etc. than has been taken out.
Looking Ahead
What we're seeing is some real, demonstrable and sustainable growth in the builder market. Going into the fourth quarter our national builder accounts are all optimistic, they're all buying land, permits are up.
My view is that market will be quite unique this year. As long as we've been tracking them, the builder and remodel markets have always tracked together. Maybe it's lagged by several months, but it's always tracked together. This year it seems to not be; builder is up 10 percent, but remodel's only up about 1 percent. So right now our builder-targeted products are doing very well; the optimism is, boy, if that remodel market gets going and folks get some confidence, watch out.
Product Spotlight
Across the board, quality remains key. I think that, in the struggle to survive, there's been a slight degradation in quality, especially in the wood segment. I think we've got a couple of products that will really make an impact. Our scraped product, for example, both engineered and solid, provides great value and gives a stunning high-end visual. Alterna, our LVT, is a great trade-up from vinyl and laminate. It's a wonderful proposition against real stone that builders are looking at for a variety of reasons.
What to Know
A lot of our value comes from offering a variety of solutions. Having a portfolio with multiple products at multiple price points that is appropriate for various installation situations, we think we're the best solutions provider for builder and remodeler needs. Having quality, beauty and value all wrapped up in it as well is what I get excited about. It's not about competing with the newest importer of cheap laminate from China; it's about giving someone the room they love, the home they love, something they'll be happy about for generations.