Beaulieu America Hits 35th Anniversary Milestone
From unveiling a new corporate identity, to announcing new CEO Karel Vercruyssen and the pending retirement of Ralph Boe, Beaulieu America is a company in transition. While looking forward to the future, Beaulieu is also taking a moment to reflect on its past as it celebrates its 35th anniversary as a company.
Beaulieu began as a small rug-weaving business in Dalton, Ga., in 1978 and grew into an American success story as a top floorcovering producer. "As a company and an industry, we've seen a lot, and thanks to the contribution of thousands of hardworking and dedicated Beaulieu associates, we've achieved a lot," observed Carl Bouckaert, one of Beaulieu America's founders.
"Over the last 35 years, we've led the carpet industry in the development of some pretty exciting ideas," added retiring CEO Ralph Boe. "There are over a dozen firsts Beaulieu can claim that have not only improved the business of carpet, but the quality of life in the American home."
To read several testimonials from dealers about Beaulieu America and its 35th anniversary, visit the Bliss Flooring Facebook page.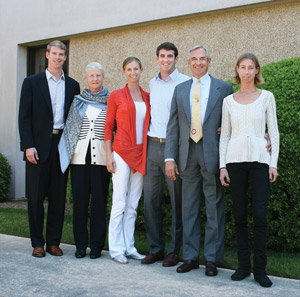 Beaulieu America's Bouckaert and Hanssens families. From left: Nicolas Bouckaert, Mieke Hanssens, Nathalie Bouckaert, Stan Bouckaert, Carl Bouckaert and Stephanie Bouckaert.

The recently unveiled logo for the newly branded Beaulieu America.
QEP Unveils New Branding
Q.E.P. Co., Inc has unveiled its new brand identity for QEP-branded products, marking the first time the company has changed the brand logo since its inception in 1979. The QEP corporate logo represents QEP the company and all the brands and subsidiaries that operate under the large corporate structure, including the new QEP-branded products.
"As all great brands undergo transformation throughout their lifetime, it is now time to give a facelift to one of our most treasured assets," said Jamie Clingan, sr. vp marketing. The company kept the yellow and blue that has become synonymous with the QEP brand, and modified the diamond shape to bring the overall look into the current time frame, the company said.
Part of the logo transition includes a new look and feel for QEP-branded products and packaging. Clean designs, strong colors and simplifying the packaging to make it prominent at the retail level were all goals in mind. There are now smaller packaging cards, and no longer using plastic allows the customer to touch and feel the product prior to purchasing as well as offering a more environmentally friendly packaging method.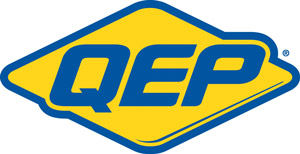 The new QEP logo.
Mullican Flooring Enters Hardwood Supplies Market
Mullican Flooring has introduced three new adhesives to the hardwood flooring market: MP 3001 and QP 2001, both moisture-cure urethane adhesives, and QP 1001, an acrylic adhesive that also meets the standards of the Carpet and Rug Institute's Green Label Plus certification. These products are the first supply adhesives for glue-down hardwood floors ever offered by Mullican.
All three adhesives are designed for use with Mullican's glue-down engineered products. They are all LEED-compliant. "We are extremely excited to be entering the supplies segment of the hardwood flooring industry," stated Mullican Flooring President Neil Poland.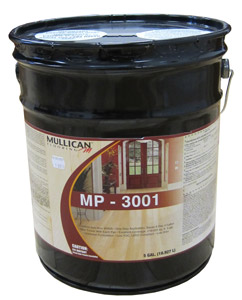 MP 3001, one of Mullican Flooring's new adhesives.
Corporate Appointments
Mannington Commercial announced that David Sheehan has been appointed Vice President – Commercial Hard Surfaces for Mannington. In his expanded role, Sheehan will be responsible for the growth and development of all commercial sheet products, Main Street commercial, premium tile, VCT, Mannington Commercial LVT, and Amtico Collection LVT.
In addition to most recently serving as Mannington's Vice President over Commercial LVT, his experience in the flooring industry includes leading Mannington's residential division into a leadership position in LVT, product management at Pergo North America, and market development at Pergo Asia Pacific.
"Mannington is in a unique position with styling leadership, innovative technology, and domestic production capabilities," said Sheehan. "With our Choices that Work strategy, I am excited about the solutions and service we can bring to our customers."
Sheehan holds a BA degree from North Carolina State University.
Karndean Designflooring has named Emil Mellow as Vice President of Marketing for the United States. Mellow will work with the marketing team to develop strategic, multi-faceted marketing campaigns with a strong focus on branding, merchandising and sales support.
Mellow comes to Karndean with over 25 years of marketing experience, most recently serving as Vice President of Sales and Marketing at White Oak Displays and Design where he was responsible for branding, advertising and account management.
He also owned and managed Mellow7Studio, a full-service marketing agency specializing in visual merchandising, trade show exhibits and multimedia. Mellow also spent five years in Armstrong World Industries' Flooring Division as Visual Merchandising and Trade Show Director. 
Distributor Appointment
Arboritec USA has announced the start of an exclusive distribution agreement for Arboritec's line of Ceramic Fortified waterborne finishes with Colorado-based Palo Duro Hardwoods assuming service responsibility for all Colorado, New Mexico, and Wyoming-based customers.
"We could not have aligned ourselves with a better distribution partner for this market," said Rünno Allikivi, President and CEO of Arboritec, USA, "Palo Duro is a trusted and professional wood flooring distributor whose customers rely on them for wood flooring solutions and expertise. They are also the sole importer, distributor, and parts supplier for Lägler sanding equipment in North America. We are confident their market expertise and knowledge will be extremely helpful as we introduce and grow the Arboritec family of products."
Upcoming Events
Carpet One Summer Convention- Denver, CO. July 29-August 1.
(603) 626-2111
FloorTek-
Dalton, GA. September 10-13.
(706) 278-4101
Cersaie Annual Convention-
Bologna, Italy. September 24-28.
(+39) 051.6375111
NeoCon East-
Baltimore, MD. October 16-17.
(312) 527-7063
Total Solutions Plus 2013-
Bonita Springs, FL. October 26-29.
(800) 938-CTDA
For more information on industry events and seminars, go to www.floortrendsmag.com and click the Calendar of Events link under the Resources Tab.