Invista Surfaces is proud to announce that its Stainmaster carpet has been awarded the 2013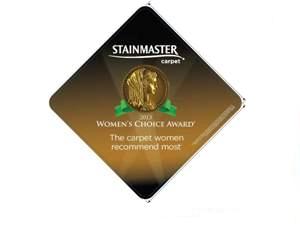 Women's Choice Award for 'Best for Home' by WomenCertified, Inc., the home of the Women's Choice Award and the voice of the female consumer. Consumers were surveyed nationwide about their favorite carpet brands and Stainmaster carpet came out on top, voted as today's most highly recommended brand for home carpet by women.

According to Delia Passi, WomenCertified founder and author of Winning the Toughest Customer: The Essential Guide to Selling to Women, the Women's Choice Award honors brands that demonstrate exceptional service in meeting the needs of women and that receive an extraordinary recommendation rating by women. "Recognizing Stainmaster as the top home carpet brand helps 'women guide other women' to make smart choices," she said.

Along with the honor, the Stainmaster brand will carry the Women's Choice Award seal, which confirms and distinguishes a woman's propensity to recommend the Stainmaster brand to others. Consumers will begin to see the Women's Choice Award seal at Stainmaster flooring retailers by the end of the month.

Melissa Minihan, vice president of marketing, Stainmaster carpet, said "We are honored to earn the 2013 Women's Choice Award as the carpet women recommend most. For 27 years, we have worked hard to earn the position as the most trusted carpet brand2, and we continue to gain women's loyalty by innovating products designed to help create homes that make their families proud."

"At Invista, we continue to look for ways to improve the consumer experience and help our mill and retail partners show the value of Stainmaster products. We are excited to say that Stainmaster is the most recommended carpet by women3. It is a testament to our long-standing product excellence and consumer satisfaction," Minihan concluded.

In addition to this new way to differentiate and leverage the equity and strength of the Stainmaster brand at retail, Invista continues to invest in new industry innovations, brand extensions and new marketing programs to support its aligned retail network, which will help ensure that consumers will find the beautiful, durable and easy to maintain Stainmaster carpet that best meets the needs for their homes.