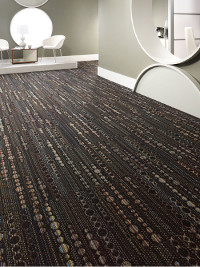 Mohawk Group is pleased to introduce its Mixology collection, a contemporary carpet tile offering with a true lesson in sustainability, flexibility and beauty. The three styles in Mohawk Group's Mixology collection were designed to celebrate the breadth of color available in today's market while providing the customer with the simplest installation and flooring management possible. 
The three patterns – Picture This, Seek Unique and Coolly Noted – are composed of five popular neutral colors mixed with a kaleidoscope of randomly chosen end-of-lot yarns. Instead of being downcycled into other industry products, these multicolored yarns are diverted from excess yarn lots and given new life in strikingly beautiful carpet. A testament to Mohawk's commitment to sustainability, this diversion of useful materials from the waste stream is beneficial to the environment.    
"At Mohawk, we are constantly looking for innovative ways to bring our customers beautiful carpet that is also sustainable, which serves to create products that are healthy for human environments while also reducing our impact on the planet," said Rochelle Routman, director of sustainability, Mohawk Group. "In terms of waste minimization, we are making incredible progress by reusing materials within our own manufacturing processes. A prime example of this initiative can be seen in our newest carpet tile offering: Mixology. The collection's repurposing of end-of-lot yarn is an excellent representation of our commitment to environmental leadership."
In addition to its sustainable attributes, Mixology creates a stunning design base for commercial interiors with applications in nearly any segment. The true beauty of this product is in the fact that the embedded pattern and the neutral color remain consistent from tile to tile while the accent colors change, making each tile unique. Not only is this subtle color variation aesthetically pleasing, it also contributes to the ease of installation by eliminating concerns about matching dye lots and limited installation methods. 
The mixology collection is the perfect solution for those seeking to celebrate color in a subtle way as well as those who recognize the positive environmental impact that comes from redefining beautiful with repurposed yarn. For more information, visit www.mohawkgroup.com.