Greenleaf Named Royalty President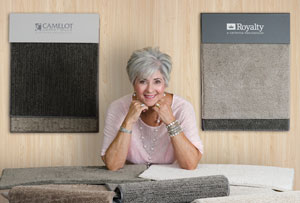 Andrea Greenleaf
IRVINE, CALIF.—Royalty Carpet Mills has announced Andrea Greenleaf as its new president and CEO, following the death of her father and company founder Mike Derderian earlier this year.
Greenleaf, who is honoring the influence and insight of Derderian said, "My father used to say 'be a leader, not a follower, and never look back—don't stop moving forward.' That day has arrived and, in his honor, I intend to stay true to his vision of keeping Royalty competitive as a high quality brand with superior value products. My first steps were to chart a new course with an updated brand ID and several product introductions."
The first wave of new products begins with Camelot, Royalty's high-end residential line, and will be followed shortly by other Royalty products. Camelot product introductions such as Cassini and Caprice and Astratto and Avdntura will continue the company's high styled and sophisticated point of view, she noted. (Editor's note: See our Fall Carpet Product Preview, starting on page 44.) Greenleaf added Royalty branded introductions will launch with Starlight and Serenade and Cord and Chenille.
Her role as an integral part of Royalty's history is well known in the industry, and now that she is at the helm, Royalty is the first major carpet manufacturer owned by a woman. Derderian often noted how Greenleaf's fashion, style and color expertise influenced and contributed greatly to Royalty's success over the years.
In re-emphasizing her commitment to the Royalty brand, she said, "As one of the largest, privately owned carpet manufacturers in the country, Royalty's heritage has always been one of outstanding customer service, on-time delivery and top quality products at an excellent value. We will continue to honor these traditions as our approachable, open-door policy moves the company forward in a viable direction."
For more information visit royaltyusa.net, or call (800) 854-8238.
Mohawk Names Surratt Director of PR, Marketing Content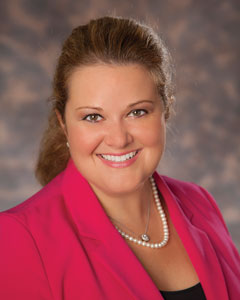 Mollie Suratt
DALTON—Mohawk has hired Mollie Surratt as its senior director of public relations and marketing content. Surratt brings over seven years of flooring industry marketing experience to the company.
"We are very excited to have Mollie join our team," said Elise Demboski, vice president of creative services. "She is an innovative communications professional with a proven record of implementing successful marketing and public relations campaigns. We are confident Mollie's experience and professional creativity will ensure our powerful brands remain strategically positioned in the residential and commercial marketplace."
Surratt comes to Mohawk from Shaw Industries, where she most recently served as the director of marketing for its Anderson Hardwood Floors brand. Included in her responsibilities was the management of all marketing, advertising, training, promotions and public relations efforts. Surratt also worked as Shaw's marketing communications manager and previously served as the mill's public relations specialist. In addition, she led the team that received the prestigious national Public Relations Society of America Anvil Award of Commendation for Shaw's HGTV product launch.
 "I am incredibly excited about joining the Mohawk team," Surratt said. "Over the past seven years, I have fallen in love with the flooring industry. I have a passion for work with great brands and I'm looking forward to collaborating with Mohawk's dynamic team of talented associates."
For more information visit mohawkflooring.com or call (800) 266-4295.
Oriental Weavers Begins Global Rebranding Effort 
DALTON—Oriental Weavers Group has embarked on a global rebranding initiative with strategic and aggressive expansion plans, enhanced distribution and increased production capabilities, specifically focused in the U.S.
"By merging our various brands, Oriental Weavers USA (OW) is positioned for the continued growth that is critical for our long term success," said Mike Riley, president of the company's U.S division. "Our area rug brands have been managed by our team under one corporate umbrella for quite some time and now with all the exciting expansion plans and new marketing and product initiatives, we feel like it was the perfect time to make our cohesive rebranding official."
As part of this effort, a new logo was created using modern fonts and colors to reflect the fashion-forward reputation the company has earned over the years, he explained, while visually tying in with the OW Hospitality logo identity. The new mark leads with a subtle 'O' and 'W', which also represents a woven tuft of carpet. The new brand identity can be seen in everything from advertising, in the newly revamped company website owrugs.com and other marketing initiatives.
 "While our logo and brand images are refreshed, the key elements of our company's success will not change," said Riley. "OW will continue to service our retail partners with targeted product lines, fashion-forward designs, and the exceptional quality and service they've come to know and expect from us over the last 35 years."
OW is part of the the $800 million a year Oriental Weavers Group, which is based Cairo, Egypt.
To learn more about OW, visit owrugs.com or call (706) 277-9666.
RFMS Users Connect, Learn, Grow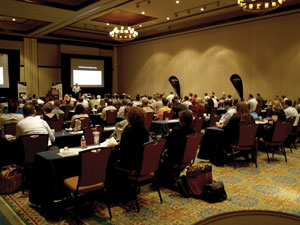 The RFMS Owners Conference held in Birmingham, Ala. 
BIRMINGHAM, ALA.—Resource Financial Management Systems (RFMS) held its first ever educational conference here titled "Building Your Business for the Future 2013."
The event brought together users—retail owners and managers—of the RFMS flooring software, RFMS staff and industry manufacturer representatives for three days of workshops, learning sessions, networking events and presentations. Several social events were also included.
While the event was called Building Your Business for the Future 2013 Terry Wheat, RFMS' president, said the main theme was "'Invest in Your Future with Expert Advice and Executive Level Education.' The RFMS Owner's Conference was designed for business owners of flooring operations who already use RFMS to run their business better."
He explained data is "very important but as an industry we could do a better job of analyzing it at the dealer level. As we move forward in the 21st century it is imperative the entrepreneurial flooring dealer be prepared to hold his place in the market. A vital aspect of being competitive is being able to understand the meaning of the data collected during each business transaction. What works and doesn't work can be revealed by understand your data. The workshops and discussions afforded owners the opportunity to learn real techniques to enable their business to be successful in the 21st century."
Ashley Briggs, with H.J. Martin & Son in Wisconsin, said, "The conference was very well organized. I learned a lot and made some new contacts. The RFMS team did an excellent job." 
Jeff Davis owner of Modern Tile in Portage, Mich., enjoyed the mix of social events and education. "Most people attend association meetings twice a year and RFMS is always available there for questions. But I do like being able to focus 100% on RFMS topics at the conference."
Visit rfms.com for more information or call (800) 701-7367.
Shaw's Fall Sale Benefits St. Jude Hospital
DALTON—St. Jude Children's Research Hospital and its national flooring sponsor Shaw Industries have joined together to introduce the Shaw Floors "You Save, We Give" sale.
Beginning Oct. 1 and ending Nov. 12, the sale, which is just in time for the fall selling season, offers coupons up to $500 to make it easier for consumers to make their purchase, as well as support a cause that impacts millions of lives across the world. During this flooring sale, 10% of each coupon will benefit the St. Jude Children's Research Hospital.
 "Our partnership with St. Jude is an incredible opportunity to share this lifesaving cause with consumers all over the world," said Kathy Young, director of marketing for Shaw. "We have designed an impressive sale with lucrative flooring discounts and matched that with a chance to give back. It's a perfect combination for today's thoughtful consumer."
Last year Shaw became a national sponsor of St. Jude Children's Research Hospital and has expanded the partnership this year, with such things as the fall sale, which makes the flooring purchase a meaningful event for the consumer and millions of children in need.
At no additional cost to the retailer, Shaw will donate 10% of each $100, $300 or $500 coupons, which is earned based on the quantity of Shaw flooring purchased.
Shaw will reach consumers through numerous media outlets, including advertising on HGTV and DIY networks, as well as in national shelter publications such as House Beautiful, Southern Living, and Country Living.
Retailers can learn more and register for the fall You Save, We Give sale by visiting shawadvantage.com or calling (800) 441-7429.
Capel Jr. Nominated to American Furniture Hall of Fame 
HIGH POINT, N.C.—A. Leon Capel Jr., a rug industry icon and second-generation leader his family's namesake company, has been named an industry fellow and nominee for election into the American Furniture Hall of Fame.
Six new Hall of Fame fellows will be honored at the 2013 Induction Banquet being held Oct. 20, at the High Point Market here. Hall of Fame Foundation members vote to determine which fellows will join the Hall of Fame.
An innovator in the rug industry throughout his career, Capel Jr. led the manufacturer from 1954 until his retirement in 2005. Working together with his brothers, Capel led the company founded by his father in Troy, N.C., in 1917 through a robust period of growth.
For more about Capel, visit capelrugs.com or call (800) 382-6574.
For more information about the American Furniture Hall of Fame, visit furniturehalloffame.com or call (336) 882-5900.
Mohawk's Unilin Facility Earns Safety Award
The SHARP Award is an accolade bestowed up worthy companies by the North Carolina Department of Labor. The Unilin's laminate production facility was honored for putting "great emphasis on employee safety" and has been repeatedly recognized publicly for these efforts.THOMASVILLE, N.C.—For the seventh consecutive year, the Unilin production facility here, which makes Mohawk-, Quick•Step- and Columbia-branded laminate flooring has earned the Safety & Health Achievement Recognition Program (SHARP) award.
 "Our facility is celebrating both renewal of our SHARP Award and almost 400,000 hours since our last lost time accident," said Steve Bradley, plant manager. "This is quite an accomplishment and we are very proud of the hard work all team members have put into achieving this dual distinction. Employee safety is a top priority for our company."
For companies to qualify for the SHARP Award, injury and illness rates for a site must be below the national average for the industry, and North Carolina's Department of Labor Safety and Health consultants must complete an assessment of the workplace.
For more information, visit unilin.com or call (336) 313-4000.
Ribadao Lumber & Flooring Expands in U.S.
MIAMI—After being in business for nearly 40 years Ribadoa Lumber & Flooring, one of the largest manufacturers of African wood species, has expanded in the U.S. with the opening of warehouses on the east and west coasts.
In addition to a "fully stocked warehouse" here, Lissette Lopez, chief sales officer, said the company opened two other warehouses—one in Linden, N.J., and the other in Pomona, Calif. 
"Since Ribadao shops nationwide, we know freight costs can make or break a sale," she said. "We are currently working on stocking the Jersey and California locations to better service our customers by reducing delivery time and keeping costs low."
With these three locations, Lopez said the company will be able to serve North, South and Central American markets.
For more information, call (786) 299-7402.
American Olean Uses Facebook Hashtag to Shares Design Inspiration
DALLAS—American Olean is utilizing Facebook's new clickable hastags to foster design inspiration among its fans and followers.
Similar to other services such as Instagram and Twitter, the new hastags bring great context to a post that's part of a larger discussion. Simply click the #aotiletips hashtag in a Facebook post and you can see other recent tips and who else is talking about them.
For a regular dose of design inspiration, you can follow the American Olean Facebook page at facebook.com/americanolean. Here you'll find creative tips and visions inspired by the company's expansive product palette under the hashtags #aotiletips and #aotrends. 
To learn more about Facebook's hastags, visit facebook.com/help/587836257914341.
Stainmaster, Armstrong Brands Tops Among Women
By Matthew Spieler, Editor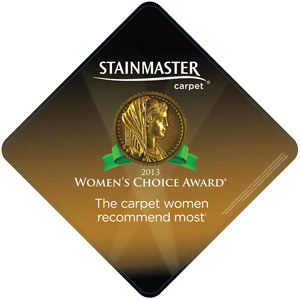 HOLLYWOOD, FLA.—Brands are important in any industry. Added to the impact brands make when it comes to the flooring industry are female shoppers as they are, historically, the main decision makers with regard to the floor covering purchased for the house.
So when WomenCertified, founded by nationally known author and former publisher of Working Mother magazine Delia Passi, teamed with the Wharton School of Business to once again find out which brands women prefer in dozens of categories and industries, it can be understood why the winning companies get pretty excited.
For the flooring industry, Stainmaster and Armstrong were both honored in the seventh annual Women's Choice Awards for winning in the carpet and flooring categories, respectively.
Passi said the Women's Choice Award honors brands that demonstrate exceptional service in meeting the needs of women and receive an extraordinary recommendation rating by them. Recognizing the winners, she said, "helps women guide other women to make smart choices."
Gary Johnson, senior marketing manager of Invista, maker of the Stainmaster fiber, pointed out the company won the top carpet brand by "a pretty wide margin, which is something that can significantly help retailers. They can have the knowledge of knowing the carpets in their showroom that carry the Stainmaster brand are recommended by their key demographic. This award shows after 27 years the Stainmaster brand is still relevant and important to the female shopper."
Melissa Minihan, vice president of marketing, Stainmaster carpet, added, "At Invista, we continue to look for ways to improve the consumer experience and help our mill and retail partners show the value of Stainmaster products."
During an exclusive interview with Floor Trends, she noted, "Everyday we work hard to earn the position as the most trusted carpet brand, and to come out on top of such a prestigious honor is a testament to the hard work we've been doing—especially in recent years when the economy was in recession. Now that we are coming out and business is improving, winning the award can be a great benefit to those who carry the brand."
To help retailers promote the award to their customers, Johnson said all Stainmaster branded carpets will carry the Women's Choice Award seal starting this month. "We will also be promoting it with a P-O-P kit, banners and on websites that are more used by women."
In addition, the company will be holding educational activities, from online to account managers doing in-store training, on how they can use the logo in their local advertising and marketing strategies.
Mara Villanueva-Heras, vice president of marketing for Armstrong residential flooring, said "joining this esteemed list of brands women prefer" is a testament to the "consistent investment in national consumer advertising targeted to women since 1917 that has helped to build the Armstrong brand. And today, our brands have the strongest brand awareness across all the hard-surface flooring categories in which we participate."
She added, "Armstrong has always understood the design of a room has the power to change how you feel and how you live. And in turn, the product has to excite and inspire the consumer, yet deliver on the more rational concerns around quality and value and to help guide her in decorating her home."
Villanueva-Heras explained, "We focus on providing a balance of the inspirational and technical needs of consumers with particular attention to the woman shopper. This can be seen in our advertising, inspirational room scenes, beautiful displays showcasing our products, and the array of resources and tools on our website. All these efforts are geared to delivering these inspired consumers to our expert dealers' doorsteps for further education and assistance in making their dreams a reality."
In fact, she pointed to a recent success story in Houston where the wife of one of Armstrong's major retail accounts worked with her husband and focused on assisting the primarily male staff in closing sales with women by helping with design selection. "They decided to open an interior design business adjacent to one of their retail locations in direct response to their female customers' need for style and design advice and education in selecting flooring. Combining this service with beautiful high-quality Armstrong products has had fantastic results."
To learn more about the Women's Choice Award, visit womenschoiceaward.com.
Armstrong Supports Homes For Our Troops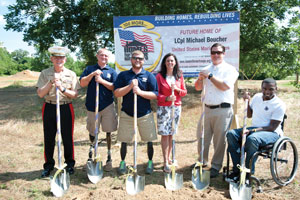 Federal, local and other officials and representatives get set to break ground on what will be a new home for Corporal Michael Boucher, third from left, in Hawkinsville, Ga.
LANCASTER, PA.—Armstrong has partnered with Homes for Our Troops (HFOT), a national non-profit, non-partisan organization that builds homes at no cost to severely wounded veterans. These projects depend on labor donated by contractors and skilled workers and from donated materials, such as flooring from Armstrong.
The manufacturer recently helped three wounded Marines—Corporal Tony Mullis, Corporal Michael Boucher and Corporal Brandon Rumbaugh—receive new homes.
Corporal Mullis and his wife Jeanie were given the keys to their brand new home in Hawkinsville, Ga., and then helped to break ground next door on his friend's Corporal Boucher's specially adapted home.
Over 200 people came out to congratulate the two real-life heroes and to help HFOT, including Armstrong rep Jeremy Dixon, and Joseph Patterson, distribution manager – residential sales.
"This event was very impactful and moving," Patterson said. "The courage these American heroes display is inspiring. All who spoke recognized the resiliency of Americans, how we stand together against adversity and all odds. Particularly moving was Corporal Mullis raising the flag over his new home and the heartfelt words by HFOT executive director Dawn Teixeira, General Shortal and Congressman Scott."
As for Corporal Rumbaugh, he will have a specially adapted home in Uniontown, Pa., for his needs and to make his life "a lot less stressful" as he continues to chase and achieve his dreams of finishing school and qualifying for the Paralympic Games in weightlifting.
Exclusive Flooring Supplier 
Armstrong is the exclusive flooring supplier to HFOT and its distributor Ohio Valley Flooring (OVF) will be donating 50% of the flooring for this home. Barry Faris from Faris Carpets in Uniontown, PA, is donating the time and services to install the flooring.
At the groundbreaking ceremony, which was attended by local officials, friends and family, along with Armstrong, HFOT and Faris Carpet representatives, Corporal Rumbaugh said, "I am looking forward to getting my life back to normal and words cannot express how grateful I am to Homes for Our Troops and those who support this amazing organization. I will be able to wake up in my own home every day and carry out my duties as a loyal American citizen. Thank you for giving me the chance to regain my freedom and independence in my own home."
HFOT is planning on building more than 30 homes in 2013 and Armstrong has pledged to provide continuing support for the organization beyond this year as it keeps to its mission of helping wounded veterans live productive lives.
As part of its support a portion of sales from new Armstrong hardwood flooring product, American Scrape, support the mill's efforts this year.
For more information about HFOT visit hfotusa.org/get-involved. For more about Armstrong, visit armstrong.com or call (717) 397-0611.