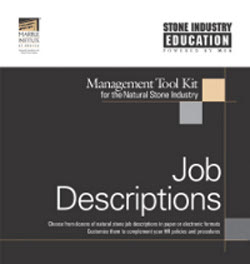 The Marble Institute of America (MIA) announced that its Job Descriptions Toolkit has been added to the "Members" area of its website. The Job Descriptions Toolkit is the first of 6 toolkits from the MIA Management Toolkit series that will be added to the website over the next 12 months. The Management Toolkit Series provides customizable documents that assist business owners in improving and streamlining business operations.
"We are always looking at new ways to increase the value of MIA membership," said Jeff Handley, MIA Membership Services Manager. "For the last 2-3 years we have been very active in adding resources to the Members' area of the MIA website. Last year the Dimension Stone Design Manual was added, earlier this year we added safety meetings, and now the toolkit series has begun to roll out. These resources provide tangible benefits to MIA members that are useful on a daily basis."
MIA Industry Research & Information Manager, Mike Loflin added, "With many MIA members looking to fill vacancies on their team, the timing for this release is perfect. Providing employees with a clear job description and set of responsibilities is crucial to successful business management." 
The Job Descriptions Toolkit includes 138 job descriptions in Microsoft Word format, so they can be easily customized to fit the needs of each member company. The Job Descriptions Toolkit joins an already impressive library of reference documents available online, free-of-charge to MIA members. Companies who desire to obtain all of the job descriptions in a printed, binder format may order it from the MIA bookstore.
MIA members can access the documents by clicking "Members Login" on the top right of the MIA website. If you forgot your login information, click the "Forgot your login or password?" button and follow the directions. On the Members' page, click "Job Description Toolkit" under "Documents and Publications".