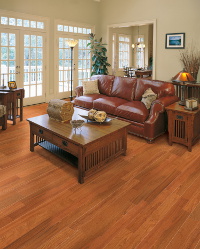 South Mountain Hardwood Flooring, manufacturer/marketer of hardwood materials dedicated to offering the highest quality, elegant and durable floors at affordable prices, is now bringing world-class exotics to the marketplace. Available in both solid and engineered versions, these product lines are offered with a 25 year limited warranty.
"Our exotic hardwood flooring collections are inventoried stateside and readily available to customers across the country," stated John Salvador, Vice President of South Mountain. " 
The range includes the following species of exotic products: Jatoba (Brazilian Cherry); Tigerwood: Santos Mahogany; Cumaru (Brazilian Teak): Ipe (Brazilian Walnut) : Sucipira (Tiete Chestnut); Curapay (Patagonian Rosewood) ; Acacia (Asian walnut/ big leaf and small leaf); Asian Teak; Taun and Kempas.
"We sell them in both solid and engineered platforms," added Salvador. " We also have a few varieties available in unfinished formats. All of these are of the highest quality, competitively priced… and, represent more reasons why companies should partner with South Mountain Hardwood Flooring!"