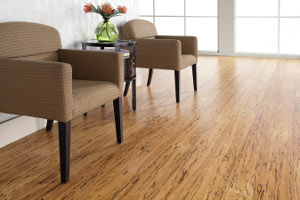 USFloors has received a patent for the company's Corboo flooring (U.S.Pat. No. 8,541,085). Corboo is a cork-infused strand woven bamboo floor that marries two of nature's most sustainable flooring materials to create a truly unique, distinctive, and environmentally responsible flooring option for both residential and commercial markets.
"We are excited to receive the patent on our Corboo floors," said USFloors President and CEO, Piet Dossche upon notification of the patent award. "Corboo represents a signature achievement for USFloors that affirms our commitment to bring unique and sustainable floors to the floor covering market."
COO Philippe Erramuzpe, who was instrumental in the development of Corboo added, "As the recognized leader in the cork and bamboo flooring segments, it's important that we continue to be innovative and inventive with the floors we develop, and to keep pushing the envelope of style and performance in these categories. Products like Corboo and our new COREtec Plus LVT are the result of these efforts to provide retailers and consumers with products that are unique and different in the category and not just another 'me too' floor. This is what our company is about."
The timing of the patent award coincides with the launch of 6 Corboo floors into the specialty retail market in time for the fall selling season as an expansion of Natural Bamboo Expressions, USFloors' flagship collection of solid locking strand woven bamboo floors. The line features six exclusive Corboo visuals including, four popular stains profiled on 5 1/4" wide x 72" long planks in a ½" thick solid drop/lock glueless construction. The products are finished with USFloors' proprietary Endura AR Advanced Generation UV-cured finish and are backed by a Lifetime Residential Warranty and a 15 Year Heavy Commercial Warranty. Corboosamples are currently being shipped to specialty floor covering retailers nationwide as updates to the company's Green Island display and the new Natural Bamboo  Style Studio merchandising system that was unveiled at Surfaces 2013. The Corboo product line is also a part of the Voyager Collection, found only in select Carpet One specialty retail locations.