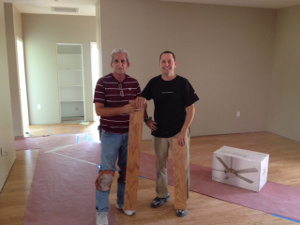 Volunteer day for SSG Wallace Fanene, in Temecula, CA- Armstrong's Jeff Knoll and Hardwood Floor Outlet Owner, Roy Felix.
Volunteers, including Armstrong Distributor Sales Mgr (West Coast) Jeffrey Knoll and family, turned out in droves to help finish a brand new home for Army SSG Wallace Fanene on September 7, 2013 in Temecula, CA.  Hardwood Floors Outlet in Murrieta, CA supported the build by having store employees and friends participate. 
"We are happy to give to such a deserving family, showing them that the struggle and sacrifice that SSG Fanene and his family have gone through has not gone unnoticed. They are our true heroes," said owners Kevin McIntyre and Roy Felix on behalf of the entire HFO team. "We are proud that we can join with Armstrong to play a small role in helping these injured veterans live more comfortably in their new homes and to help bring attention to this worthy organization. 
The more volunteers and donations that HFOT receives, the more veterans they can help. In addition to the local retailer, Armstrong flooring distributor, TriWest, is supporting the project by donating 50% of the home's Alterna engineered stone floor product. 
When asked what owning a specially adapted home would mean to him SSG Fanene stated, "It will be life-changing to have a specially adapted home. My daily living will be improved tremendously by having hallways that are wide enough for my wheelchair to fit through and no stairs that require me to hop or seek assistance from my wife to descend. I will be able to do more household chores and will be able to go to my children in the middle of the night if they need me; something my wife has had to do for them since my injuries. This home will take away the last margin of struggle I have had to obtain my normal life again. Thank you for all of your support and assistance. The support I have received has been my guiding light through my recovery. To know that someone cares so much to offer them a home that is specially adapted to suit their needs is s a blessing that goes above and beyond."
About Army SSG Wallace Fanene
SSG Wallace Fanene was on his 2nd deployment in September 2007 when he lost his right leg above the knee and his right arm below the elbow in an IED blast in Kirkuk, Iraq. On one of his last scheduled missions during a fourteen-month-long deployment, SSG Fanene and his platoon were dropped by Blackhawk helicopters into the province of Kirkuk. While patrolling near a village, the team was called to a halt and began pulling security. Upon pushing forward, SSG Fanene was hit by an IED blast, causing severe damage to his right eardrum and immediately engulfing the lower half of his body with a burning sensation as he suffered traumatic amputations to two of his limbs. 
A life-long surfer, SSG Fanene began surfing again post-injury as part of his therapies. He mentors other injured veterans as well, making sure that anyone who wants to surf has the opportunity to do so. Wally enjoys Jiu Jitsu, weight training, running in marathons, snowboarding, and swimming. He most enjoys spending time with his wife, Scarlet and their young son and daughter. He says he is most thankful for the ability to carry on a somewhat "normal" lifestyle as a father and husband, celebrating every day he has on this earth.
Armstrong, as the exclusive flooring supplier to HFOT, provided floors for the home including engineered hardwood and resilient floors that meet universally designed criteria.  A portion of sales from the new American Scrape™ hardwood flooring product support the company's flooring donation to Homes for Our Troops. Learn how to volunteer here.  
Homes for Our Troops (HFOT), a national nonprofit, non-partisan organization that builds specially adapted homes for the nation's severely injured veterans. The houses are built at no cost to the veteran through the support of individuals, foundations and corporate contributors.