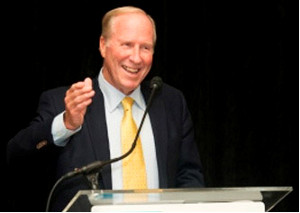 A respected business leader and strong supporter of affordable housing in the U.S. and around the world, J. Ronald Terwilliger is chairman of the Enterprise Community Partners, vice chairman Enterprise Community Investment, and chairman emeritus of Trammel Crow Residential, the largest developer of multi-family housing in the United States.  Next Monday, September 30 at 6pm, he will come to Cambridge to give the 14th Annual John T. Dunlop Lecture at the Harvard Graduate School of Design.   
Terwilliger, who is also past chairman of both the Urban Land Institute and Habitat for Humanity International, says that American housing policy needs to be seriously reexamined.  "The U.S. does not have a satisfactory housing situation today," says the Harvard Business School alumnus.  "More than 20 million households in this country spend more than half of their income on housing.  The proper measure of whether we are doing our best to provide adequate housing for all Americans is not the U.S. homeownership rate, nor the homeownership subsidies that we provide, it is the cost burdens that Americans are shouldering.  And today, too many Americans are shouldering too much burden."
An honor graduate of the United States Naval Academy, Terwilliger says that 70% of household growth in the next decade will be minority households, and most of this growth will be renters.  
Philanthropically, Terwilliger made a $5 million gift to establish the ULI Terwilliger Center for Workforce Housing in 2007 and a $5 million gift to Enterprise to create the Enterprise Terwilliger Fund, which is expected to create 2,000 affordable homes annually. His $100 million legacy gift to Habitat for Humanity International will help 60,000 families access improved housing conditions.   "In my professional life, I've seen housing strengthen health, education, families, communities and economies," said Terwilliger.  "And in my philanthropic life, I've tried to demonstrate my belief that hope begins with access to a decent, affordable home.
This Dunlop Lecture is free and open to the public. It will begin at 6pm on Monday, September 30 and will also be WEBCAST LIVE on the Joint Center for Housing Studies website.
For more information, visit http://www.jchs.harvard.edu or call (617) 495-7908.