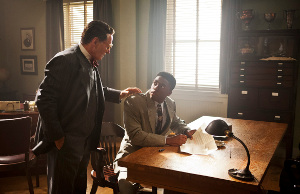 Shaw Floors is pleased to share that Shaw flooring products were featured in the Warner Bros. Pictures and Legendary Pictures film "42." 
The movie, which hit theaters in spring 2013 and was released on DVD this summer, follows the powerful story of Jackie Robinson, the legendary baseball player who broke Major League Baseball's color line when he joined the roster of the Brooklyn Dodgers in 1947. The movie used Shaw's Golden Opportunities hardwood in key scenes, including Robinson's home on MacDonough Street in Brooklyn, N.Y., and the office of Brooklyn Dodgers General Manager Branch Rickey (portrayed by Harrison Ford), who recruited Robinson and oversaw his journey to the big leagues. Shaw's Olde Mill Maple hardwood, Hemmingway and Sandy Hollow III carpet styles and select resilient products also were installed in the film's sets. In total, more than 6,000 square feet of Shaw products were used during the creation of the movie, which filmed throughout the southeastern United States in cities like Chattanooga, Tenn.; Birmingham, Ala.; and Atlanta.
"Jackie Robinson is one of baseball's all-time heroes, and the story of how he integrated Major League Baseball is extremely inspirational," said Trey Thames, Shaw's vice president of residential marketing. "When '42' filmed in Chattanooga last year, the excitement about the movie was palpable, and the film did not disappoint. We hope our associates and affiliates feel a sense of pride in knowing that Shaw contributed to the creation of such a powerful and important movie." 
With more than $95 million in box office sales, "42" is the second-highest-grossing baseball movie in history. To learn more about "42," visit www.42movie.com. For more information about Shaw, visit www.shawfloors.com.