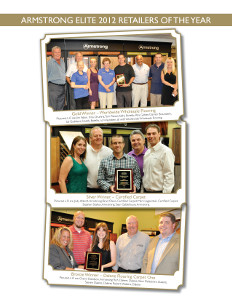 With 150 Elite Dealer showrooms nationwide, Armstrong has reached an important milestone and is instituting a special annual award to recognize the "Top Three Elite Retailers" in the country: The Gold Award goes to Worldwide Wholesale Floor Coverings; Silver is awarded to Certified Carpet, and Dalene Flooringearns Bronze. 
"It is with great pleasure that Armstrong recognizes these three retailers as our first 'Elite Retailers of the Year,'" says Steve Staikos, national sales manager, strategic accounts, Armstrong. "We thank each for their commitment to the Armstrong Elite Program, and we're honored to be their partners."
In an Armstrong Elite Showroom, customers find the largest selection of Armstrong samples in the industry's premier display systems. Larger sample areas also are featured throughout the showroom to provide customers with a better idea of what the floor will look like in the home. As a requirement of this program, Elite Retailers go through extensive training that allows them to specialize in Armstrong product knowledge and installation expertise.
Some unique incentives are offered to customers that purchase through an Armstrong Elite Showroom; a 30-day satisfaction guarantee and an extended Armstrong product warranty. "Finding the right floor for each customer is our goal and the personalized customer service delivered by an Elite Retailer is certain to deliver the best customer experience," adds Staikos.
And the Winners Are….
Gold Award Winner Worldwide Wholesale Floor Coverings (WWFC) has been in business since 1991, with three locations in New Jersey. The company prides itself on providing the customer with a unique and exciting shopping experience.  According to WWFC's Darren Braunstein, executive vice president and COO, "The Armstrong Elite program enhanced our merchandising of hard surface flooring products, and has helped us to grow our business not only with Armstrong, but in the hard surface category in general."
Serving the South Central Pennsylvania community since 1949, Silver Award winner Certified Carpethas set itself apart as a full service retailer for the best in residential and commercial carpet and hard flooring surfaces, including cleaning, new flooring sales and installation, and entrance mat services. "From the exceptional performance of our HydraMaster cleaning system to the national buying power of Abbey Carpet & Floor and to our accredited, experienced staff, we take great pride in personal, local service and the superior knowledge and expertise that our family-owned business is dedicated to providing," says Mark Legenstein, president, Certified Carpet.
Connecticut-based Bronze winner Dalene Flooringhas been providing quality flooring systems and exceptional value for over 60 years. From hardwood floors and carpet, to ceramic tile, vinyl flooring and laminate, as well as marble and granite, Dalene Flooring has a multitude of flooring options with an unsurpassed selection. "The most important thing for us is to get the customer to the door and make the whole shopping process as enjoyable as possible. No flooring manufacturer has done more than Armstrong to drive consumers into retail showrooms," said Steve Dalene, CEO, Dalene Flooring.
Retailers were selected based on the following criteria: Elite Retailer sales and mix performance for key 2012 initiatives for each residential category (hardwood, laminate,premium tile/LVT, vinyl sheet), Elite lead conversion rate, Elite showroom and website excellence and Elite program support.
Each winner will be awarded with additional funds for paid per click search to be spent in 2013, a plaque of recognition, coverage in the Elite eNewsletter, and an "Elite Retailer of the Year" badge for the dealer website and/or co-branded website.