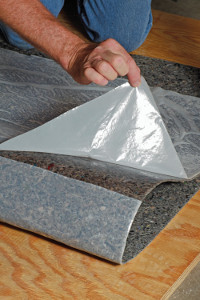 MP Global Products, the manufacturer of earth-friendly acoustic fiber floor underlayments, offers contractors on the clock the labor-saving UltraLayer Peel & Stick, a self-adhesive acoustic and protective membrane for under ceramic tile, porcelain tile and natural stone. 
Featuring a self-stick adhesive under a peelable protective backing, UltraLayer P&S underlayment installs onto concrete subfloors smoothly and quickly. Simply peel off the coating, UltraLayer P&S is made with the same earth-aware manufacturing, acoustic and insulating technologies used in all MP Global Products' fiber underlayment. The randomly air-laid filaments create a capillary effect to cushion the floor and absorb impact and airborne sound, minimizing the transfer of noise to the room below. When used with tile, the elasticity of UltraLayer P&S resists transferring of lateral concrete subfloor cracks through to the tile above. The insulating R-Value of UltraLayer P&S helps moderate floor temperature, keeping floors cooler in the summer and warmer in the winter. The high-temperature manufacturing process kills bacteria and fungus and an EPA registered antimicrobial additive inhibits mold growth and helps prevent development of dust-mite colonies. And the 0.10" thickness of the underlayment helps smooth out little subfloor imperfections.
UltraLayer P&S is  made primarily of recycled textile and carpet fibers diverted from landfills. Odorless and hypo-allergenic, the underlayment is LEED compliant and can contribute to the overall percentage of pre-consumer content for LEED certification in the category of Materials and Resources.