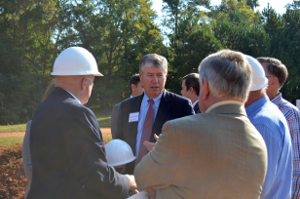 Russell Grizzle, President and CEO of Mannington Mills, briefs attendees at today's groundbreaking about the company's expansion plans for the Madison, Ga., facility.
Mannington Mills announced that it will undergo a major expansion of its Luxury Vinyl Tile (LVT) manufacturing operation, located in Madison, Georgia.
The company will break ground for the expansion immediately, with plans to double the size of that facility's footprint. This venture will also significantly increase Mannington's local workforce, creating 219 new jobs over the next few years, with the potential for even more.
"This expansion is coming to fruition thanks in large part to cooperation from Susie Haggard, Carl Campbell, Jennifer Nelson and other officials in the Georgia Department of Economic Development as well as Chuck Scragg at Georgia Power," said Russell Grizzle, president and CEO of Mannington Mills. "With the approval of Governor Deal, we were able to put together an aggressive plan that will allow Mannington to expand and grow in the state of Georgia. We are grateful to them for helping to make this vision a reality." 
"Mannington's decision to grow its business here in Georgia is a direct reflection on the high quality of our workforce and the ease of access we provide to its global markets," said Gov. Nathan Deal. "These are the most critical components of the portfolio we are building in support of our goal of making Georgia the No. 1 state for business."
Over the past few years, Mannington has experienced tremendous growth, first with the acquisition of Burke Flooring in 2008 and again in March of last year with the acquisition of Amtico. The company has also grown organically, thanks to innovative manufacturing and marketing strategies.  According to Doug Ankney, vice president of operations at Mannington, "When it's complete, Mannington's LVT manufacturing capacity will have quadrupled since March 2012.  We're very excited to be expanding in the state of Georgia, and offering new job opportunities in the Madison community. Many thanks to Michael Lamar and Bob Hughes at the Madison-Morgan County Chamber of Commerce for being instrumental in the process."
"Mannington is proud to be the leading LVT manufacturer in the world, and this expansion will further secure that position. We're especially excited that we are expanding domestically, onshoring jobs from China and investing in the U.S. economy," said Grizzle.  
The facilities will be constructed as energy-efficient buildings, generating a significant amount of usable energy from renewable energy partners.  Additionally, Mannington will maintain its current excellence in product, quality, and service during the expansion, without interruption, and the facility will be fully operational by January 2015.