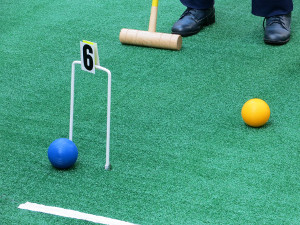 Beaulieu America was selected by Jiminy Wicket, a national organization that promotes the use of croquet to connect with seniors suffering from Alzheimer's, as its grass carpet provider for its recent Jiminy Wicket World Cup held in Rockefeller Center, in New York City.
"We like the look and the quality of Beaulieu's indoor/outdoor grass carpet," said James Creasey, founder and president of the charity. "It's a perfect playing surface for our croquet matches."
Creasey discovered with his father that the simple game of croquet could actually have a calming effect for those suffering from dementia or Alzheimer's, as well as improving their relationships with family members and caregivers. 
The Jiminy Wicket World Cup event at Rockefeller Center was held on September 20, World Alzheimer's Day, to bring attention to the issue and Jiminy Wicket's unique croquet therapy. More can be learned about JiminyWicket.org by visiting their website or Jiminy Wicket on Facebook.