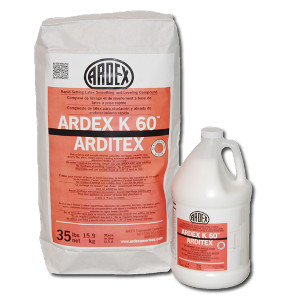 Ardex Americas introduces Ardex K 60 Arditex, a revolutionary self-smoothing, trowelable, latex leveling compound product that requires no mechanical profiling or priming and offers excellent adhesion, flexibility and moisture resistance.  
"Because of Ardex K 60 Arditex, installers will save on the cost of primer and the cost of labor," said Ben Mack, director of marketing for Ardex Americas. "Ardex K 60 Arditex is just another example of our efforts to meet the demands of the market and our end user."  
Ardex K 60 Arditex is a two component product that does not require water which allows the contractor to simply mix one bag K 60 cement powder with one bag of K 60 latex liquid.  This eliminates the need to source water on a jobsite. It can also be used as a smoothing compound on permanently wet areas prior to the installation of Ardex MC Moisture Control Systems.  
Ardex K 60 Arditex can be used to smooth interior concrete, terrazzo, ceramic and quarry tile, steel, select epoxy coating systems and non-water-soluble adhesive residue on concrete, prior to the installation of finished flooring on, above or below grade.