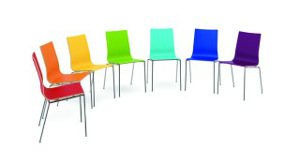 NeoCon East, taking place on October 16-17 at the Baltimore Convention Center, will be an opportunity to track trends in the commercial furnishings market. 
In gearing up, the show tapped its talented advisory committee of architecture and design professionals to shed some light on trends that attendees can anticipate across the vertical markets on display. These top decision makers shared what's on their radar; covering office, retail, healthcare, hospitality, education and government categories.
Co-Working is the Word in Office
President of Avancé, Cheryl Duvall, FIIDA, MSOD will be taking her knowledge to the NeoCon East show floor with her seminar "No Office, No Problem: An Inside Look at Co-Working" on Thursday, October 17 at 9:30 am. As her seminar suggests, Duvall is seeing co-working, and products that support co-working, as a big trend in the office sector. She comments, "Globally, co-working spaces have doubled each year since their "founding" in 2006, and most likely will top 4,000 spaces by the end of 2013. What is interesting to note is that these spaces aren't just for start-ups or the lone entrepreneur. Large companies, such as Zappos and State Farm, as well as venture capitalists, academic institutions, and public-private partnerships are also embracing co-working. Herman Miller (Booth 2209) is a leading example with its partnership with Impact HUB, one of the leading co-working organizations in the world. In line with its involvement, Herman Miller is promoting its Living Office portfolio range, since it offers a wide variety of settings across many different products."
Glass & Gray Rules Retail:
Studio Hasset's Valerie Hasset, IIDA, ASID, LEED-AP bd+c, shares insight on retail. She notes, "Retail design is incorporating more natural materials lately; and the use of reused, refurbished or recycled architectural elements juxtaposed with glass or steel is a hot trend. The use of furniture inspired display fixtures continues to be popular and pairs well with raw or recycled finishes. The color of the moment is gray. One of my recent installations used Skyline Design's (Booth1745) Collection in Whites glass paired with a range of true grays, producing a visually textured space."
Healthcare Gets Fashion Fix & Helping of Hospitality:
Rebecca Straub, associate at RTKL, sees much evolving on the Healthcare horizon, with products being specified that break with traditional choices. She declares, "The floor you stand on in a hospital ICU room is about to change. While monochromatic sheet vinyl has previously been the trend, new over-scale graphic patterns are starting to take over! Taking cues from fashion, vinyl flooring is featuring linen textures with bold prints. Mannington Commercial's new sheet vinyl does just that. With a range of beautiful color tones, their new Perennial product highlights large 'perennials' on top of a linen texture.  The effect? Fresh and amazing. Another sweeping healthcare trend is the creation of a hospitality feeling within a healthcare environment. Warm finishes with a modern twist are especially hot? in furniture, especially seating. At RTKL, we're loving Carolina's Rule of Three side chair that combines a sleek form with high performance." Hear more from Rebecca Straub on Wednesday, October 16 at her 9:30 AM seminar [W11] entitled "Why Do Hospitals Have to Look like Hospitals."
Hospitality Hits Home:
Lou Ghitman, hospitality associate, AIA, IIDA, principal & director of interior architecture of Design Collective, Inc. sees a need for a more holistic, hospitality-oriented experience in multi-unit housing. He remarks, "Our experience relative to Hospitality is as it relates to public amenity spaces within urban multi-family housing. To that end, the big trends that we see in the marketplace revolve around the idea of "Whole Life Living," in which residents are engaged in a "home" that is connected to all aspects of their work/living experience. Ghitman will discuss more details on this trend in his seminar, "The New American Dream: Multi-Family Housing" [W10] on Wednesday of the show at 9:30 AM. The urban environment outside of their building meets all of their social needs, providing restaurants, coffee shops, retail and cultural needs. Their building proper provides an intimate, central "clubhouse" type area and amenities such as gyms, yoga studios, TV lounges, gaming rooms, business/conference centers, pools and roof decks. For these types of projects we often specify carpet from Shaw Contract Group's hospitality assortment. Their product is durable and stylish-a good fit for the balanced, whole life experience."
Design-Thinking in Education
According to Steve Ziger, principal of Ziger/Snead and founding board member of the new Baltimore Design School, "A trend we are seeing in education is the integration of design-thinking within the most progressive K-12 curricula. Design is a process of defining a problem or issue, exploring options, using judgment, articulating a solution, assembling resources, implementing, evaluating, and growing from the experience. These skills are essential elements of any strong education, but are deliberately engrained across disciplines in the nation's design schools." Snead's architectural firm is responsible for the new Baltimore Design School, one of very few Public design schools in the country, and the first to incorporate both middle- and high school students. The school demonstrates the power of design through exposed systems and best practices for historic renovation, adaptive reuse, educational design, and sustainable design; featuring products from NeoCon East exhibitors including: Allemuir, Leland, Coalesse, Fresh Coast, Global and Mosa. Its educational program combines a rigorous curriculum, high academic standards, and an exceptional design program focused on Fashion Design, Architectural Design, and Graphic Design. Ziger will dig deeper into the project and the trend towards design-thinking on Wednesday, October 16 from 2:30-3:30PM as part of the show's conference program.
Government Goes For Wide Open Spaces
According to Dan McAneney with the GSA, light, bright and airy spaces are the adjectives to describe the future of government spaces. He notes, "Government areas are becoming more and more streamlined, in terms of both aesthetics and the way in which people work. When taking on projects, our goal is to be economical and judicious with space. Like many offices, government is going the way of co-working, so specifying products that encourage collaboration and allow for an open-plan is key. Additionally, with the digitization of files and ability of people to work on the go, areas are also becoming consolidated and more efficient. Products that do double-duty and take up less space are great solutions.  When it comes to color, the government is stepping out, with brights like lime and orange becoming the new black and grey. We find that many NeoCon East exhibitors deliver on these trends and market needs."
Registration
Registration for admission to NeoCon East can be completed online at www.NeoConeast.com