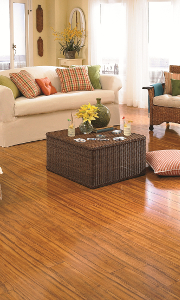 Mannington Mills announced today that beginning this month, the company is moving production of the Diamond Bay Collection to its facility in High Point, NC from its current production location in China. As a result of this onshoring, 100 percent of Mannington Laminate will be proudly Made in the USA.
Mannington has consistently invested in state of the art technology that allows it to manufacture the most realistic laminate visuals in the industry. "Until now, we just didn't have the capability to achieve the visuals and high clarity finish that is the hallmark of Diamond Bay. But thanks to Mannington's expertise in styling and manufacturing innovation, we were able to work through those challenges," said Dan Natkin, director of hardwood and laminate at Mannington. "We are very pleased and proud to say that our entire laminate line is Made in the USA."
In addition to Diamond Bay which features crisp, clear visuals and a smooth finish, Mannington manufactures the award-winning Restoration Collection of vintage, handcrafted looks as well as a wide variety of plank and tile designs in Revolutions Plank, Revolutions Tile, and Coordinations collections.
 For more information, visit www.Mannington.com/Residential/Laminate.