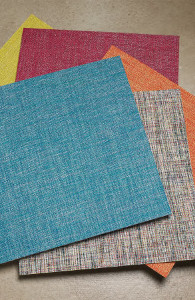 Five new bright colors have been added to the Chilewich Contract Collection of weaves for floor tiles, wall to wall flooring, custom floormats and wall textiles in pink, citron, mélange, orange and turquoise.
Bouclé features a very rich texture that provides visual interest, without exhibiting too dominating a pattern.The original concept for the design was the desire to interpret the luxury of fine knitwear into a woven textile that was durable, modern and easy to clean.
These new designs will be available November 2013.