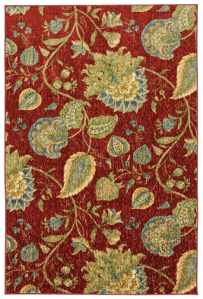 Foley House, a printed rug from American Rug Craftsmen's Flagstaff Collection, is a traditional floral in spicy shades. 
American Rug Craftsmen is introducing two new printed rug collections: the Flagstaff Collection and the Concord Collection. 
"Our Flagstaff and Concord rugs are the first of their kind in the industry," said Brandon Culpepper, vice president of specialty sales for Mohawk. "These collections are crafted in the USA using Mohawk's new higher resolution printing capacity, which makes rugs of great detail and beautiful color using the softest nylon yarn on the market. The result is a rug that is extremely soft, durable, sophisticated and affordable." 
• The Flagstaff Collection from American Rug Craftsmen offers an unbeatable mix of bright colors and trendy designs-¬traditional patterns, florals, transitional styles-¬in an amazing plush cut nylon pile. Durable and vibrant, Flagstaff rugs feature palettes of multiple colors to make a style statement in any room of the home. 
• The Concord Collection from American Rug Craftsmen is a printed rug that has the look of a petit point hand-hooked rug. Printed on a looped pile nylon base that feels as soft as wool, this collection features florals, traditional styles, transitional looks and nauticals to bring the look of modern crewels into a variety of settings. Bold colors--earth tones, spice tones and metallics-¬enhance Concord's fashionable designs. 
Retail price for a 5' x 8' rug in the Flagstaff and Concord collections is $199. 
American Rug Craftsmen rugs are 100% made in the USA. They are marketed in furniture stores, in carpet and rug specialty stores and via e-commerce and catalogs.