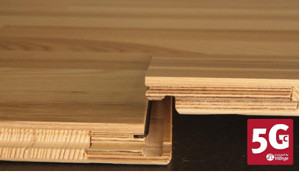 Välinge has announced that Guangdong Yihua Timber Industry has entered into a global non-exclusive license agreement for the use of Välinge's patented 2G and 5G-C mechanical locking systems for engineered wood floorings.
Guangdong Yihua Timber Industry specializes in the production and sales of wood flooring and furniture. In addition to the headquarters located in Chenghai (Guangdong, China), the company is counting 11 manufacturing facilities and 105 sales and distribution centers worldwide, such as Elegance Wood in the USA.
By becoming a Välinge Fold Down licensee, Guangdong Yihua Timber is moving forward to meet the market demand for fast and robust installation method of wood floors. 
Välinge's 5G is today the fastest growing mechanical locking system on the market and offers a unique combination of strong locking and fast installation by simply folding down the floor panel. Over 60 Välinge licensees have already introduced wood, laminate, nadura or LVT/resilient products with 5G lockings. More than 500 millions square meters of floors with 5G / Fold Down locking systems have been installed worldwide since the launch of this cutting-edge technology in 2005.