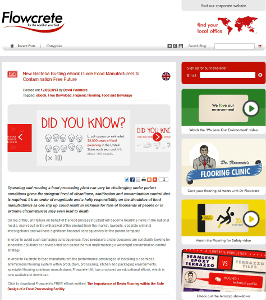 Flowcrete Group has introduced a new blog to share its world-renowned insights, knowledge, news and expertise in floor manufacturing.
The site has been designed to become an educational hub for all things resin flooring, with regular posts to quickly provide the reader with the latest information, all of it coming directly from the flooring manufacturer - a global leader in the field of industrial and commercial flooring. 
Rebekah Jones, Flowcrete Group marketing manager, said: "Our new flooring blog is a great addition to the company's existing web presence.
"This site not only gives us an interactive space to engage with online customers about our latest products and services but also provides a platform for Flowcrete to extend its brand leadership and expertise."
Readers will be able to find out what Flowcrete has been doing, with updates and articles about the company's work across the world, from projects in North America to events in Singapore. 
Medical facilities can learn about how their flooring choices can affect hygiene with Dr Flowcrete, a character designed to inform the medical world about ways to keep floors clean.
This part of the blog will supply hospitals with healthcare-specific facts and help them to recognise flooring problems at medical facilities.
The site is also rich with videos, which illustrate important aspects of the work at Flowcrete, such as its commitment to being environmentally friendly and how flooring choices can help to avoid situations including slips and trips in the workplace. 
Flowcrete Group has already attracted praise from Smart Insights, who called the flooring manufacturer 'one to watch' and nominated the blog as a brilliant example of B2B marketing for its interesting use of infographics.
The blog has been created as part of an integrated, multi-platform campaign to engage with the construction industry's online community. An interactive web presence has been developed across the blog, as well as Twitter, YouTube and Pinterest, to develop conversations and engagement.
Visitors to the blog can also sign up to Flowcrete Group's email newsletter to make sure that they stay up to date with flooring for commercial and residential projects.