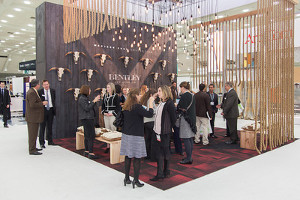 In its 11th installment, NeoCon East proved its position as the premier commercial design exposition and conference for the industry on the East Coast.  
Despite occurring during a historic government shutdown, the show's strong exhibitor line-up and conference program attracted over 7,000 attendees to the Baltimore Convention Center, October 16-17, 2013. Over 250 top-notch exhibitors across several vertical markets merged with the region's preeminent architects, designers, facility managers, dealers/distributors, purchasing managers and more; engaging in brisk business, making key connections and participating in conversation about great design. The mixture of on-trend and advanced products, dialogue about design, as well as networking was a recipe for success. 
Senior Vice President of MMPI Susan McCullough, remarked, "We are so grateful to our exhibitors and attendees for making this year's NeoCon East such a success. Naturally, we had some concerns about the government shutdown and the fact that it legally prevented some from attending. The truth is that the show has evolved over the years to be more like its sister show NeoCon. In addition to the GSA, NeoCon East exhibitors, conferences and attendees work across all of the commercial markets. We knew we would have a strong show despite the circumstances."
Focus on Research, Design & Innovation 
"Even with the government shutdown, we feel this year's show was equal to, if not better than, last year. We were also impressed with the quality of products and the positive energy the other manufacturers brought to the show. It speaks to the good reputation of NeoCon East. This show is definitely an important one for us," commented Casey Journigan, president of Arcadia. The upbeat sentiment continued among exhibitors and attendees alike. Becky Billinghurst, Senior Manager of Customer Insight for Herman Miller, remarked, "We had a fantastic turnout. There was a positive vibe and a steady flow of people from beginning to end. There was lots of energy and enthusiasm around Living Office!" Reimagining the workplace was a major trend throughout the show floor as exhibitors thoughtfully presented the changing landscape. According to Jordan Nolan, junior interior designer, Gresham, Smith & Partners, "This year's NeoCon East had a refreshing new spin. I noticed a sharper focus on research, with exhibitors like Herman Miller, Steelcase and J+J flooring sharing the latest developments in design technology at their booths. This was particularly valuable, as you were able to experience the technology in person. I was blown away by the amount of research and the amount of time spent conducting studies to achieve the manufacturers' findings and innovations." 
Capri Cork used NeoCon East to launch Capri Floats, a new collection, which includes Eco-Clicks Cork Floating Floor and Eco-Clicks Linoleum Floating Floor. Margaret M. Buchholz, Marketing & Design, Capri Cork called the show 'a great success!' "There was lots of activity, energy and enthusiasm in our space," she concludes. From textured flooring to high performance fabrics to state-of-the-art furnishings for co-working environments, many took note of the high level of excellence represented in NeoCon East exhibitors' offerings. Kate Campagna, associate IIDA
designer, USA Architects Planners + Interior Designers, asserted, "NeoCon East was alive this year and better than ever with a variety of innovative and inspiring product to take our designs to the next level of detail. I congratulate all of the NeoCon East Exhibitors on a fantastic showing this year of trends, research and product." Emily Hwang, a designer at WDG Interior Architecture and a first time attendee, also found inspiration from exhibitors, commenting, "Being able to touch and feel the latest products helped to give me ideas for my own projects.  I had a great time meeting new people and making connections with my local D.C. representatives from each vendor."  
IIDA Honors Effective Booth Design
To enhance the NeoCon East experience, exhibitors brought their best design skills to the show floor. Their efforts did not go unnoticed as the International Interior Design Association (IIDA) selected two as the winners of the 2013 NeoCon East Booth Design Award Competition for their original design, visual impact, effective use of materials and the outstanding use of space, color, texture, lighting and graphics. Large Booth honors went to Bentley. "As usual, Neocon East was a wonderful overall experience. MMPI does an amazing job and they make the exhibitors feel so welcomed. So many of our loyal customers stopped by to say hello. We also met many new potential customers who were drawn to our booth. We are so proud that we received the Best Large Booth award this year; it showcased our latest product launch, the Western Edge Collection," declared Noelle Novak, director of events and marketing operations, Bentley Mills. The Ann Arbor, Michigan-based design + fabrication firm Metal took home the prize in the small booth category as it broke away from the mold of generic booth design. Its avant-garde, metal-based products impressed with their unconventional finishes and design.
Buzzword: Education 
With over 30+ accredited CEUs, NeoCon East provided a banner line-up of programming and events. Legendary architect and designer Michael Graves and award-winning textile designer, weaver and principal of Suzanne Tick, Suzanne Tick offered compelling keynotes. Graves was poignant and frank, speaking about how healthcare can be much improved by design, as well as sharing his own personal journey. Tick was another refreshing voice, offering several unique insights, including the idea that great design comes from Surface Tension, where contrasting properties make for the most dynamic treatment of surfaces and materials. A wealth of other thought-provoking seminars targeting a wide range of audiences made for a powerful educational component that impressed many NeoCon East attendees and exhibitors. Education was not limited to the theater and the classrooms, as exhibitors invited attendees to learn about the latest technologies right in their booths. For C.F. Stinson, NeoCon East 2013 was the ideal opportunity to introduce Vistas, its new collection of upholstery and privacy curtains designed by Michael Graves. In addition to sponsoring the keynote, the brand invited attendees to a special meet-and-greet with the legendary designer to experience the fabrics firsthand. President Glenn Stinson explained, "Since Vistas is designed for healing environments, this product reveal tied in perfectly with our sponsorship of Michael's kick-off keynote session on designing for healthcare spaces. His optimistic and uplifting outlook set the tone for NeoCon East, and we were pleased with the positive and productive vibe on the show floor. Show management was very helpful and provided a welcoming environment for our guest of honor."