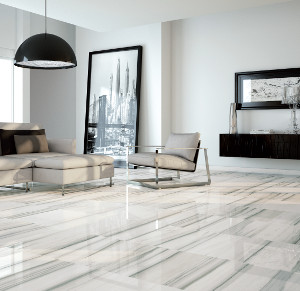 Perseo by Marazzi USA is composed of five color movements and accented by natural veining.
in magnificent buildings since ancient times. The line is comprised of luxurious colors in 24"x24" rectified sizes:
• Brown - soft chocolate tones with cream striae
• Caldia - cool white with nuances of grey
• Grey - smoky tones with white veining
• Marfil - creamy beige with small-scale veining
• Zebrino - cool white with dramatic linear gray streaks
Perseo assures 45% recycled content, no VOC emissions, low life cycle costs and rectified edges in stunning large formats.