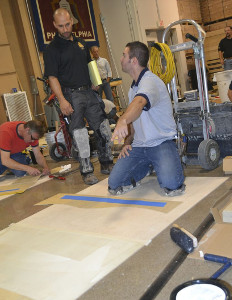 Forbo representatives are working with Philadelphia Local 1823 to facilitate a program that gives floorlayers the opportunity to acquire the Forbo Associate Mechanic Certification, and which also provides an incentive package for contractors who use Forbo-certified mechanics at projects using Forbo products.
Forbo recently revised the process of awarding Associate Mechanic certifications, and now requires applicants to first pre-qualify before being invited to the newly updated and expanded Forbo Training Center in Hazelton, PA to train and then test for the Associate Mechanic Certification.
Local 1823 Representative Patrick McGinley said, "We established this partnership because Forbo's core values are very much in line with ours. They focus on quality, professionalism and productivity, and so do we. And we both want only the best mechanics installing Forbo materials. Not doing so hurts both organizations."
"There have been tremendous changes in the construction industry over the years which have created challenges for floorlayers. Unfortunately, workmanship has suffered as a result, including the degradation in the skill level and knowledge and work ethic across all trades," said Dave Paulson, Forbo technical director. "Our product succeeds specifically when those core pieces are in place, and when the installer has an eye for quality and commitment to improvement, and who takes pride in their work. Those people who exhibit those traits are successful with our products." 
"Projects today are required to be done faster and cheaper, and products appear every day to cut down on installation time," said Forbo's Sales Manager, Eric Bower. "We believe it's more prudent to put the time and effort into the guys who are actually doing the work, and create a core, elite group of installers who truly understand what goes into a sucessful installation of Forbo products."
Paulson said Forbo's goal is to become proactive, and create the best scenario for installers to succeed. "We are shifting from being reactive to technical issues in the field to being proactive and training properly so that problems are avoided," he said. "It's all about common sense."
14 Philadelphia floorlayers put their skills under exam recently in hopes of earning the right to train and acquire the Forbo Associate Mechanic Certification.
The pre-qualification exam is a filter to find the floorlayers who are ready to take the certification training. For those who aren't selected to advance, they will be given information on the areas where they need to improve in order to qualify in the future.
The floorlayers were given a mock project to complete using Forbo adhesive and linoleum products. While they worked, Forbo technical representatives observed their work and answered questions.
Once finished, the technical team reviewed each candidate's work product, including tearing apart the work to determine if the appropriate steps to completion were followed according to Forbo parameters.
Those successfully completing the class will be pre-qualified to take the four-day associate mechanic course at Forbo's Hazelton school.
Local 1823 member Derek Malek of Allentown was one of the pre-qualification participants. "There are lots of opportunities in Northeastern PA for Forbo installations," he said, adding that his goal is to be ready for the work when it surfaces.
"The healthcare and education market potential is explosive in the Philadelphia market," said Forbo's Bower. "The time has never been better to make sure floorlayers in this region are certified to work with our materials."
"I want to learn everything I possibly can. I think it's a good opportunity to get trained by the right people," said Local 1823 member Ed Spicer.
One member of Forbo's technical team is Santiago Lolo, a Floorlayer from Carpenters Local 251 in New Jersey who also is a technical partner with Forbo. "If you want to separate yourselves, Forbo can do that for you," Lolo told the candidates.