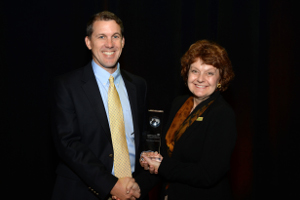 Paul Day of Mannington accepting Smart Way Award
Mannington Mills was honored with a SmartWay Excellence Award from the U.S. Environmental Protection Agency as a industry leader in freight supply chain environmental performance and energy efficiency. Mannington has been a SmartWay partner since 2010, and has consistently demonstrated a commitment to corporate-wide environmental initiatives. Over the past three years, the company has shown a steady increase in use of SmartWay carriers and in 2013, nearly all carriers used by Mannington are in the SmartWay program.  
"Mannington is honored to be recognized for our accomplishments. We have a longstanding commitment to continual improvement and operational excellence, and this award validates the work our associates do in this area," said Dave Kitts, vice president, environment, at Mannington.
Mannington was one of 55 companies to receive this distinction, representing the best environmental performers of SmartWay's 3000-plus Partners. The award is given to the top one percent of partners in the program. The Excellence Awardees were honored at the Council of Supply Chain Management Professionals annual conference held in Denver, Colorado.  Accepting on behalf of Mannington was Paul Day, global logistics manager, who commented, "I'm delighted with our carrier partners who recognize the value of SmartWay, and Mannington includes them in this award."
"I commend Mannington Mills for its superior environmental performance and leadership in advancing freight sector efficiency", said Gina McCarthy, EPA administrator. "Their commitment is helping lead the freight industry to a more sustainable future."