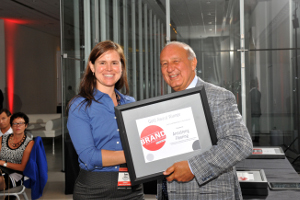 Dawn McElfresh, Builder Channel Marketing Manager, AFP, accepted the award on behalf of Armstrong, with Frank Anton, Hanley-Wood.
Armstrong World Industries has won the Gold award for Excellence in Marketing in Hanley Wood's 1st Annual Brand Builder Awards. Armstrong was the only flooring company to be honored with a Brand Builder Award.  
The Brand Builder Awards recognize the most innovative and effective marketing campaigns throughout the residential and commercial design and construction industry. The competition is designed to honor the organizations that have demonstrated superiority in their ability to develop, create, implement and execute marketing strategies and tactics that define excellence.
"Armstrong is well deserving of the recognition it received. We are seeing the effects of the recovery of the housing industry take hold as companies begin to expand their marketing efforts, especially on the digital and social media fronts. This year's competition was fantastic and we are looking forward to continuing the awards for many years to come," said Frank Anton, vice chairman of Hanley Wood. 
"Armstrong wanted to support a cause that aligned with our core values, our employees, and our customers; it's an extension of our brand and a natural partnership. Honoring those who have served our country and given so much is simply the right thing to do. But in addition, we see that our customers are increasingly more concerned about the behaviors, values and actions of the companies from whom they purchase," says Mara Villanueva-Heras, vice president, Armstrong.  
Launched in November 2012, American Scrape, Armstrong's new hardwood flooring collection, offers the best of both worlds — a premium product at a value price point, in both engineered and solid hardwood profiles. Add in the fact that it's made in the U.S.A.  and that a portion of the sales go to Homes for Our Troops (HFOT), it's a product positioned to help builders, contractors and retailers win with consumers.  Armstrong is contributing approximately 100,000 sq. ft. of engineered hardwood and Alterna® engineered stone tile combined, both of which meet Universal Design criteria for the severely injured vets' homes.
The Made in the U.S.A. story coupled with the company's support of HFOT gives American Scrape its own unique positioning. Launch highlights include Armstrong's contribution of product to Homes for Our Troops, a national nonprofit, non-partisan organization that is building over 30 specially adapted homes in 2013 for severely injured veterans.  The donation is being funded from American Scrape 2013 sales.  Armstrong plans to continue the partnership into 2014 and beyond.
"Armstrong distribution, sales representatives and retailers are encouraged to get involved at the local level for each build.  We coordinate with HFOT on each location where a home will be built.  Local American Scrape retailers and our distributors usually get involved in the volunteer day, installation or assistance with product donation. Not only does the veteran get to engage with businesses and individuals in his local community, we are also building awareness for HFOT and providing support to our local retailers and distributors for American Scrape," says Armstrong Senior Vice President Kevin Biedermann.
Armstrong was honored earlier this month during a special awards dinner at the Hanley Wood Foundations conference at the Spertus Center in Chicago, IL.