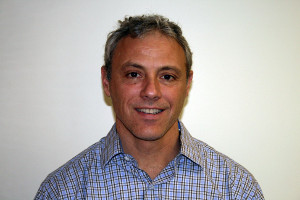 Thomas Ricciardelli, president of SelecTech
Earlier this year, SelecTech launched its BioLock technology through its FreeStyle line of commercial flooring products to provide its healthcare division with an interlocking conductive flooring powerhouse that is beneficial to health care organizations utilizing electronic data. The breakthrough technology used to create the recyclable FreeStyle BioLock and FreeStyle BioLock ESD flooring line was recently selected by the ArchitectureBoston Expo (ABX) to be part of its exhibit on innovation at the upcoming conference being held November 19-21.
Taking place at the Boston Convention Center and Exhibition Center, ABX will feature 30 new and innovative products that have been in the marketplace for three years or less. BioLock was selected to be one of these 30 products.
"As a company based in the greater Boston area, ABX is a can't-miss trade event in the region for us," said Thomas Ricciardelli, president of SelecTech. "To have our product featured at an event of ABX stature is a great honor and one we're quite proud of."
With its patented interlocking system—including patented recycled composite underlayment with interlocking tabs-- FreeStyle BioLock products require no adhesive or special tools to install. The homogenous, color-through and durable tiles feature a urethane/no-wax finish for easy maintenance.
Made from 70% recycled materials, FreeStyle BioLock products are 100% recyclable.
"In addition to the green component, FreeStyle BioLock products completely bypass the need for adhesives and floor prep to install or replace flooring." said Ricciardelli. "Visitors to the ABX Innovation Pavilion will see firsthand how BioLock products dramatically reduce installation times because old flooring can be left in place and machinery and furniture do not have to be completely moved or removed for installation."
ABX is one of the largest events for the design and construction industry in the country, and the largest regional conference and tradeshow. Drawing 95 percent of its attendance from New England, ABX's regional reach is its greatest strength. Attendees hold on to their money (no airline fees, hotel costs or meal expenses) and spend their time building relationships and networks around physical proximity and the likelihood of follow-up work. 
To learn more about SelecTech products, including the FreeStyle and FreeStyle ESD flooring products, visit http://www.selectechinc.com. For information about the ABX conference, visit www.abexpo.com.