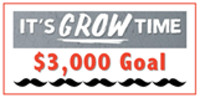 Throughout the month of November, Crossville is leading an awareness and fundraising campaign to support issues related to men's health. 
Using the Movember portal (us.movember.com), the company has established a team, set a fundraising goal of $3,000 and is joining many other businesses and industries across the country and the world in this unique movement that's dedicated to changing the course of men's health.
"It's time we put a spotlight on men's health," explains Crossville's team captain Chris Barnett, a programmer analyst for the company. "Crossville has been a longtime supporter of The Common Thread for the Cure for breast cancer. Now we're stepping up to express our concern for men's well-being, too."
Crossville's participating male staffers have committed to growing moustaches/facial hair throughout the month of November in effort to raise funds, with the support of "Mo Sisters," female team members who are also participating in the donation drive. Crossville has also rallied support of distributors and business partners across the U.S.
"We welcome people to join our team or just donate through our team page to make a difference," Barnett says. "You don't have to actually grow a moustache to be part of the campaign. Give what you can, even if it's just a show of support!"
To stay apprised of Crossville's progress in fundraising (and moustache growing), visit the team's page at http://www.bit.ly/crossvillemovember