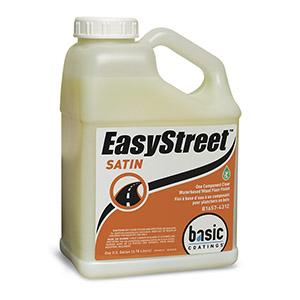 Basic Coatings has added EasyStreet to the Basic Coatings Waterbased Wood Floor Finish Line.
EasyStreet is a one component, clear waterbased wood floor finish specifically formulated for commercial, residential and sports floor applications. EasyStreet provides a completely colorless, clear finish with exceptional durability and chemical resistance.
Micah Petersen, product manager - floor care, described some of the major features and benefits of the innovative new product. "EasyStreet was designed for the wood coating professional and provides excellent defoaming coupled with superior leveling that makes the toughest jobs easy. Also, EasyStreet's hardness and wear resistance keep it looking great on the floor."
EasyStreet is available for order in gloss, satin, semi-gloss and super matte.